Lynas Rare Earths Limited ASX: LYC (LYC) is primarily involved in the extraction of rare earth elements and their processing in Australia and Malaysia.
Rare earths comprise a wide gamut of minerals in the earth's crust worldwide. Large swathes of undeveloped land in Western Australia combined with mineral extraction expertise and assets available on the ground make for profitable rare earth mining.
Rare earth processing in Australia is the primary hurdle to having saleable minerals. That is because strict Australian environmental legislation covers the chemicals required to extract the usable metals and compounds, so much of the processing has to be performed offshore. For LYC, that is Malaysia.
Despite the processing hurdles, there is still a significant margin in rare earth elements as demand skyrockets for new electronic components and technologies.
Lynas Rare Earths Limited ASX: LYC (LYC)
 TheBull.com.au recently wrote that the shares were oversold due to production hindrance concerns. By switching some production to Malaysia, management has eased the situation.
Rare earth demand has trebled in the last 10 years and shows no sign of abating. With governments pushing to diversify their supply chains and lowering their reliance on China, LYC is well-positioned to benefit from long-term supply contracts.
Currently trading on a very attractive forward price-earnings multiple just north of 12, LYC offers the investor some decent value. Turning in a healthy $540m AUD net income on $893m AUD revenues in the financial year 2022 and top-line growth with bottom-line stock price value, LYC might be one of the more overlooked stocks in the market at $7.18 AUD per share.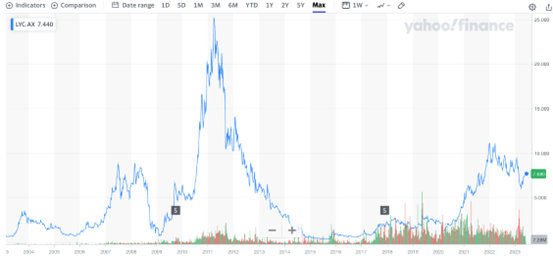 Source: Yahoo Finance 
Relevant Articles