Mad Paws has increased revenues each year since its ASX IPO.
Management expects EBITDA (earnings before interest, taxes, depreciation, and amortisation) from operations to break even by mid-2023.
Mad Paws Holdings (ASX: MPA) listed on the ASX in March 2021, offering Australian pet owners and service providers for pets an online platform to connect. Service providers ranged from house sitters to dog walkers, dog groomers, doggie daycares, and dog trainers.
Since listing, the company has made key acquisitions to become a complete "ecosystem" for Australian pet owners, now offering related pet products, from toys and treats to insurance to pet medicines, health treatments and supplements.
The website features sections for pet health, toys, and treats (subscriptions provide recurring revenue), pet beds and accessories, and pet insurance. The pet health section includes Pet Chemist, with a loyalty club for a broad range of products for dogs, cats, birds, horses, and wildlife, including foods, prescription medications, health-related treatments for parasite control, and more.
The expansion beyond a services marketplace to a major eCommerce distributor of pet-related products dented the company's earnings in FY 2021 and FY 2022, leading to double-digit profit losses. However, revenues were strong into FY 2022.
Top Australian Brokers
Mad Paws Holdings Financial Performance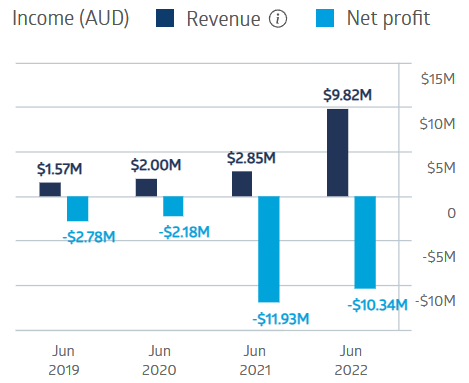 Source: ASX 9/6/2023
Since its IPO, the MPA share price has declined, with the year-over-year share price down 28.57%.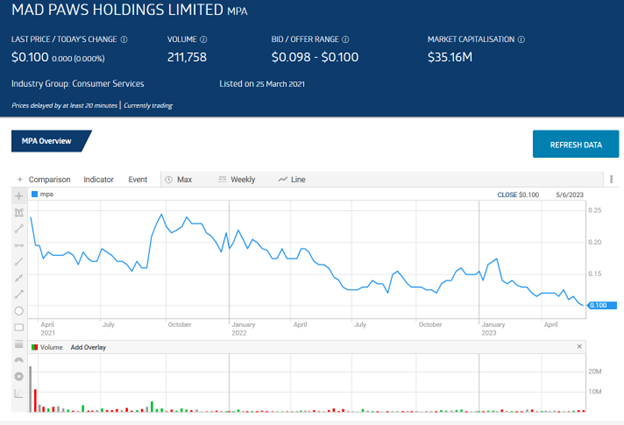 Source: ASX 
The Mad Paws update for Q3 of 2023 showed a 6.1% increase in total revenue over Q3 of 2022, a 90% customer increase (an additional 30,000), with the stated expectation of breakeven EBITDA by mid-2023.
At least one analyst points to the solid performance of pet-related stocks in US markets as a reason to consider Mad Paws, now trading at a discount.
Related Articles