Pilbara Minerals' share price is up 454.24% over five years.
Since mid-May, the stock price has cooled slightly, up only 3.26% over the last month.
Lithium prices have fallen since hitting a record high in November 2022.
Pilbara Minerals is the sole owner of what the company claims is the world's largest hard rock lithium deposit  – the Pilgangoora Project, with both a long mine life and a low-cost operation.
When the pace of the coming tide of electric vehicles (EVs) slowed, and the lithium supply began to outstrip demand in 2018, the price of both lithium and the mining companies that extracted it fell, with Pilbara spending significant time on the Top Ten List of ASX Shorted Stocks.
In late 2020 the price of lithium began to climb, with the shares of Pilbara and other lithium miners following suit. Early in 2023, amid concerns over higher interest rates, global growth, and recessions here in Australia and elsewhere, investors seem to have begun to take notice that since the November 2022 high water mark in the price of lithium.
By April 24 2023, the price had fallen 70% in five months.
While the company suffered some setbacks in the early days of the COVID-19 Pandemic, Pilbara came roaring back in FY 2022.
Financial Performance – Pilbara Minerals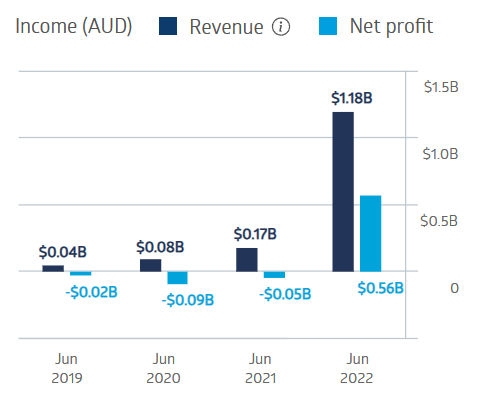 Source: ASX
The recent price weakness, coupled with Pilbara's slight production drop in the March Quarter of 2023, along with a 15% drop in the realised sales price, led at least one analyst to suggest investors might want to consider "taking profits."
Other analysts point to the 20% rise in the price of Lithium since hitting its low on April 24 as a reason to remain bullish on the metal, with the recent softening in the price of lithium miners like Pilbara being a buying opportunity.
Related Articles