Pro Medicus provides a suite of cloud-based practice management software solutions for radiology professionals as well as high-tech imaging software.
The company has seen consistent share price appreciation over the last ten years.
Pro Medicus has paid dividends each year over the past decade.
On 25 September, the company announced the signing of a $140m dollar contract with the largest not-for-profit healthcare system in the US state of Texas – Baker Scott & White Health (BSWH). The move boosted the stock price from a pre-announcement close of $71.19 to $80.01.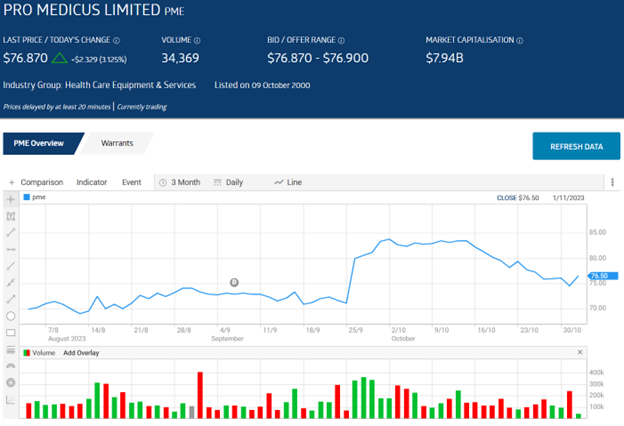 Source: ASX
On 23 October, Pro Medicus announced another new contract with a US-based healthcare system – Southshore Health in Massachusetts – an eight-year, $16m deal.
The latest were the last of six new contracts Pro Medicus has signed in 2023.
27 July – $24m, seven-year contract with Sloan Kettering in New York
16 May – $20m, seven-year deal with Gundersen Health System in the US Midwest.
30 January – $12m, eight-year contract with Samaritan Health in the US state of Oregon
20 January – $25m, seven-year contract with the University of Washington Medicine in Seattle, Washington.
The company has an enviable track record of revenue and profit growth, well before adding this raft of new business in the largest healthcare market in the world – the United States.
Pro Medicus Financial Performance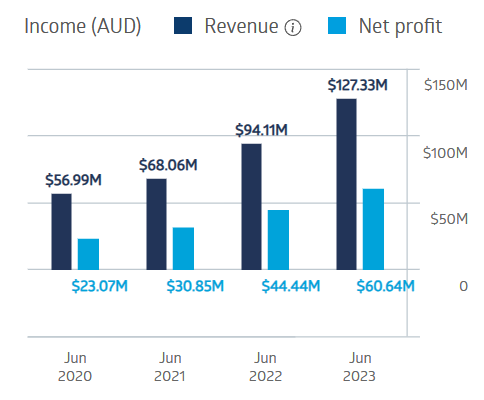 Source: ASX
An analyst at Baker Young has a BUY recommendation on Pro Medicus, citing the Baylor Scott & White Health contract as marking "a positive change in contract term, size and client type outside PME's traditional deals and underpin[ning] near-term earnings forecasts and its longer-term market opportunity."
Don't Buy Just Yet
You will want to see this before you make any decisions.
Before you decide which shares to add to your portfolio you might want to take a look at this special report we recently published.
Our experts picked out The 5 best ASX shares to buy in 2023.
We're giving away this valuable research for FREE.
Click below to secure your copy
Related Articles: