ResMed is one of the largest manufacturers of devices for treating respiratory disorders in the world.
FY 2023 financial results were solid, but investors were disappointed with reported gross margins.
The share price is now trading at prices not seen since early 2020, accelerated by growing concerns that obesity drugs could impact ResMed because many CPAP device users are obese.
In early August, US-based ResMed Inc, which trades both in the US and on the ASX, released its Full Year 2023 Financial results.
Revenues were up 18% and operating profit up 14%.
ResMed Financial Performance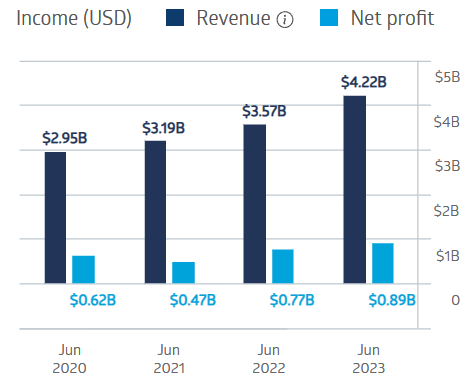 Source: ASX
Investors expect more from high-growth stocks like ResMed, so the intense sell-off in reaction to the 80% decline in gross margins should not have come as a surprise.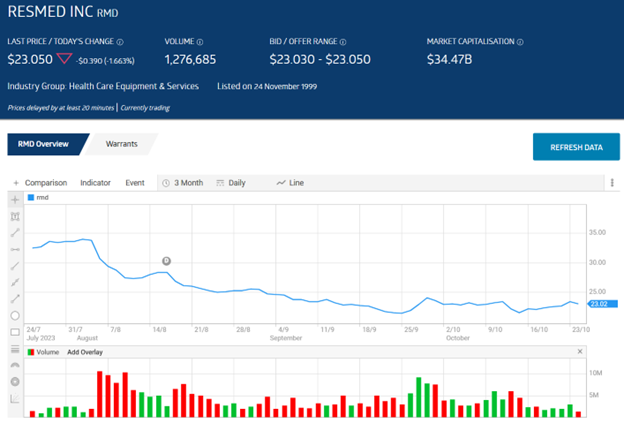 Source: ASX
The slide has continued, with the share price down 29.8% over the last three months, accelerated by the spectre of lost market share from newer obesity drugs. Shortly after the ResMed release, pharmaceutical giant Eli Lilly announced approval for a fast-tracked trial of a new obesity drug.
Although obesity is a common cause of sleep apnoea disorders, the device market is substantial and growing. In 2022, the global market for sleep apnoea sufferers was valued at $4.2 billion dollars, with some expectations of $12.5 billion by 2030.
An analyst at Red Leaf Securities has a BUY recommendation on ResMed shares, stating investor concerns are overblown and that the impact diabetes and obesity medications will have on sleep apnoea devices is unlikely to hamper the company's growth trajectory.
Don't Buy Just Yet
You will want to see this before you make any decisions.
Before you decide which shares to add to your portfolio you might want to take a look at this special report we recently published.
Our experts picked out The 5 best ASX shares to buy in 2023.
We're giving away this valuable research for FREE.
Click below to secure your copy
Related Articles: