Clinical-stage biopharma company Dimerix has seen significant upward price movement.
The company signed a licence agreement for its treatment of a rare kidney disease.
The treatment – DMX 200 – can also treat respiratory diseases.
Based on the company's proprietary Receptor-HIT technology, Dimerix has created the DMX 200 treatment and DMX 700 now in pre-clinical development.
The stock price got a major boost in late September of 2021 on the announcement a regulatory agency in India approved a clinical trial for the use of DMX 200 to treat respiratory conditions in COVID-19 patients.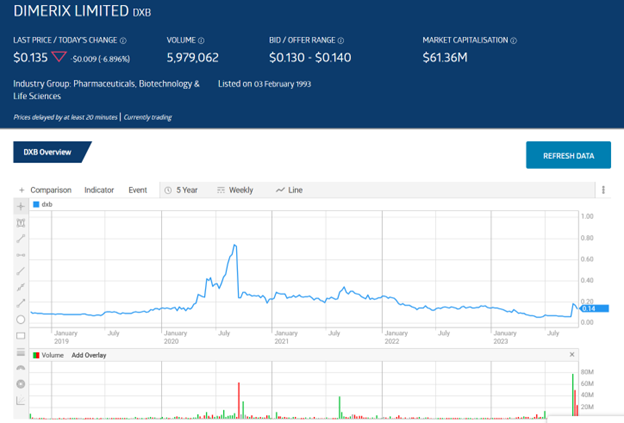 Source: ASX
On the 4th of October 2023, investors awoke to the news that the company had signed an exclusive licence agreement with Advanz Pharma for DMX 200 for treating a rare kidney disease, currently in Phase 3 clinical trials. The agreement covers Australia, Canada, Europe, and New Zealand. Over the last month, the share price has jumped 92.8%.
The company has $7.99 million dollars in cash on hand with $5.96 million dollars of debt as of the most recent quarter. The company's cash burn has increased over the last four fiscal years.
Dimerix Financial Performance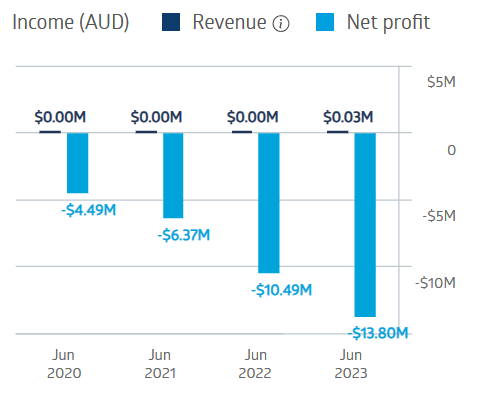 Source: ASX
The company has had successful capital raises in the past. Dimerix has respiratory disease treatments, but the promise of DMX 200 for kidney disease needs estimates of market share potential as the condition is designated as rare.
An analyst at Alto Capital has a HOLD recommendation on Dimerix shares based on the company's licence agreement with Advanz Pharma for DMX200 – a drug for treating a rare kidney disease.
Don't Buy Just Yet
You will want to see this before you make any decisions.
Before you decide which shares to add to your portfolio you might want to take a look at this special report we recently published.
Our experts picked out The 5 best ASX shares to buy in 2023.
We're giving away this valuable research for FREE.
Click below to secure your copy
Related Articles: