New Zealand-based Siren Gold listed on the ASX on 6 October 2020, closing its first day of trading at $0.44 per share.
By 7 December, the share price nearly doubled, rising to $0.84 per share.
The company has multiple gold assets in the historically producing Reefton Goldfield.
The company's 90-day average trading volume places SNG shares well under the radar of Aussie investors.
With a market cap of $12.3m , SNG has a ninety-day average trading volume of 182,889 shares per day.
Junior gold miner West Wits Mining (ASX: WWI), with a market cap of $32.4 million, has a ninety-day average volume of $3.9 m shares per day.
Since listing, the SNG share price has dropped 78.3%. Year to date, the price is down 50.6%.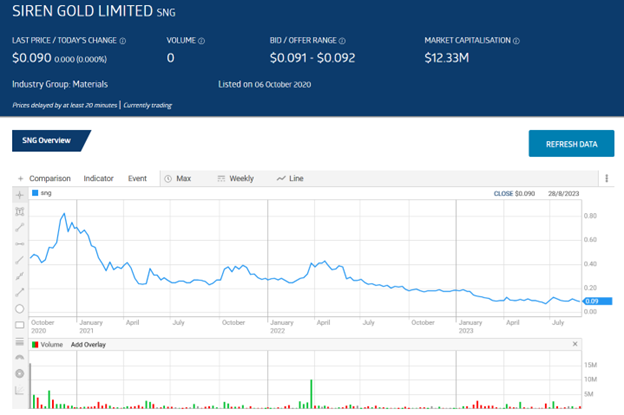 Source: ASX 
The company laid out its progress and plans in a 7 August presentation at the 32nd annual  Diggers & Dealers  Mining Forum.
The Reefton Goldfields was a producing gold mine until it was shuttered during WWII. Siren Gold has six target areas within Reefton, none of which have been explored with modern mining technology.
In addition to the high-grade gold deposits, the exploration area includes antimony, a critical mineral for the transition to cleaner energy.
Some of the targets are drill-ready, with preliminary metallurgical test work in progress. The project's total global resource estimate – indicated and inferred – has grown to 1.5 Moz (3-5g/t), that is, 1.5 million ounces of gold with a concentration of 3-5 grammes of gold per tonne.
Within 24 months, Siren Gold management expects the estimate to rise to 2.5 to 3 Moz (4-6g/t).
An analyst at Securities Vault has a speculative  BUY recommendation on SNG shares, citing the company's recently announced increase in its gold resources estimate from its six projects.
Don't Buy Just Yet
You will want to see this before you make any decisions.
Before you decide which shares to add to your portfolio you might want to take a look at this special report we recently published.
Our experts picked out The 5 best ASX shares to buy in 2023.
We're giving away this valuable research for FREE.
Click below to secure your copy
Related Articles