ResMed is a global leader in respiratory care devices
Except for FY 2016, the company has paid dividends over the last decade
ResMed has increased revenues in each of the previous four fiscal years
ResMed makes respiratory care hardware and cloud-supported software with a significant focus on sleep apnoea and chronic obstructive pulmonary issues. The company is US-based and trades on the NYSE (New York Stock Exchange) under the ticker symbol RMD.
The company's financial performance over the last four fiscal years has been solid, with revenues increasing each year and profit slipping in FY 2021.
ResMed Financial Performance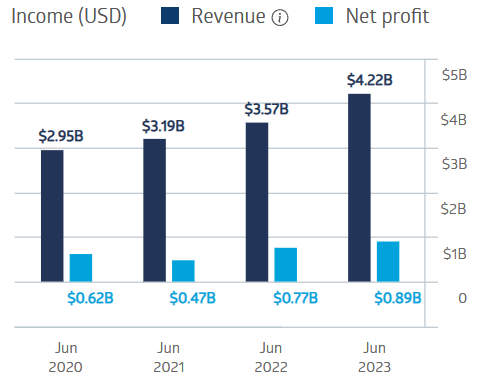 Source: ASX
On 3 August, the company released its financial results for the fourth quarter of 2023 – a condition of US securities regulations – and for the full year 2023.
Investors could have been thrilled with the 18% rise in revenues and the 13% increase in income from operations. They weren't. Instead, the share price plunged into a tailspin as investors chose to focus on the 55.8% drop in gross margin percentage.
Year to date, the stock price is down 19.96% following the steep drop coming after the FY 2023 release of financial results. Over five years, the share price has risen 60%.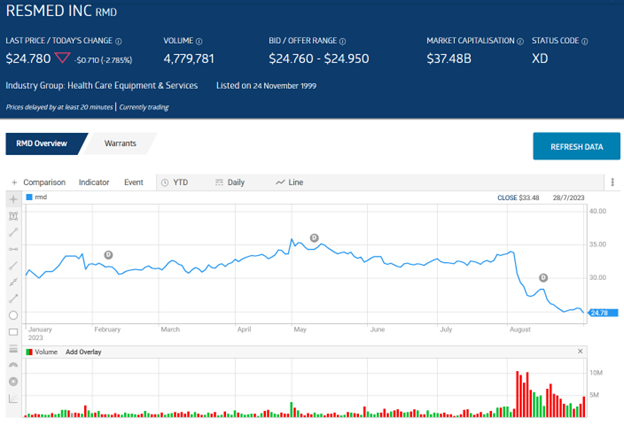 Source: ASX
The company's growth trajectory is substantial, given the global rise in chronic obstructive pulmonary disease. From market research firm Spherical Insights
Related Articles