James Hardie is the world's top producer of fibre cement and gypsum building products.
The company's largest market is North America.
Concerns about consumer spending have not hurt the company's share price.
Although the results were mixed, investors were impressed enough with James Hardie's 7th November Quarterly Results report to spike the stock price, which reached a 52-week high of $49.00 intraday on 17th November.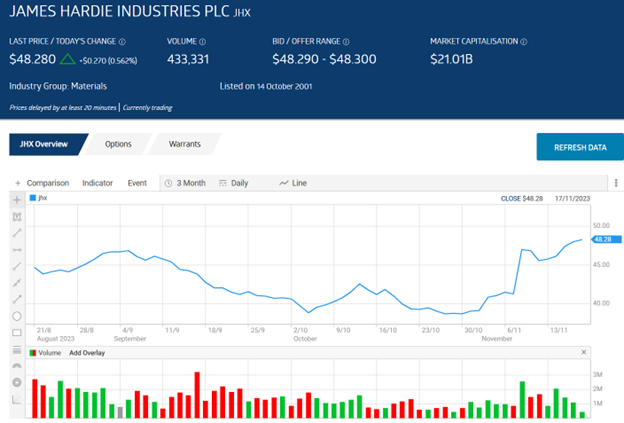 Source: ASX
The company derives 80% of its revenues from the North American market, where inflation and rising interest rates have plagued consumers for more than a year.
Its other markets include the Asia-Pacific region and Europe.
Despite the situation in the US, the company has managed to grow revenue and profit in each of the last four fiscal years.
James Hardie Financial Performance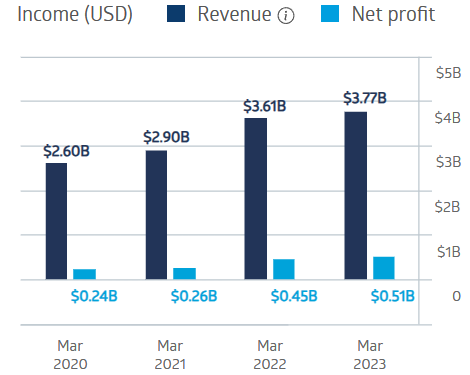 Source: ASX
The Quarterly Report covered two quarters – although net sales dropped 2% and net income dropped 9%, excluding an impairment charge makes the company's adjusted net income a record $179.8m USD, up 7% over the previous corresponding period's $175.8m USD.
North American sales dropped 4%, but Asia-Pacific was up 6% and Europe 2%.
An analyst at Novus Capital has a Hold recommendation on James Hardie stock, cautioning that the consumer outlook in the US may be slowing, making JHX a Hold or a borderline SELL.
As of the end of October, Yahoo Finance Australia showed 10 analysts covering JHX, with six at Buy, one at Hold, two at Underperform and one at Sell.
Don't Buy Just Yet
You will want to see this before you make any decisions.
Before you decide which shares to add to your portfolio you might want to take a look at this special report we recently published.
Our experts picked out The 5 best ASX shares to buy in 2023.
We're giving away this valuable research for FREE.
Click below to secure your copy
Related Articles: