Investors sold off shares of Viva Energy following news of insider selling by a major shareholder.
Viva is diversified, supplying products to Australian consumers and industries.
The company has infrastructure in place for domestic and international distribution.
Viva Energy shares were in an upward trajectory over the last three months before the news of insider selling panicked investors on 12 September, cratering the share price.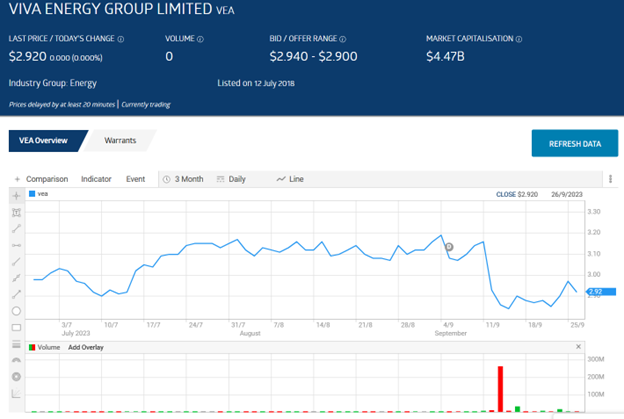 Source: ASX
On 12 September, a major shareholder of VEA – Vitol Investment Partnership – announced the sale of 248.6 million shares of VEA stock, a 16% bite out of Viva's issued share capital. Vitol remains a 30% investor in Viva, adding in the announcement it had no intention of further reducing its remaining stake in the short to medium term.
Viva is the exclusive Australian distributor of Shell fuels and lubricants for transportation via a network of 1,350 Shell and Liberty Service Stations. The company serves the industrial sector with fuels, oils, bitumen, and solvents. The company has an extensive infrastructure network, including the Geelong Refinery, with plans to transform the refinery into a modern energy hub by adding new energy products. The transformation will include a solar energy farm built alongside the Geelong Refinery.
Viva's financial performance has rebounded to exceed pre-COVID levels.
Viva Energy Financial Performance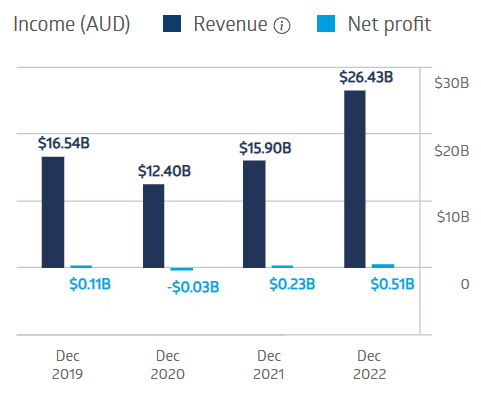 Source: ASX
Viva began paying dividends in its first year on the ASX, with a five-year average dividend payment of $0.09 per share and an average yield of 3.48%. The trailing twelve-month (TTM) yield is 7.47%.
An analyst at Seneca Financial Solutions has a BUY recommendation on Viva shares, pointing to the share price decline as a buying opportunity for long-term investors.
The consensus rating from eleven analysts for Viva Energy shares is OUTPERFORM, with four analysts at BUY and seven at HOLD.
Don't Buy Just Yet
You will want to see this before you make any decisions.
Before you decide which shares to add to your portfolio you might want to take a look at this special report we recently published.
Our experts picked out The 5 best ASX shares to buy in 2023.
We're giving away this valuable research for FREE.
Click below to secure your copy
Related Articles: