Gas infrastructure entity APA Group already transports half of the natural gas used in Australia.
The company's current asset base includes pipelines, gas storage and processing facilities, and a gas power station.
APA Group is increasing its renewable energy holdings.
Despite taking a COVID-19-induced dip in APA Group's financial performance in FY 2021, the company has grown revenues and profit in FY 2022 and FY 2023.
APA Group Financial Performance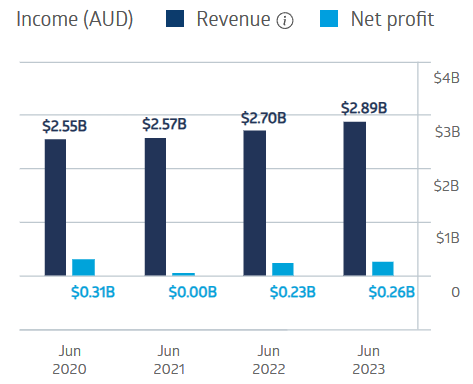 Source: ASX
On 1 October 2013, the share price stood at $5.81 per share, rising to the current $8.55 as of 19 September 2023, a gain of 47% while paying dividends every year for the last decade.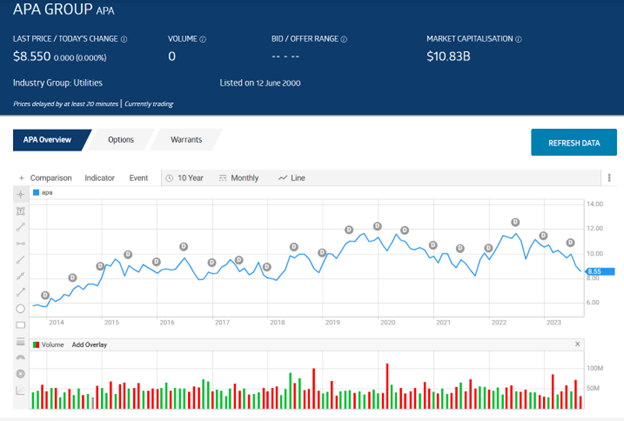 Source: ASX
Year to date, the share price is down 20.5%. Over five years, APA investors have received an average of $0.50 per share in dividend payments with a five-year average dividend yield of 4.94% and a trailing twelve month (TTM) yield of 6.94%.
APA Group now has three solar and three wind farms across Australia, with more expansion to come.
On 18 October 2022, APA acquired the assets of Basslink out of receivership. Basslink is an electrical "interconnector" joining the electricity grids of Tasmania and Victoria, allowing Tasmanian-produced hydropower to be exported to Victoria.
During the 22 August FY 2023 Financial Results presentation, the company announced the acquisition of Alinta Power Pilbara, an energy infrastructure operation composed of gas and solar power generation and gas transmission, along with battery energy storage systems and electricity transmission.
An analyst at Baker Young has a BUY recommendation on APA shares, claiming the company has a "brighter outlook" for longer-term investors along with the stock price trading at a 10% discount to Baker Young's valuation.
Don't Buy Just Yet
You will want to see this before you make any decisions.
Before you decide which shares to add to your portfolio you might want to take a look at this special report we recently published.
Our experts picked out The 5 best ASX shares to buy in 2023.
We're giving away this valuable research for FREE.
Click below to secure your copy
Related Articles: