The push to reduce carbon emissions has breathed new life into Nuclear Energy for electricity generation.
The price of uranium has been steadily rising since January 2017.
The Bannerman Energy share price began a volatile upward trajectory at the close of the 2020 calendar year.
Nuclear energy is back in the mix of energy sources for the future, much to the benefit of Bannerman Energy and other ASX-listed uranium explorers. The BMN share price is up 359.3% over five years and 43.9% year to date.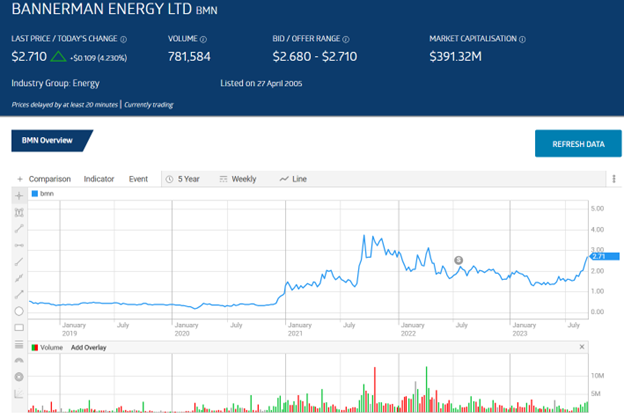 Source: ASX
The company's flagship asset is the Etango Project in Namibia, Africa. Bannerman has been exploring the Etango site since 2006. An October 2022 article on miningreview.com made the case that "Etango is almost ready to roll."
Bannerman has progressed from scoping studies to pre-feasibility studies to a definitive feasibility study and is now in a position to make a final investment decision in the first half of the calendar year 2024. The company is pursuing financing sources and offtake agreements and has a demonstration plant for processing raw ore.
Bannerman owns 95% of the project, with initial production estimated at eight million tonnes annually.
An analyst at Tradethestructure has a HOLD recommendation on Bannerman shares, pointing to Etango being considered one of the largest undeveloped uranium mines in the world and continued positive sentiment driving up the price of uranium.
In 2022, the price of uranium exceeded USD$60 per pound for the first time since the 2011 Fukushima nuclear disaster cratered demand for the chemical element. After a downward period later in 2022, the price has rebounded again.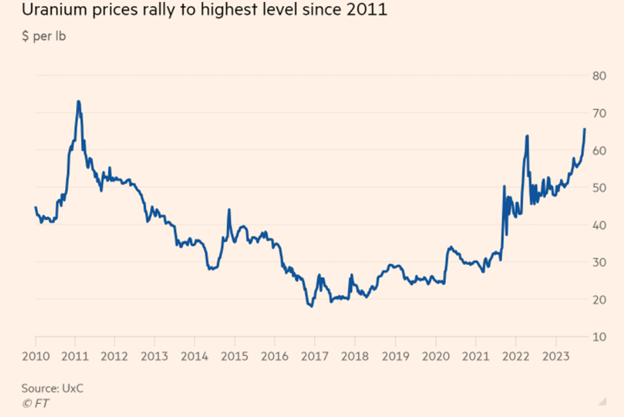 Source: Financial Times
Don't Buy Just Yet
You will want to see this before you make any decisions.
Before you decide which shares to add to your portfolio you might want to take a look at this special report we recently published.
Our experts picked out The 5 best ASX shares to buy in 2023.
We're giving away this valuable research for FREE.
Click below to secure your copy
Related Articles: