An 8 June Breaking News article appearing here on thebull.com.au asked the question – Can Insider Buying Mean Good Things?
Investors who include having a good management team as one of their criteria for picking stocks would answer the question with a resounding "YES."
Who knows the value of a company and its growth potential better than members of its management team, from operating officers to members of the board?
A corollary question is Can Insider Selling Mean Bad Things?
After all, management team members know the company's weaknesses as well as its strengths so shouldn't insider selling mean bad things to come?
Peter Lynch was arguably the best mutual fund manager of all time. He steered the Fidelity Magellan Fund for thirteen years, ending his career in 1990 with average annual returns of 29%.
Lynch put insider selling in perspective, pointing out the myriad of reasons for selling –even members of company management need cash from time to time to buy something, send a child off to college, and on and on. Insider buying, however, has one and only one explanation – members of management expect the stock price to go up over time.
The 8 June article points to May of 2022 as the first month since the onset of the COVID 19 Pandemic market drop in March of 2020 where more company management members were buying their company's shares than selling them.
The dramatic rise in the share price of developer of innovative medical devices Polynovo (PNV) beginning in early May fueled the fires of interest in insider buying. A company director bought 1.75 million shares of PNV stock over a week's time, with two other members of management buying 100,000 shares in the same period. Between 5 May and 8 June the share price rose 32%. Since 5 May there have been 19 insider share purchases from five different members of Polynovo management.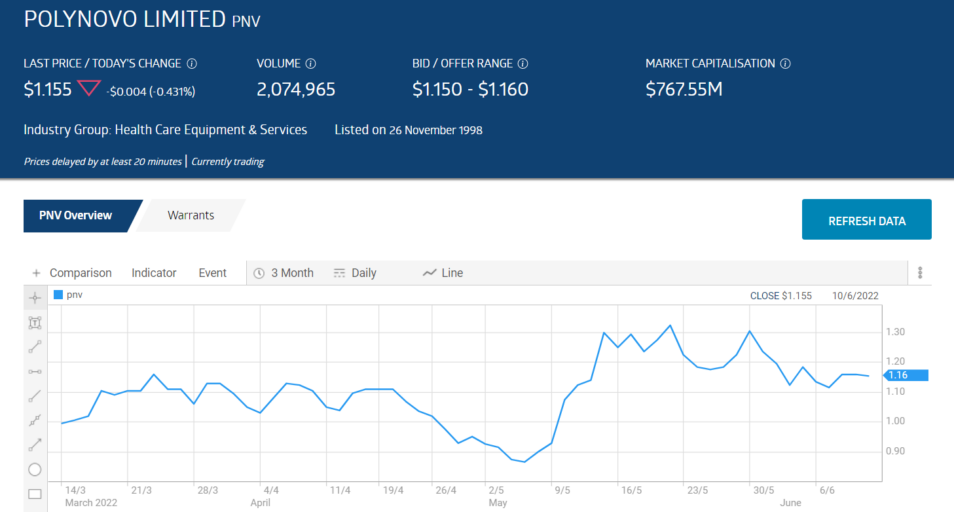 Polynovo's patented proprietary technology Novosorb® is an absorbable synthetic polymer for use in treating a variety of wounds, burns, and multiple other applications, from hernia repair to breast reconstruction.
The company's first product to market was the Novosorb BTM (Biodegradable Temporizing Matrix), a dressing for severely damaged tissue too large for stitching, normally requiring skin grafts following the healing of the wound. When applied, BTM is essentially absorbed into the damaged tissue, leading to healthy tissue within two to three weeks with only a thin membrane over the wound remaining. Once the temporary membrane is removed, the now healthy dermal layer can then be closed with the full absorption of the BTM coming in about eighteen months.
The BTM was approved for use on surgical wounds outside of full thickness burns in the US in 2015, entering the market in 2017, following the buildup of sales forces in the US and Australia and New Zealand.
Although the company has been growing revenue, it remains unprofitable with increasing operating expenses and share placements impacting the share price. The underperformance of a host of potentially positive growth announcements with delays in proposed clinical trials put PNV shares in the Top Ten Short List dating back to 2021.
In 2020, PNV was on fire, with a share price increasing close to 100%. Positive 2020 Full Year Financial Results coupled with the news the US FDA (Food and Drug Administration) had approved a clinical trial for BTM use on full thickness burns along with positive developments on revenues from general surgery and trauma wounds fueled the increase.
Half Year 2021 Financials missed expectations and the rout was on.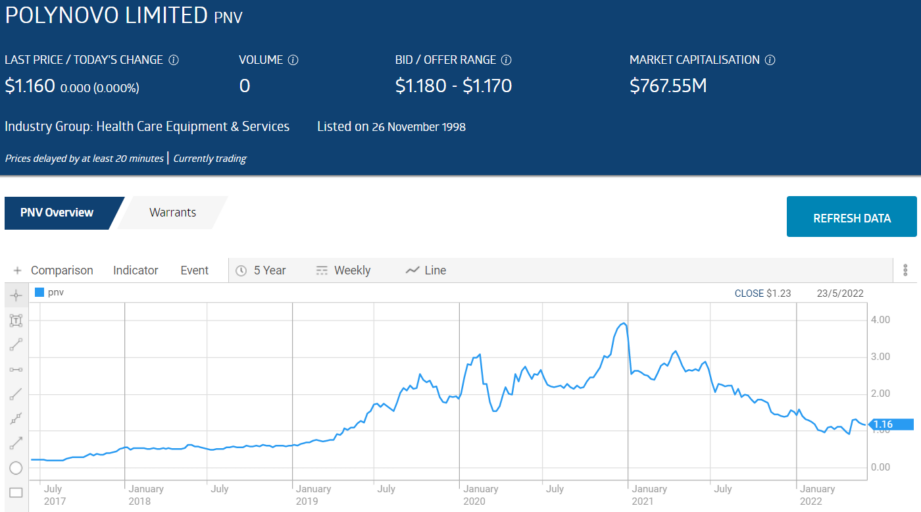 On 21 September Polynovo announced the initial patient enrollment in the full thickness burn study funded by US-based Biomedical Advanced Research and Development Authority (BARDA). The company is partnering with US-based medical device company Establishment Labs to develop products for breast reconstruction and augmentation.
A 9 November of 2021 presentation at a Bell Potter Health Conference may provide some insight into the perception of company underperformance.
Polynovo highlighted increases in BTM sales and the sales team, distributors, hospitals under account, and total new accounts. Yet the company remains unprofitable.
Half Year 2022 Financial Results repeated the pattern – revenue, accounts, and sales team growth. The positive results came following the lifting of lockdown measures here in Australia, where sales were up 96%. Operating expenses rose 53% and the search for profitability continued, with the Half Year 2022 profit picture showing a loss of $1.7 million dollars.
The company is eyeing expanding into Canada and has two new products in development and two clinical trials underway.
There are other stocks on the ASX that have seen significant insider buying over the last twelve months:
CSR Limited (CSR) Building Products

Nanosonics Limited (NAN) Medical Devices

Ecofibre Limited (EOF) Hemp-based pharma/food, and textile products
The following table includes share price and shareholder return metrics for the companies of interest.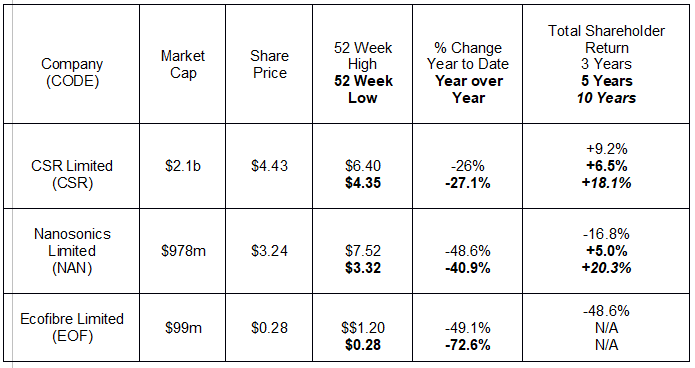 CSR and Nanosonics are the only companies with ten years of share price history, with both seeing declining returns over time.
CSR provides a variety of building materials in Australia and New Zealand and holds a 25% interest in the Tomago Aluminium Refinery in New South Wales. There are eleven branded building materials suppliers operating under the CSR umbrella, offering bricks and pavers, gypsum wall board, insulation, roofing materials, and lines of fibre cement based walling and construction systems. CSR also derives revenue from property sales of former operating sites and a small number of large scale property developments in metropolitan regions.
The company's Fiscal Year ends in March, spreading the impact of COVID 19 and the COVID variants over two fiscal years. Despite the headwinds, CSR managed a slight revenue loss between FY2020 and FY 2021 before besting FY 2020 revenues in FY 2022. Profit continued to rise over each of the last three fiscal years, with FY 2022's reported underlying (from operations) net profit of $193 million dollars eclipsing the pre-pandemic figure of $125 million and statutory (following accounting standards) net profit of $270 million more than doubling it.
Like Polynovo, Nanosonics went from darling to dog status in the eyes of investors over the last two years. In the waning days of calendar year 2020, the share price hit a record high of $7.95 on 22 December, a price that remains a distant dream in the minds of diehard Nanosonics investors.
The company was founded in 2001; listed on the ASX in 2007; and released its flagship product to the commercial market in 2009 — the Trophon® EPR device. The device is a High Level Disinfection (HLD) system for disinfection of surface and within the body ultrasound probes (transducers), using a patented automated "sonicated mist."
In 2011, Nanosonics entered the US market, partnering with GE Healthcare. The Trophon®2 device that allowed "in the examination room" use was introduced in 2018. The Trophon®2 device is compatible with more than twelve hundred commercially available probes that have undergone a compatibility testing process.
In 2021 the company introduced another product to the market — Nanosonics AuditProTM, a workplace management system. Nanosonics is global in scope, with more than twenty five thousand Trophon® units in place throughout the US, Canada, the UK, France, Germany, Ireland, Japan, and here in Australia. The company also generates revenue from training and installation services and a variety of "consumable" products associated with using the system.
The record high share price seems to have been the result of the company's 4 November of 2020 announcement that the rate of recovery following the strong headwinds presented by restrictions on elective procedures that might have used ultrasounds was stronger than expected during the first four months of FY 2021.
In addition, investors may have anticipated further improvements as the world was eagerly awaiting the arrival of COVID 19 vaccines in early 2021.
Half Year 2021 Financial Results dashed those hopes, as total revenues dropped by 11%, led by a 35% decline in the purchase of Trophon® devices to GE Healthcare, an 8% increase in operating expenses, and a devastating profit result – down 74%.
Nanosonics soon took up residence on the ASX Top Ten Short List along with some analyst downgrades. Half Year 2022 Results were positive in comparison with Half Year 2021 results at or near the peak of COVID related impact. A better comparison considering the COVID story was to compare the First Half of 2022 with the second half of 2021, when Nanosonics was experiencing a recovery. Net profit after tax versus the prior corresponding period was up 160%, but when compared to the recovery influenced results in the second half of FY 2021, profit was down 45%, igniting a new round of short selling and a retaining of a SELL rating from Goldman Sachs. Goldman first downgraded Nanosonics as the company will no longer sell exclusively through GE Healthcare in the US market, adding a direct sales model.
Although considered by most investors to be a marijuana stock, Ecofibre would be better characterised as a "hemp" stock. Hemp is a strain of one of the three types of marijuana plants – Cannabis Sativa.
Ecofibre listed on the ASX in 2019, but the company's multiple businesses reflect more than twenty years of experience with hemp, both in breeding and growing.
The company now operates three distinct businesses:
Ananda Food

makes hemp-based food products – seeds, seed oil, flour, and protein powder — as plant based alternative dietary sources of protein — from seed to products on the shelves of Australian markets. The company also supplies Hemp Seed genetics to the US market.

Ananda Health

operates in the US, providing nutraceutical products (food suitable for nutrition as well as medicinal treatments) for both people and their pets, in topical and pill/caplet/gel form. Hemp is sourced from farms in the US state of Kentucky.

Ananda Professional

is now operating together with the Ananda Hemp line, formerly providing similar treatments available only through pharmacies.

Hemp Black

or Ananda Black uses hemp as a sustainable source for textile manufacture and other applications. Hemp absorbs carbon.
Ecofibre quickly vaulted into one of the top spots amongst ASX cannabis stocks, due to the lower regulatory burdens for most hemp-based products. In addition, the company controlled the entire production chain and held a vast cultivation capability and genetic research expertise.
By May of 2020, the company had enhanced its presence in the US market with a distribution deal with CVS Pharmacies for exclusive rights to sell Ecofibre's hemp products.
Ecofibre's first financial results announcement to the market was a blockbuster, with revenues up 42% and net profit after tax up 119%. Although company management had claimed little impact on Ecofibre's business at the onset of COVID 19, the pandemic caught up with the company, with management issuing a profit warning to the market on 20 October of 2020, forecasting a profit loss for the first half of FY 2021 due to the pandemic's increasing impact on the social and retail climate in the US.
Management predicted better things in the second half of FY 2021, but the update on the results in the first half were on the mark, but still shocking to investors. Revenues for the Half Year 2021 fell 49% while NPAT dropped 178%.
In the Full Year 2021 management had to again promise that a recovery was underway, but the hoped for strength in the second half was minimal at best as the situation in the US did not improve. Revenues for the year fell 43% and NPAT dropped 15%.
Half Year 2022 results improved marginally, with revenues increasing 5% and a 21% profit drop. The outlook for the remainder of the year "remains uncertain," although management remains confident in the growth potential of its e-commerce platform and sees pharmacy growth approaching "more normal operations."
In the past twelve months there have been two significant insiders at Ecofibre buying their own stock. Their confidence may well prove warranted over time but following insider buys is not a strategy for the faint of heart, without the patience to let time do its worm. The following is the share price movement for EOF since listing.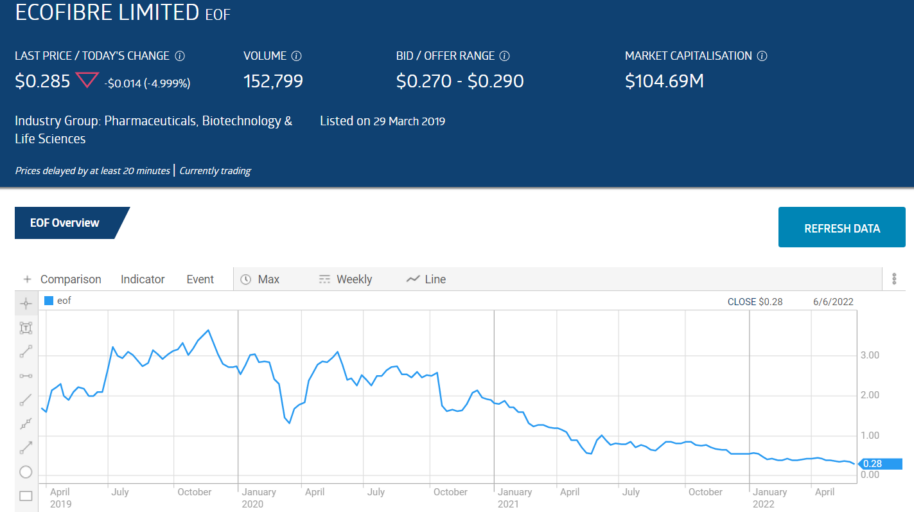 Ananda Hemp products are CBD based available for humans and pets in oil form and in salves for skin conditions. Pain management is the principal use, of CBD oils including relief for cancer patients. Reducing anxiety and alleviating depression are other uses.
Ananda Foods originate here in Australia and include oils, seeds, protein powder, and flours used in cooking to improve overall health and well-being.
Ananda Professional Products are a line of hemp-based products exclusive to Ecofibre, available in pharmacies and for physician use.
Hemp Black apparel accessories products begin with Ecofibre's improved technology for creating innovative hemp-based products.
Ecofibre Limited (EOF) is a producer of a range of hemp based products sold to consumers, wholesalers, and manufacturers. The company's US operations with its line of Ananda Health hemp products available in multiple US pharmacies suffered from the pandemic. In October, the company announced it would not meet its own or analyst guidance for FY 2021 and predicted a loss for the Half Year 2021 results. The share price dropped and remained in a tailspin of 52 Week Low after 52 Week Low.
The company is new to the ASX, listing in March of 2019 and has already vaulted to claim the title of the number one provider of CBD (cannabidiol) products from hemp in the US.
Ecofibre added to its bragging rights when its Ananda Health division started shipping product under its Balans Lab name to over 4,000 CVS pharmacies in the US. CVS is the second largest retail pharmacy operation in the US. Ecofibre plans to expand its product offerings in the US market.