Stock markets in most developed countries continue their mad rush upward, with two of the most watched US indices – the S&P 500 and the NASDAQ – reaching all-time highs this week.
While the ASX 200 has lagged behind in year over year market gains, the pattern evidenced is virtually identical, with the S&P 200, the S&P 500, and the Dow Jones Industrial Average (DJIA) moving in apparent lockstep. From the CNBC financial website in the US: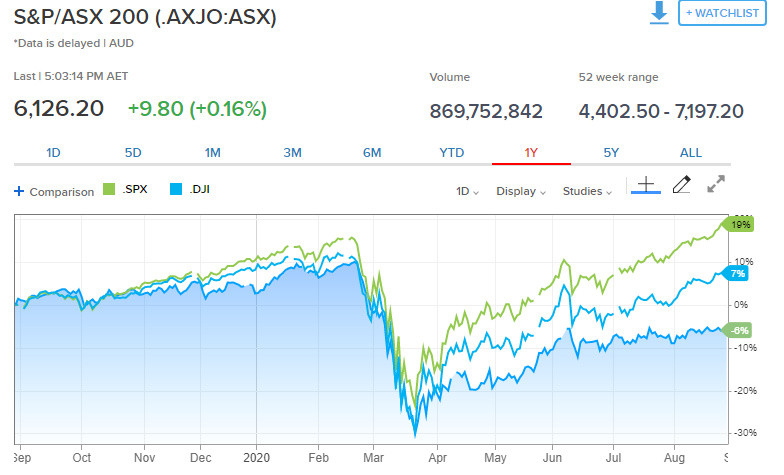 The trend does suggest Aussie investors are a bit more cautious than their US counterparts. Here in Australia, the return of spikes in COVID 19 cases appears to carry more weight than in the US.
However, in both countries there are growing signs of continued economic weakness that should merit investor concern, but in many cases does not.
On the 27th of August in the US investors learned that unemployment claims breached the one million mark, but met expectations, and few seemed to care. The US Federal Reserve Chairman announced the US Fed would maintain near-zero interest rates even in the face of rising inflation. The market reacted by boosting the DJIA over 200 points early in the day, eclipsing all of its 2020 losses, ignoring the fact artificially low interest rates are not signs of a strong economy.
Here in Australia, we have record low interest rates as well. Low interest rates make it easier for businesses to borrow money to invest. Corporate investing in growth initiatives is a positive sign for an economy, offering evidence business leaders are confident about the future.
For the June Quarter here in Australia, business investment fell 5.9% and is now down 11.5% on the year. Investments into an individual publicly traded company are also considered a positive sign for the company's prospects. A common form of investment from private equity firms and others comes in large stock purchases, taking a minority interest in the company. Company insiders represent another source of stock investing.
Common sense suggests corporate CEOs, high level executives, and members of the company Board of Directors are in a better position to evaluate the company's strengths and weaknesses.
When one or more of these insiders sell large tranches of stock they own, market participants more often than not jump to the assumption the selling is a sign of some kind of internal trouble.
Expert opinion suggests otherwise, pointing out insiders, like the rest of us, need cash from time to time and also take profits. While conventional wisdom suggests multiple reasons for insider selling, insider buying has a single explanation. The insiders are confident the company's stock price will rise. Legendary US investor Peter Lynch said it best. "There is only one reason that directors buy: they think the stock price is undervalued and will eventually go up."
In the last three months there have been multiple notably large insider buys of four junior gold explorers. All were either direct buys on the open market or personal buys from a corporate share placement. None were a result of options issued or exercised. The following table includes price performance information for the gold stocks with recent insider buys in excess of one hundred thousand dollars and/or from multiple directors.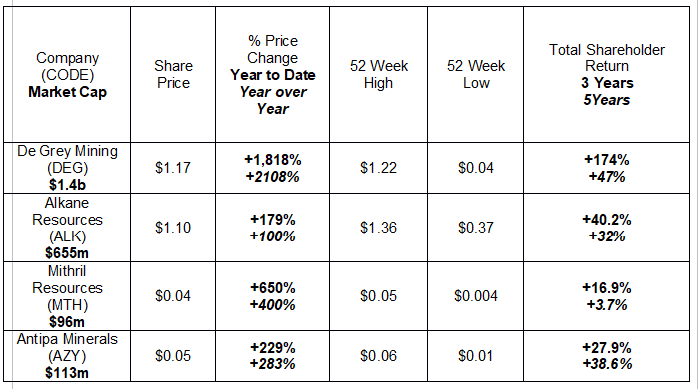 On 28 April, De Grey Mining (DEG) announced to the market a placement of over 111 million new shares in the company at a price of $0.28. On 15 July, a single member of the Board of Directors purchased one million shares at a cost of $280,000.
The company has its sights set on becoming a player in the Pilbara region of Western Australia, focusing on the delivery of an initial resource in 2021 from within its 100% owned Mallina Gold Project. De Grey management claims its discovery of a heretofore unseen form of gold mineralisation at its Hemi site in a region primarily known for iron ore mining may be the largest ever.
Positive drilling results released on 6 February of 2020 sent the stock price in an upward trend that continues to this day, propelled by additional announcements of positive results and a growing resource base at Hemi. De Grey is one of several junior miners experiencing share price increases beginning in the early days of the COVID 19 crisis.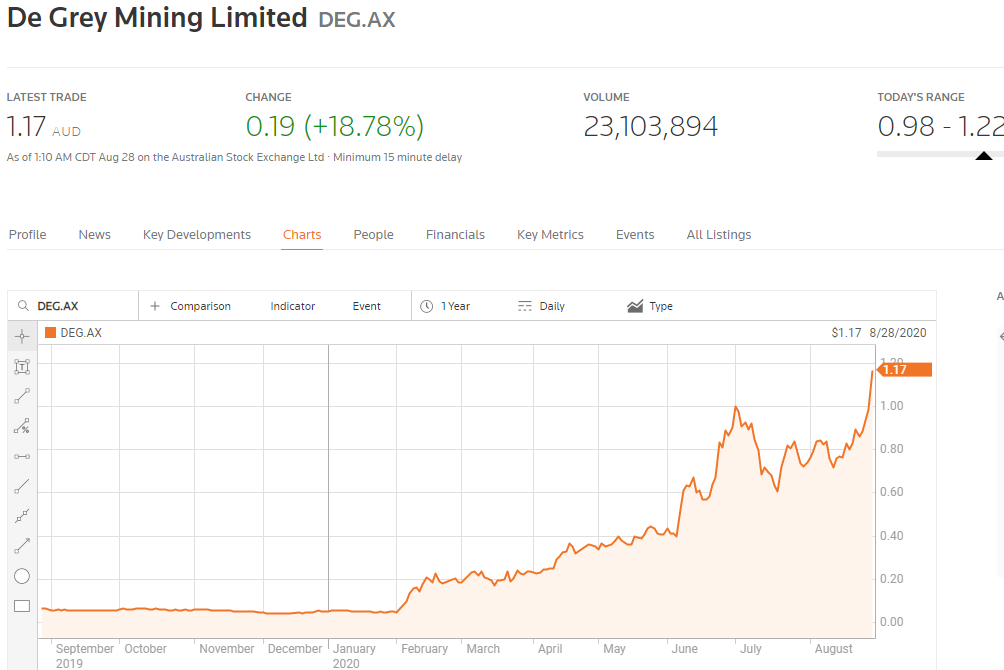 The company's flagship Hemi discovery has increased with positive drilling at the Crow Zone, one of three zones adjacent to the Hemi discovery. Additional positive results have been announced for the Brolga Zone and the Aquila Zone.
On 20 July one director of Alkane Resources (ALK) bought more than 11 million shares in the company at a cost of $13.8 million while on the same day another director sold five million shares.
The Alkane share price has also rallied hard following an initial drop at the start of the pandemic panic.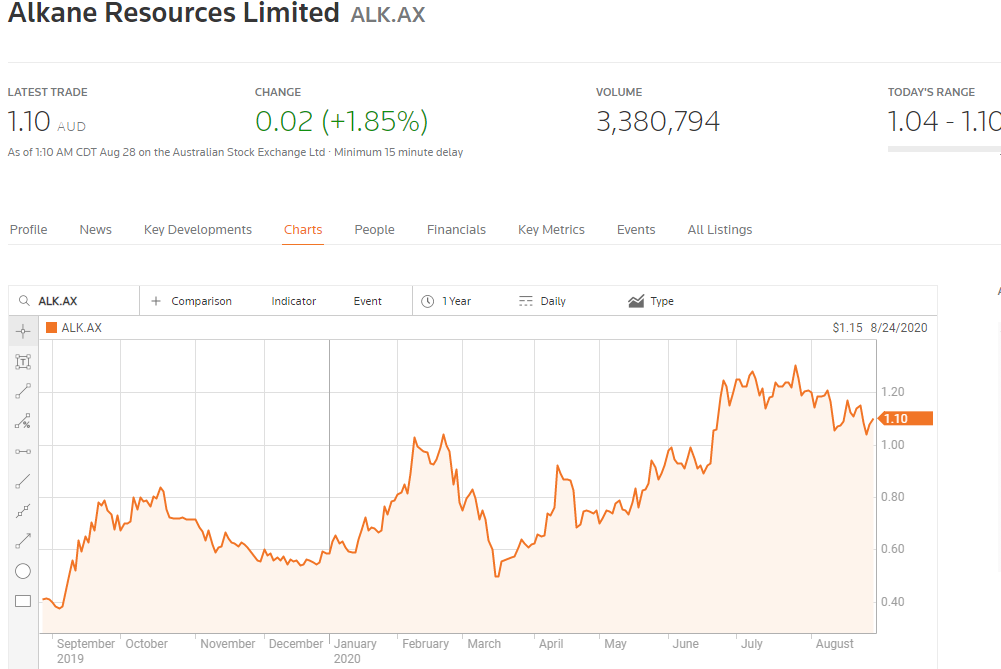 The company's self-description is that of a gold production company with a multi-commodity exploration and development portfolio. Alkane's projects are predominantly in the Central West region of NSW but extend throughout Australia.
The company has an operating gold mine — the Tomingley Gold Operations — and a previously producing mine at Peak Hill. Both are wholly owned by Alkane within the broader exploration tract of the Tomingley Gold Project.
Although Alkane has exploration assets in nickel, copper, cobalt, and rare earth minerals, the company's main focus is on gold exploration not only through its own assets but also through minority ownership in two other ASX listed gold explorers – Calidus Resources Limited (CAI) and Genesis Minerals (GMD). Alkane's rare earth minerals assets at the Dubbo Project (DP) are "development ready."
In 2018 the company made "major gold discoveries" in three locations within the project – San Antonio, Roswell, El Paso, with initial resource estimates for Roswell and San Antonio coming in 2020. In September of 2019 Alkane announced significant gold discovery at the company's Boda Prospect, part of another targeted gold asset – the Northern Molong Porphyry Project.
Alkane is generating both revenue and profit but saw FY 2020 declines in both, dropping from FY 2019 revenues of $92.5 million to $72.5 million with profit falling from $23.3 million to $12.8 million.
As penny stocks, the final two gold explorers in our table might suggest a lower weighting to be assigned to insider buys due to the low price. However, it remains true that penny stocks can climb to higher status.
Earlier in the year an insider at Mithril Resources (MTH) made a timely buy of AUD$425,000 at $0.018. Another director bought seven million shares at the same price.
Mithril changed its focus from exploring for zinc, nickel, copper, and vanadium deposits to go all in on gold when the company acquired the Copalquin Gold Silver Project in Durango, Mexico from Sun Minerals, completing the deal first announced in November of 2019 with a capital raise to fund the acquisition, announced on 7 May of 2020.
On 27 July Mithril began its drilling campaign on Copalquin, an area that had once yielded gold and silver at "bonanza grades."
On 26 August, the company reported positive results from the first two drilling holes with an additional seven to be completed by November. The share price has been rising continuously since the completion, more than doubling the value of those earlier insider buys.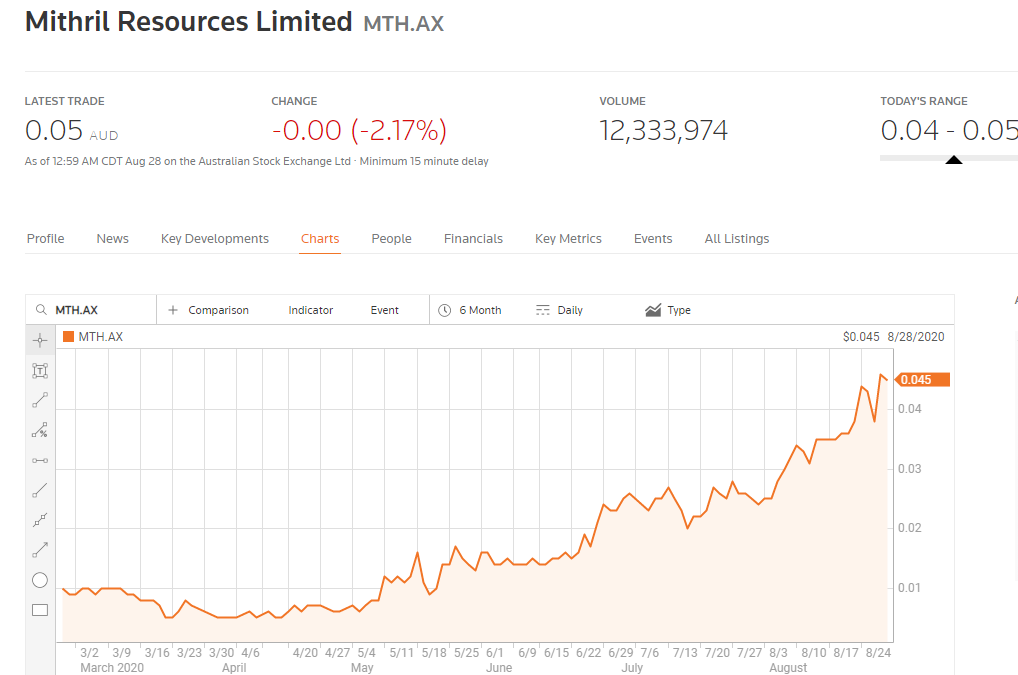 The share price of Antipa Minerals (AZY) began to rise on the announcement of a farm in agreement with diversified miner IGO Limited (IGO). Essentially the agreement calls for IGO to fund exploration activities of Antipa in the company's 100% owned Paterson Project in Western Australia. IGO's initial investment called for AUD$4 million within 2.5 years and an addition AUD$26 million within 6.5 years, culminating in a 70/30 joint venture.
This agreement comes on top of additional farm in leading to joint venture agreements with Australia's biggest gold miner, Newcrest Mining (NCM) and diversified miner Rio Tinto (RIO) announced earlier.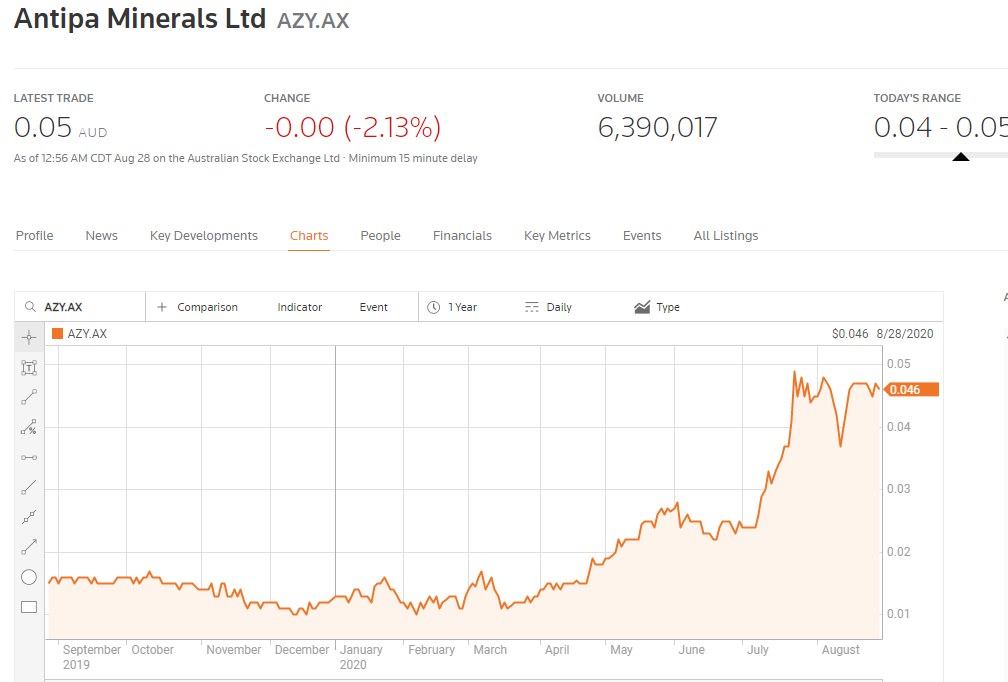 Anitpa's agreement with Rio is for another of the company's exploration assets, the gold/copper silver Citadel Project. A third asset, the Wiki Project, has Newcrest Mining signing on to contribute funding for exploration activities. The final asset held by Antipa in the Western Australia Paterson Province is the 100% owned North Telfer Project.
The latest Investor Presentation from Antipa points out its three farm in agreement /joint venture partners have committed AUD$ 20 million dollars over two years with a cumulative potential exploration spend of $150 million. Drilling programmes are in progress at all four projects.