On 5 December of 1996 the Chairman of the US Federal Reserve, Alan Greenspan, coined a phrase that should be etched in the psyche of all retail investors – irrational exuberance.
It was the time of the dot.com stocks qualifying as "next big thing" stock market entries, sometimes backed by little more than a paper business model and little else.
Greenspan's concern was that overheated investors would drive up the valuation of these hot stocks to levels bordering on the ridiculous, with a bursting of the irrationally exuberant bubbles inevitable.
He was right and to cautious investors the phrase remains a beacon warning of the potential danger of individual or sector-wide stocks crashing and burning after soaring in the clouds.
Marijuana stocks, colloquially referred to as "pot" stocks, make the case to a point. Pot stocks, like other next big thing players, often rise and fall with the herd returning after a stampede to the exit doors following some positive developments.
Yet market experts across the world agree that the potential market for legalised marijuana is enormous, although there is substantial disagreement amongst forecasters of just now big that market will be. In 2018 the value of the global legal marijuana market stood at $USD10.3 billion. Some growth estimates see the market reaching $39.7 billion by 2026; others see $59 billion by 2025; high end estimates call for $148.25 billion by the end of 2026.
Investors considering taking a plunge into this space can find a multitude of reasons for the highly volatile performance of pot stocks. Many advisory or analytical writings on the sector fail to adequately address the fact there are two distinct markets in the pot stock world – recreational use and medicinal use.
Consider the following graph from the Green Fund, an Asia Pacific media outlet covering the global cannabis industry.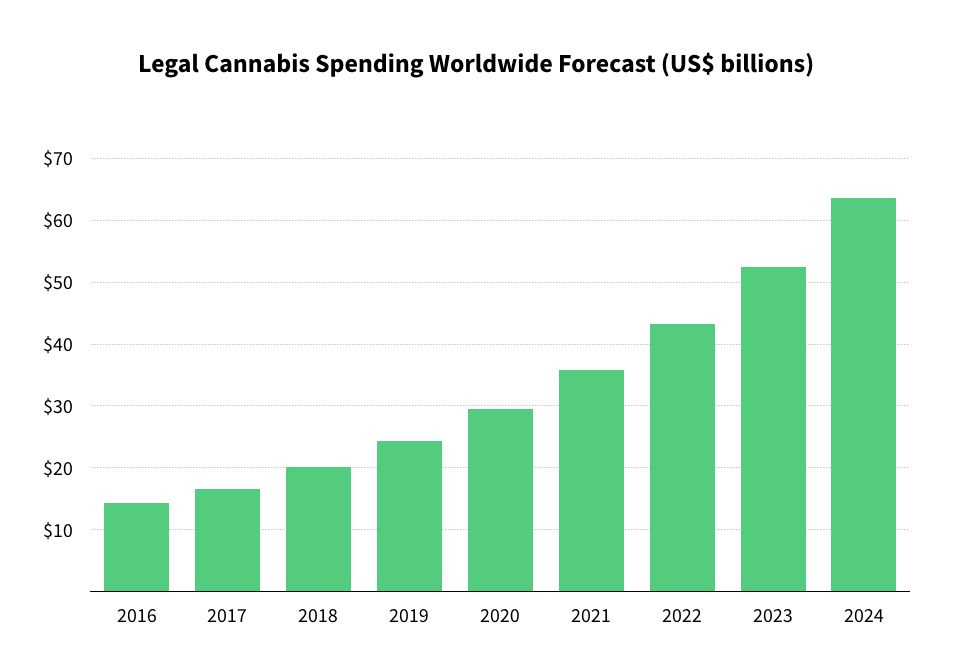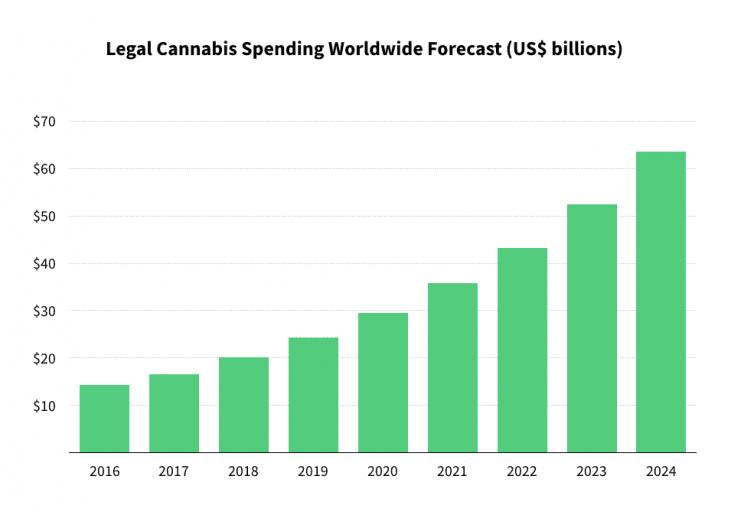 Marijuana Business Daily publishes an annual marijuana business factbook. From the 7th Edition we see the following graph estimating retail sales in the US through 2023 in both segments of the overall marijuana market.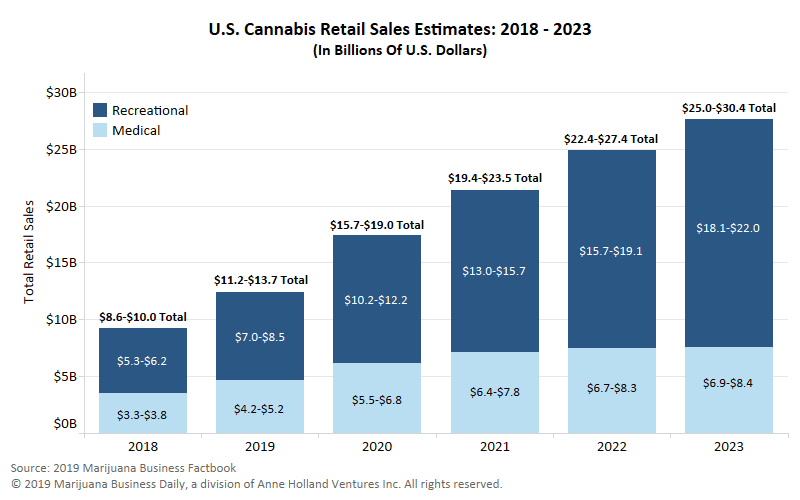 The graph confirms the view that the market for recreational use bests medical use, at least in the USA. However, note that medical marijuana use in the US is expected to more than double within three years. This distinction is missing in graphs that lump all marijuana demand into one.
From Global Market Insights, an economics forecasting organisation, we can see the growth of medical marijuana by the condition treated.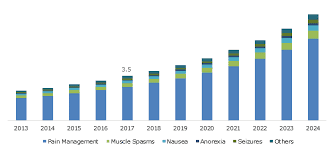 Pain management treatments look to be where the action in medical marijuana will be in the near future.
Australia lags far behind much of the world in legalising recreational marijuana with only the Australian Capital Territory (ACT) legalising pot on 24 September of 2019. Medical marijuana has been phased in beginning in 2017 with the (TGA) exerting tight control over treatment applications and requiring a prescription or patient approvals for medical marijuana use. Although we trail the US, where 33 US states have approved the use of medical marijuana, things are picking up here.
Marijuana Business Daily cites a growing number of TGA (Therapeutic Goods Administration) approvals for medical marijuana treatments.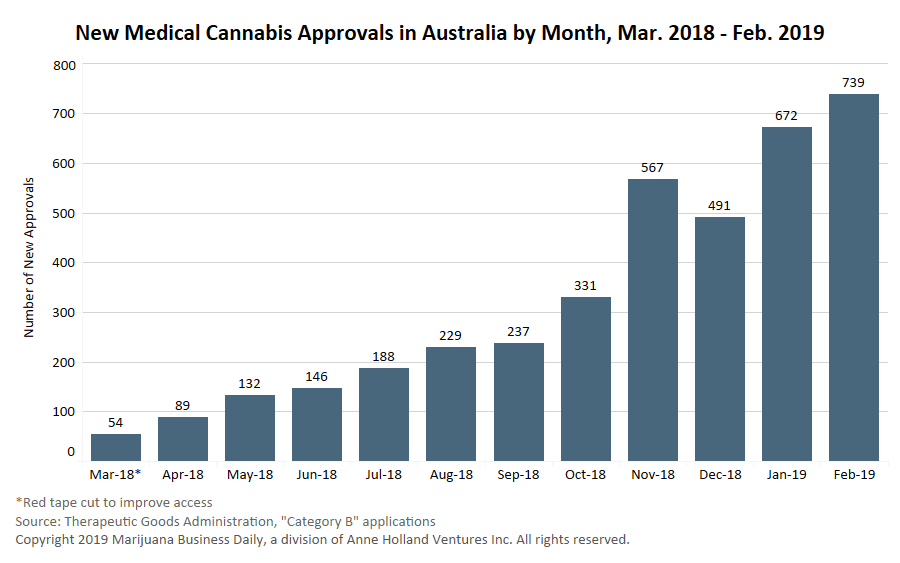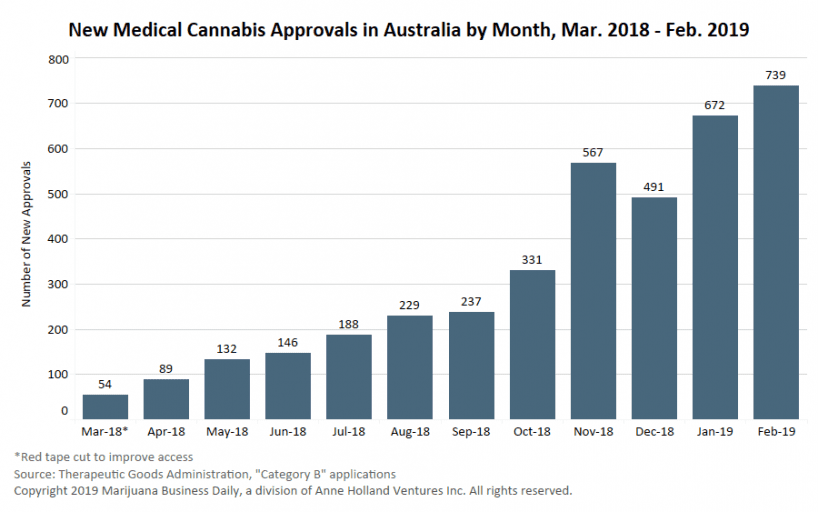 A division of Southern Cannabis Holdings — FreshLeaf Analytics — tracks the medicinal cannabis industry in Australia, with access to the TGA and Australian healthcare companies, clinics, and pharmacies. We have access to medicinal cannabis product, pricing and clinical data sets from some of Australia's leading healthcare companies and organizations including healthcare clinics, pharmacies, product suppliers and the TGA.
The company's Q3 2019 Australian Medicinal Cannabis Product Patient and Pricing Analysis also points to an improving picture here in Australia. They are reporting a 40% increase in product approvals over the last six months bringing the total treatments available for physicians to prescribe is up to 76.
The Therapeutic Goods Administration administers a Special Access Scheme (SASB) allowing the use of medical marijuana treatments not in the Australian Register of Therapeutic Goods (ARTG). The report shows exploding approval numbers under the SASB.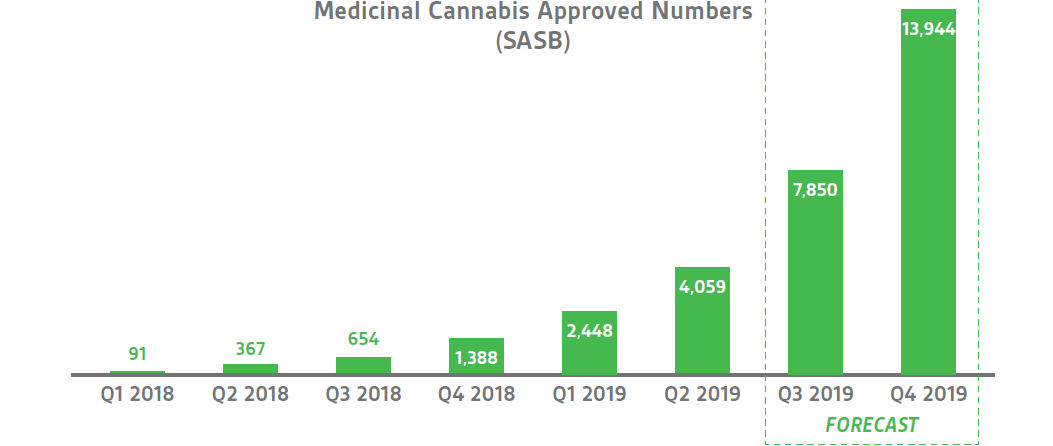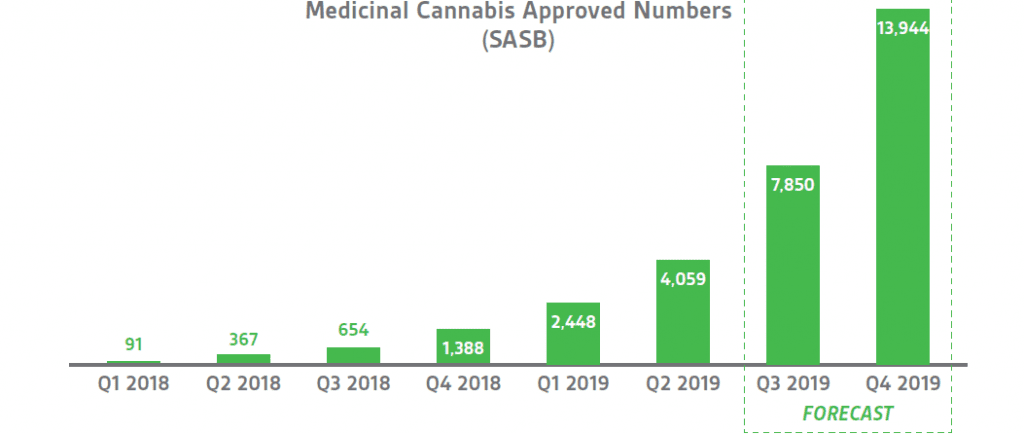 Year to date, approvals are up 650% over the total approvals for all of 2018, with forecasted full year over year growth exceeding 1000%.
The number of patients and their physicians seeking approval is made more significant by the fact the Pharmaceutical Benefit Scheme (PBS) offers no subsidies for medical marijuana treatments.
Aussie investors have opportunities with several ASX companies pursuing medical marijuana treatments for pain management and other conditions.
There are factors affecting all the ASX entries not shared by the companies relying more on growth in recreational marijuana. Canada was the first country to fully legalise marijuana for recreational use, exciting investors in the big-name Canadian stock exchange, the TSX. Expectations were dashed as those providers suffered from not enough retail outlets and slow licensing approval. However, no one questioned the effectiveness of the product.
There is substantial scientific research in progress aimed at measuring the effectiveness in medical marijuana treatments for pain and other conditions. To date anecdotal evidence from users indicates marijuana treatments are effective. For this sector to reach its full potential, it needs the backing of sound research.
All the ASX players could be considered start-ups in the pre-revenue stage of development, with the exception of two. Conventional wisdom on start-ups says that significant revenue can be a sign that profits will follow.
The following table lists the two ASX medical marijuana companies currently generating both revenue and profit or near profit.

Unlike once market darling "pure play" medical marijuana ASX entries AusCann (AC8), Cann Group (CAN) and Althea Group (AGH), Elixinol and Ecofibre are diversified with a primary focus on another derivative of marijuana for treatment of more mundane issues like skin and overall health in addition to pain management – hemp.
In a world where marijuana was associated primarily with getting high from smoking weed, few investors and the general public were not aware of how complex a marijuana plant is and all it contains.
There are three types of marijuana plants:
Cannabis Sativa

Cannabis Indica, and

Cannabis Ruderalis
Sativa contains the THC cannabinoids that produce the feeling of euphoria and as such are less common in many medical marijuana treatments. Indica has more healing properties for pain and anxiety relief. Ruderalis is less common and used primarily for cross breeding.
Hemp is a strain of Cannabis Sativa plant, once used primarily for industrial purposes but now emerging into medical marijuana use. A key ingredient in many medical marijuana treatments is cannabidiol (CBD) which comes from a hemp plant. Hemp-based CBD treatments rarely require a prescription, although they may be part of a physician's patient health platform
Ecofibre (EOF) listed on the ASX on 29 March of 2019, closing its first trading day at $1.71, rising 105% to date, far outpacing its hemp providing rival Elixinol Global (EXL).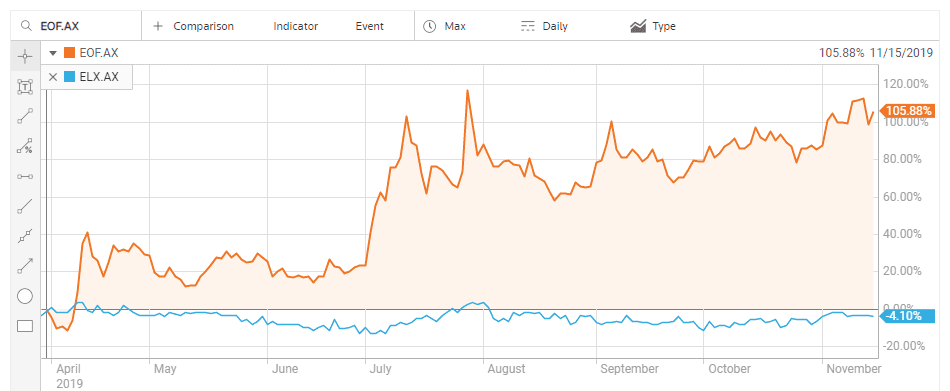 The company operates four hemp-based businesses with operations from Australia-based cultivation and manufacturing to pharmaceutical and physician distribution of hemp-based foods, and a substantial presence in the US market, with contract hemp farmers and processing facilities in the state of Kentucky. In 2018, the final version of a 2014 farm bill in the US legalised hemp cultivation allowing domestic production, considered safer than importing hemp extracts.
Ananda Hemp products are CBD based available for humans and pets in oil form and in salves for skin conditions. Pain management is the principal use, of CBD oils including relief for cancer patients. Reducing anxiety and alleviating depression are other uses.
Ananda Foods originate here in Australia and include oils, seeds, protein powder, and flours used in cooking to improve overall health and well-being.
Ananda Professional Products are a line of hemp-based products exclusive to Ecofibre, available in pharmacies and for physician use.
Hemp Black apparel accessories products begin with Ecofibre's improved technology for creating innovative hemp-based products.
The company's first Full Year Financial Results were impressive. In 2018 Ecofibre posted revenues of $5.7 million dollars and a loss of $8.7 million. For 2019 revenues rose 519% to $35.6 million and profit reversed the loss and came in at $6 million, a 170% increase. The company derives 70% of its revenue from its more than 22,000 independent pharmacies in the US.
Elixinol Global (EXL) offers a compromise for investors who want to benefit from the "here and now" profit potential from hemp-based product sales in the US but also have an interest in the longer-term prospects of medical marijuana here in Australia.
The company listed on the ASX on 15 November of 2018, and started off 2019 on a hot streak, with the share price reaching an all-time high of $5.87 on 9 April. On 23 May the company began a long downward slide to its current share price of $1.08.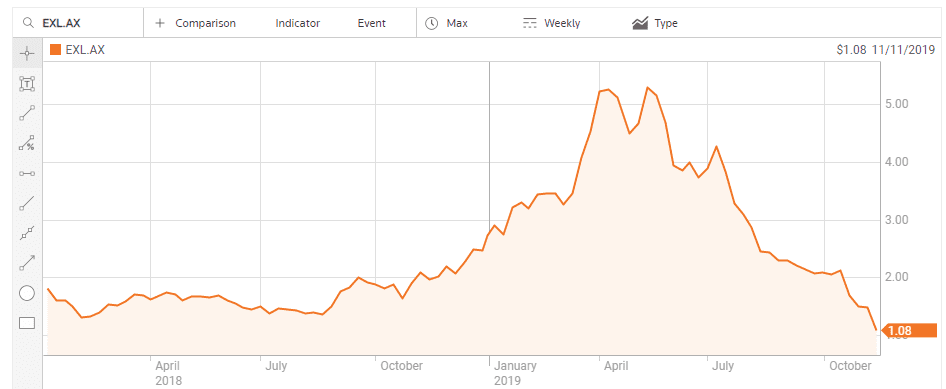 On 24 May Elixinol announced the issue of 900,000 Performance Rights for Senior Management granted as equity compensation benefits in accordance with the Elixinol Global Equity Plan Rules.
On 5 June the company followed that with the announcement of an AUD$50 million-dollar institutional placement of 12.8 million shares at a discount of 8.7% to continue its expansion efforts in the US market, including a doubling of the company's production capacity at its facility in the US state of Colorado.
Elixinol has four operational centres:
Elixinol USA,
Elixinol Japan,
Hemp Foods Australia, and
Nunyara™
The company also has operations in Spain, the Netherlands, and the UK. FY 2018 Financial Results, released in March, showed revenues more than doubling, increasing to $37.1 million from $16.8 million in FY 2017 while posting a loss of $900,000, an improvement over the FY 2017 loss of $1.3 million.
Half Year Financial Results for 2019 saw revenues increasing 17.3% but the profit picture shifted dramatically, going from a Half Year 2018 profit of $120k to a loss of $9.9 million.
Investors were again disappointed with the company's Q3 update, released on 30 October of 2019. Revenues slid 3%, perhaps due to the company's strategic decision to build inventory awaiting "increasing consumer demand and regulatory driven catalysts" to support higher margin products. Elixinol's aggressive expansion campaign comes at a cost, to the apparent chagrin of impatient investors.
The company's product line in the US is similar to Ecofibre's, but its distribution strategy represents a polar opposite, focusing on securing national retailers as opposed to independent pharmacies. Its line of Hemp Foods in Australia is more robust, including hemp-based peanut butter and burgers.
Nunyara™, formerly Elixinol Australia, is the company's effort to expand into the Australian medical marijuana market. To date, Elixinol is still awaiting approval for its early 2018 licence applications for cultivation and manufacture from the Office of Drug Control.