Audinate Group's core products come under the banner of the Dante platform
Dante replaces traditional connections for AV devices with IP networking solutions
Dante reported its maiden profit in FY 2023
Audinate is an ASX 300 listed stock with a market cap of over one billion dollars, yet it seems not many in the Australian investment community have ever heard of the company. The company's 90-day average trading volume is 145,298 shares per day. Investors who found this company have been well rewarded; the share price is up 772% since listing in 2017, 57.6% year over year, and 78.4% year to date.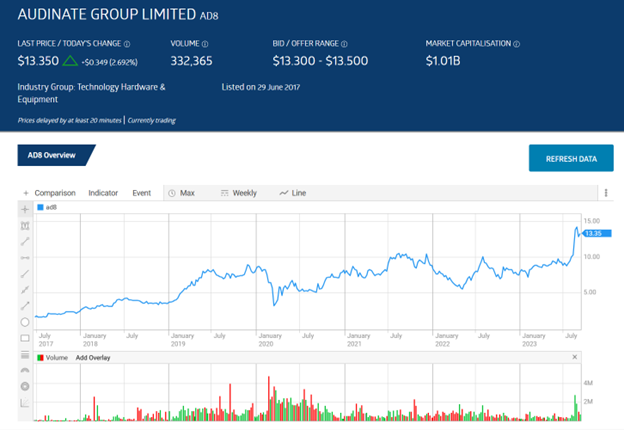 Source: ASX
Dante generates minimal publicity since the platform and its associated add-ons are sold primarily to manufacturers of high-end AV equipment. By the end of 2021, 361 different manufacturers were incorporating Dante ethernet connection in 3,034 AV devices. Dante has become the "protocol of choice" for 91% of the AV products that are using networking.
The company has experienced revenue growth in each of the last four fiscal years, and reached the milestone of maiden profitability in FY 2023.
Audinate Group Financial Performance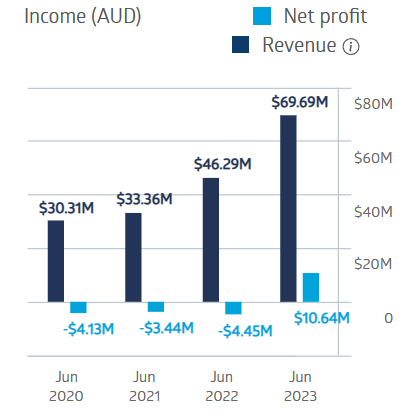 Source: ASX
Revenues increased 40% and net profit reversed a loss of $4.46 million dollars, meaning a first ever profit of $10.64 million. Audinate management have indicated the easing of supply chain issues in FY 2024 and demand already at record levels. In a final burst of optimism, the company anticipates achieving a goal in FY 2024 that was first stated in their FY 2021 report: doubling revenue.
An analyst at Medallion Financial has a HOLD recommendation on AD8 shares, citing Audinate's financial performance, its customer growth, and its "minimal" competition.
Don't Buy Just Yet
You will want to see this before you make any decisions.
Before you decide which shares to add to your portfolio you might want to take a look at this special report we recently published.
Our experts picked out The 5 best ASX shares to buy in 2023.
We're giving away this valuable research for FREE.
Click below to secure your copy
Related Articles: