The initial wave of COVID-19 and the subsequent variants crushed the stock price of companies operating in the global and domestic travel sector.
The Flight Centre Travel Group (ASX: FLT) has been a favourite target of short sellers.
The travel industry in general, and Flight Centre, in particular, are showing solid signs of recovery.
The first wave of COVID-19 rolled over the share price of travel-related stocks the world over. On 17 February 2020, the share price of Flight Centre Travel Group (ASX: FLT) – one of the largest travel agencies in the world – closed at $35.54 per share, falling to $8.62 by the 16th of March, a drop of more than 75% in one month.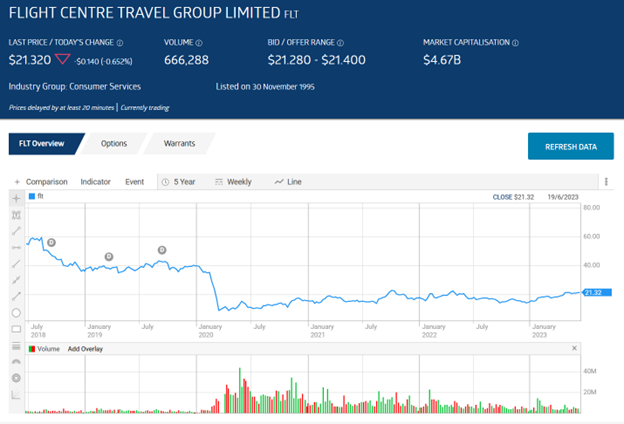 Source: ASX 
The short sellers went after Flight Centre, with the stock remaining the most shorted on the ASX for most of 2022, continuing into 2023, perhaps due to recession fears driven by higher interest rates.
The company's financial performance in FY 2020 and FY 2021 supported the short seller's case, with revenues dropping to $1.89 billion in FY 2020 – down from FY 2019's revenues of $3.05 billion dollars while profit fell from $0.26 billion to a loss of $0.66 billion. FY 2021 continued the carnage, with revenues dropping to $0.39 billion. FY 2022 saw revenues increase to one billion dollars while the company's loss was reduced to $0.28 billion from $0.43 billion.
The share price is up 48.24% this year, with analysts at Morgans and Citi growing bullish on the company. According to Morgans, the pace of the leisure travel business is "accelerating", and Flight Centre's corporate business is "outperforming."
The company successfully raised AUD $180 million dollars in early 2023 to acquire UK-based luxury travel group Scott Dunn for AUD $211 million. Scott Dunn operates globally, with offices in the UK, the US, and Singapore.
Related Articles