Already the largest conglomerate in Australia/New Zealand, Wesfarmers (ASX : WES) continues to expand into new growth areas
The company's retail division includes the top hardware chain in the country – Bunnings – along with the top five discount department stores – K-Mart and Target – and the leading purveyor of office supplies in Australia – Officeworks.
The company's industrial division includes chemicals, fertilisers, energy, and industrial and safety products. Wesfarmers' reliable digital operations helped the company manage the worst parts of the COVID-19 Pandemic while its stores were shuttered.
Between FY 2019 and FY 2022, Wesfarmers managed to increase revenue each year and remain profitable throughout. Many ASX companies posted losses during the period, but Wesfarmers stayed in the black, despite seeing significant profits reductions.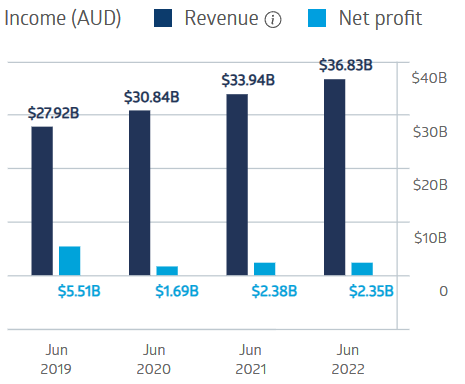 Source: ASX 
Over five years, the share price has been volatile, but it still appreciated by 51.14%.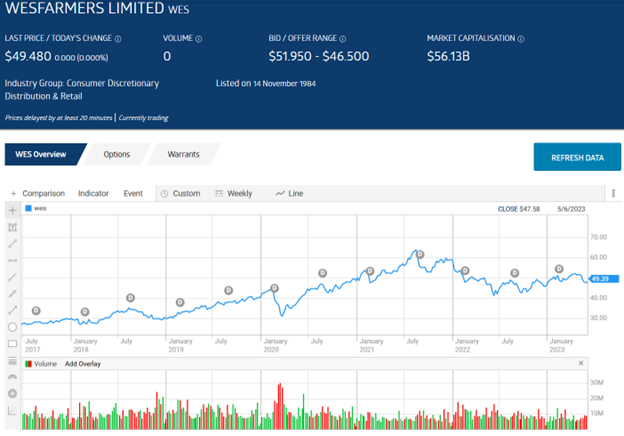 Source: ASX 
Wesfarmers is categorised as a "core" holding, exhibiting both value and growth characteristics at times, with a performance track record justifying the stock's position as the "core" of an investment portfolio. Note that the company did not cut dividend payments at any point during the COVID Pandemic. The five-year average dividend yield is 4.7%, and the average dividend paid was $1.82 per share.
Wesfarmers' management remains committed to growth, and despite its size, the company has made some moves of note in the last few years.
The company has moved into healthcare by acquiring Australian Pharmaceuticals Industries Limited. Wesfarmers is also positioning the company in another upwardly trending sector – lithium mining. Covalent Lithium is a joint venture between Wesfarmers and Chile's SQM (Sociedad Química y Minera de Chile S.A.)
The stock price faltered in early June, prompting a Morgans' analyst to see the dip as a buying opportunity. Shaw and Partners consider the company's diversified revenue streams will be buoying earnings in a challenging economic environment.
Related Articles