Although the Australian economy is showing scattered signs of life, the overall picture remains mixed, according to the chief economist at CommSec.
While the RBA kept interest rates at the lowest level in our history — 0.25% — the bank sees a bleak future for unemployment, with the rate to rise to 10% by year end and to improve and then "remain around seven per cent over the next couple of years."
Although some ASX sectors have had moments in the sun, overall the best that can be said is that they may be beginning to tread water. Mining has had its moments, but among our iron ore miners only pure play iron ore miner Fortescue Metals (FMG) is up substantially year to date, joined by the top three ASX gold miners, Newcrest Mining (NCM), Northern Star Resources (NST) and Evolution Mining (EVN.).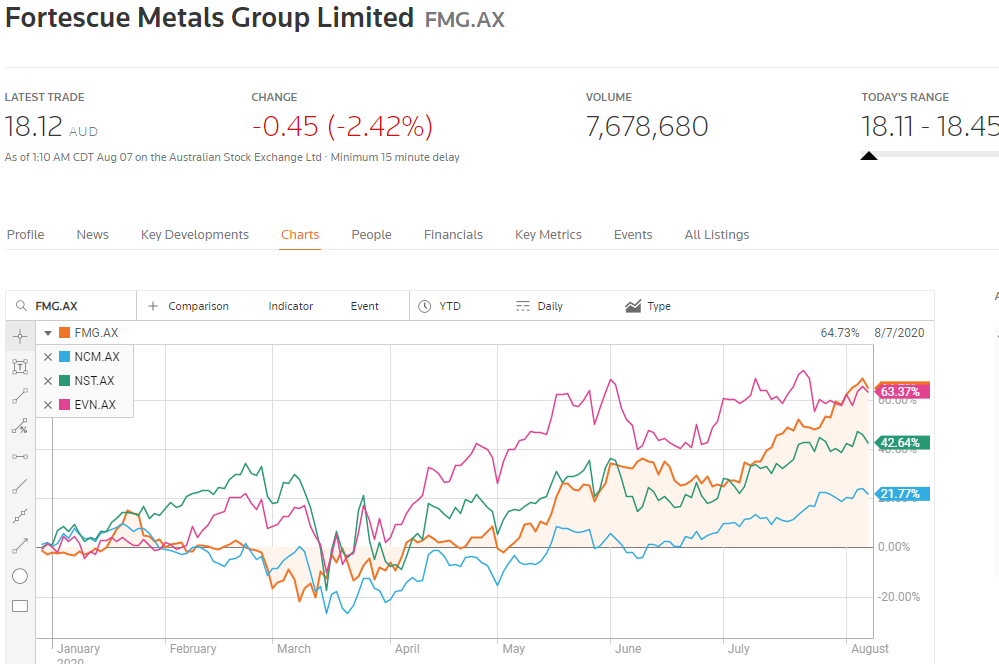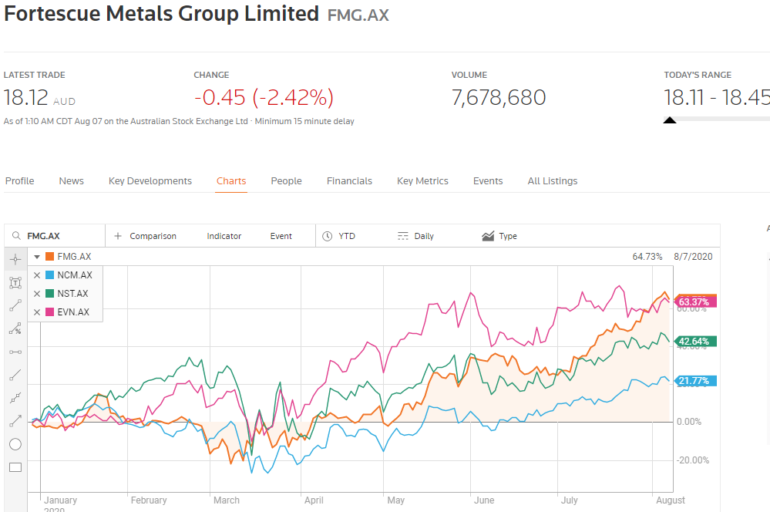 While some investors are playing the hot hand of ASX stocks involved in the COVID 19 pandemic in any way, others are looking at stocks of companies likely to benefit from long term shifts expected in a post pandemic "new normal."
Companies directly involved in the already booming e-commerce sector, either via direct selling or in providing the infrastructure needs of exploding online websites, are high on the list of businesses expected to get a boost from changing consumer behavior in a post pandemic world.
With memories of the horrors of COVID 19 hovering in the background and a wary eye cast on the possibility of future pandemics, consumers are more likely to increase personal ways of meeting their needs than they are of returning to communal ways.
More and more people are likely to increase their online ordering of hard goods, soft goods, medicines, food, and entertainment outlets.
eCommerce retailers will reap the benefits as will companies that provide them with what they need to meet consumer demand.
Of the Top Ten eCommerce Sites in Australia, only one is an ASX listed "pure play" single distribution channel via the internet – Kogan Limited (KGN). The top two are US behemoths Amazon and eBay with big name Australian companies from Woolworths to Coles to JB Hi-Fi operating multi-channel businesses with both brick and mortar retail outlets and online sales.
There are two other ASX pure play eCommerce businesses worthy of note – microcap start up (market cap of $37 million) wine distributor Digital Wine Ventures (DW8), and midcap (market cap of $934 million) Temple & Webster Group (TPW). Along with Kogan, all three are up triple digits both year over year and year to date.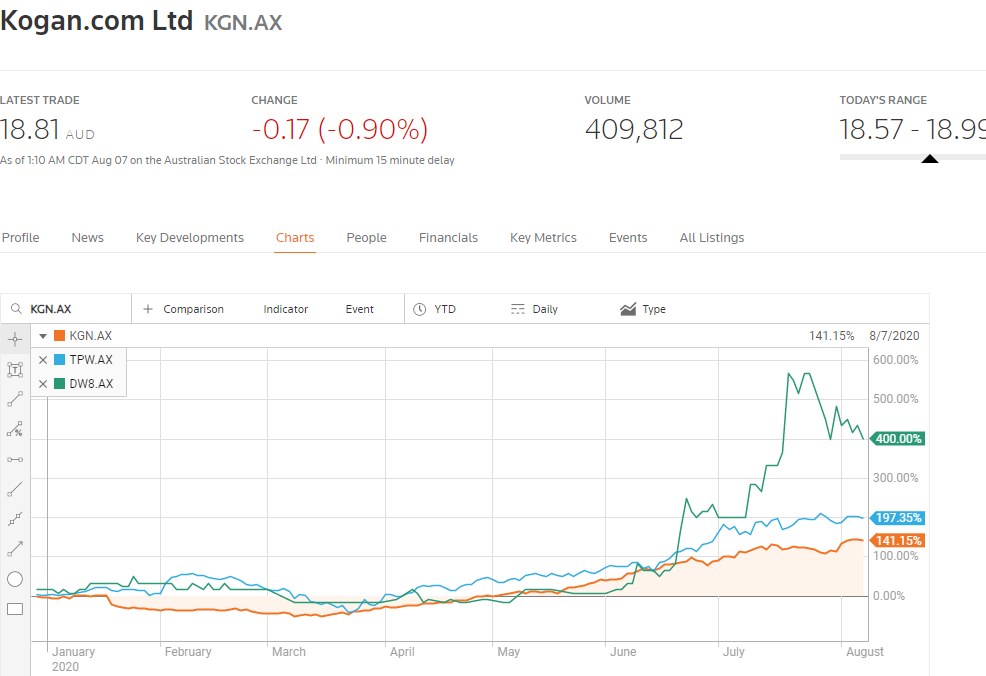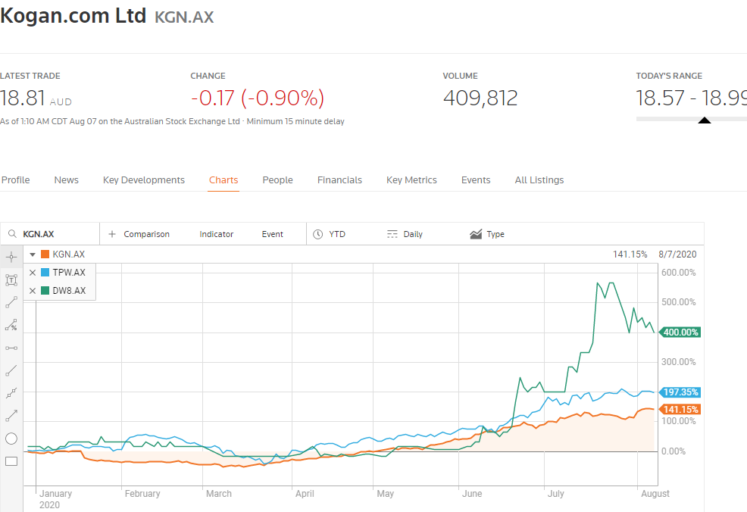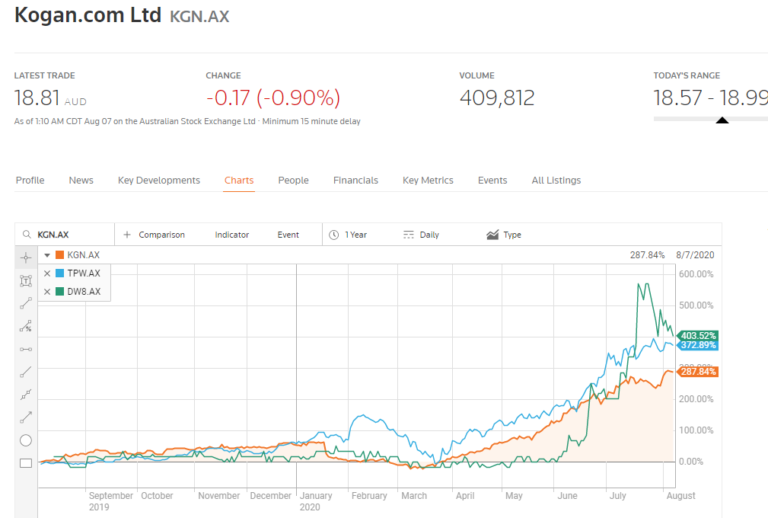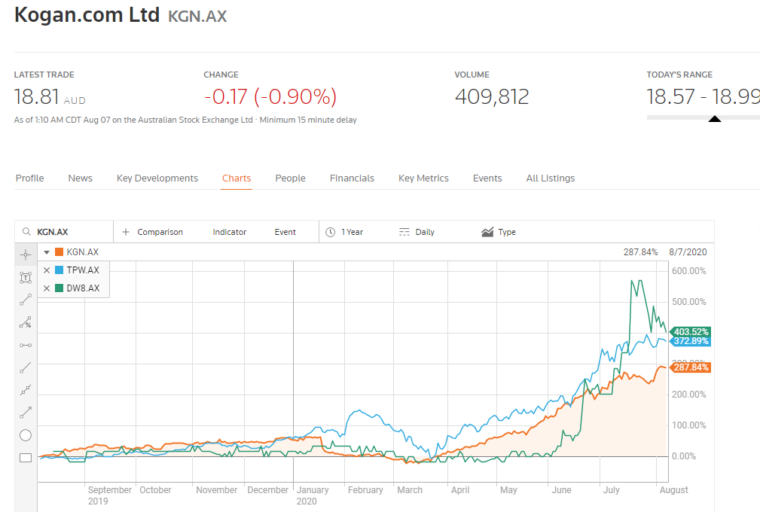 The following table includes some historical performance information along with future earnings forecasts for Kogan and Temple & Webster, both of whom are currently generating both revenue and profit.

Kogan has grown both revenue and profit in each of the last three Fiscal Years, with Half Year 2020 results showing a slight (-5.3%) decline in revenue despite gross sales rising 16.4%. Net profit after tax (NPAT) was up 20.8% but perhaps the most encouraging number was the customer growth in the company's eCommerce operations rising 344.4% year over year.
The company operates multiple businesses, including eCommerce operations Kogan Retail and Kogan Marketplace along with Kogan Mobile, Kogan Broadband, Kogan Insurance, and Kogan Travel. Kogan Marketplace allows third party sellers access to Kogan's high tech online platform, winner of multiple awards and backed by AI (artificial intelligence).
The products available online via Kogan boast a wide array of categories — computers and tablets; phones; cameras; audio; home and garden; office supplies; baby products; kids and family; gadgets; toys and video games; health and beauty; sports and outdoors; luggage; tools and automotive; and pantry.
Kogan just released its Q4 results for 2020, posting a 95% increase in gross sales quarter over quarter and a 115% rise in gross profit.
Temple & Webster, like Kogan, is an online only retailer, with a twist in their business model. The company's product line is focused on furniture and home accessories.
Internet retailers have a decided cost advantage over traditional brick and mortar retailers with substantially lower overhead. However, Kogan and others generally maintain physical inventory somewhere. Temple operates on a "drop ship" model, acting essentially as a middleman between the end customer and the product manufacturer. Orders go from Temple to the manufacturer and products are shipped directly from the factory. This allows a cost-effective means of selling bulky items like furniture online. Approximately 80% of the products Temple & Webster sell are direct shipped, eliminating the costs of warehousing.
Despite its narrower focus compared to Kogan, the products available number more than 180,000, including home, office, and baby furniture, lighting, outdoor furniture, and homeware accessories from wall art to area rugs, available through two online platforms – Temple & Webster and Milan Direct.
Founded in 2011, the company listed on the ASX in 2015 with the share price up 744% since its first trading day. Temple & Webster's recently released Full Year 2020 Results showed a 74% revenue increase and a 483% rise in EBITDA (earnings before interest, taxes, depreciation, and amortisation.) Of particular interest was the 96% increase in revenues in the second half of the year in the midst of the pandemic.
Digital Wine Ventures does not produce wine. It operates a digital software as a service (SaaS) platform that could disrupt the traditional means of distributing wine, both to consumers and to retailers. The company's cloud-based technology platform incorporates the entire supply chain, from producer direct to consumer, retailer, and trade association.
The company is partnering with Australia Post to use their distribution centres in Sydney, Melbourne, Adelaide, Perth, and Brisbane. Storage depots within Australia Post's distribution centres are managed by a dedicated eCommerce care team. Wineries will ship inventory to a central location maintained by Direct Wine Ventures, from where it will be shipped to the Australia Post capital city distribution centres.
The timing of this entry could not have been better as the pandemic depleted existing wine stocks in retail outlets prior to closing down while demand was rising.
A 23 July update announcing additional customers to existing operations sent the share price upward to new highs before cooling off. An update on 6 August announced a record number of orders, up 22% over orders in July.
The company added its first French winery and has plans for expansion in China as well as casting a covetous eye on New Zealand's more than 500 wineries.
While physical stores are not required for eCommerce retailers, products need to be stored in brick and mortar locations awaiting distribution, with the exception of drop-shipping as is the case with Temple & Webster. In addition, eCommerce retailers need "virtual" storage and a host of digital infrastructure support.
There are numerous cloud-computing and network infrastructure stocks from which to choose, but one with the most comprehensive array of offerings is NEXTDC (NXT), providing Data-Centre-as-a- Service (DCaaS), Connectivity-as-a- Service (CaaS), and Data Centre Infrastructure Management -as-a- Service (DCIMaaS).
Commercial and industrial real estate investment trust (REIT) Goodman Group (GMG) is a property group now aggressively pursuing opportunities in high growth sectors such as food and consumer goods, logistical needs for eCommerce, and the digital economy. The company bills itself as all about "space", with the motto At Goodman, we make space for our customers' greatest ambitions.
Goodman counts among its eCommerce customers the likes of DHL, Walmart, and the king of eCommerce – Amazon.
On 11 June Amazon Australia expansion plans for Australian operations with its first fulfillment center in Queensland, located at Goodman's Port Industry Park in Lytton, Brisbane, with operations expected to begin in time for Christmas deliveries.
On 30 June Amazon announced it was again turning to Goodman to manage construction of Amazon's first fulfillment centre equipped with Amazon robotic technology at Goodman and Brickworks' Oakdale West Industrial Estate in Western Sydney. This the third time Amazon has turned to Goodman for major project work.
Both NEXTDC and the Goodman Group are up double digits year to date.