On 19 July, the daily review on global market moves from the Australian Associated Press (AAP) appearing on thebull.com had this to say about the US Standard & Poor 500 market index:
Unprecedented stimulus measures and improving economic data have helped the S&P 500 rise to within about 5.0 per cent of its February record high

.
A few days later worse than expected news on weekly unemployment claims coupled with rapidly spreading COVID 19 cases in the US cast doubt on the prospects of continued improvement in economic data. Unemployment claims of 1.416 million surpassed the prior week's claims for the first time in 15 weeks. In addition, US financial website CNBC.com featured an article painting a dire picture on the outlook for the US automobile industry, with Covid cases on the rise and more and more employees missing work.
Prior to these events, markets here in Australia as well as in the US were willing to shrug off the spread of the coronavirus, enthusiastically responding to positive news on the development of vaccines for COVID 19.
Common sense suggests there is a direct link between the prevalence of the virus and an economic recovery. At its peak, the coronavirus led to massive shutdowns of a broad array of economic activity. All over the world, shutdowns eased as more and more businesses reopened, in some cases on the assumption the virus was receding rather than the reality. With businesses opening their doors once again, green shoots of recovery began to emerge.
The coronavirus is no longer waning, not even here in Australia, once lauded for our exemplary handling of the crisis. The once market moving news of increased government stimulus may now be seen as evidence business re-openings could stop, replaced by new lockdowns, necessitating the need for more cash infusions to stop the bleeding.
Continued positive news on progress in vaccine development may still move markets, but at some point, one must wonder when markets will wake up to an issue largely ignored to date – time. No matter how positive preliminary trial results, there is still the issue of the time it will take for additional trials, final approval, and distribution. Another issue getting virtually no attention is the question of whether or not the global anti-vaccination movement will cut deeply into the number of people who will accept the vaccination, whenever it comes. In short, the hopes for a speedy, "v-shaped" economic recovery appear to be fading.
Current market conditions suggest the best option for risk-tolerant investors unwilling to wait for long-term gains may be ASX companies involved in fighting COVID 19 in one form or another. These include companies working on diagnostic testing, vaccines or treatments as well as companies manufacturing personal protective equipment (PPE).
A little more than one month ago, an article here on thebull.com au featured seven ASX biotech stocks working on coronavirus testing and treatments. A major concern for investing in stocks benefiting from their work on COVID 19 is the classic "one-trick pony" problem – what do they make that will still be in demand post-pandemic.
Six of the seven have continued their upward movement, with double digit share price appreciation over the last month from four of the stocks. One is essentially flat over the same period. All seven have non-coronavirus treatments or tests in their portfolios.
Atomo Diagnostics (AT1) is the only stock working on COVID testing. The share price is up 26% over the last month.
The remaining stocks are all working on COVID 19 treatments:
Noxopharm Limited (NOX)

up 81%

Incannex Healthcare (IHL)

up 43%

PharmAust Limited (PAA)

up 41%

Atomo Diagnostics (AT1)

up 21%

Cynata Therapeutics (CYP)

up 9%

Mesoblast Limited (MSB)

up 4%

Dimerix Limited (DXB)

down 1%
There are an additional seven ASX small cap stocks making significant share price moves over the past three months due to their involvement in the coronavirus fight. Two are working on diagnostic testing; two provide PPE and related hygiene products; and three are working on treatments for COVID 19.
The testing stocks are:
Anteo Tech Limited (ADO)
Genetic Technologies (GTG)
The PPE stocks are:
VIP Gloves (VIP
Harris Technologies (HT8)
The three stocks working on treatments are:
Reece Pharmaceuticals (RCE)
Immuron Limited (IMC)
Incannex Healthcare (IHL)
The following table lists the companies by market cap, with the current share price and share price movements year over year, year to date, and over the last 3 months.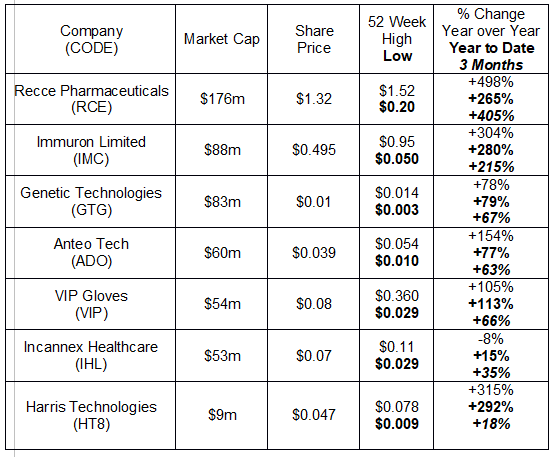 On 21 July investors rushed in to load up on the stock of small-cap biotech Immuron Limited (IMC) following the news its currently available treatment for diarrhea and other gastrointestinal and digestive issues had demonstrated "neutralising activity" against COVID-19.
The product is Travelan. Researchers have learned diarrhea and other gastrointestinal issues are also symptoms of COVID 19. The US CDC (Center for Disease Control) has added gastrointestinal issues to its symptom list for the coronavirus. An "in vitro" assessment – in the glass as opposed to in the body – showed the treatment inhibited the virus. The company has other treatments in its pipeline, recently receiving US FDA (Food and Drug Admnistration) support for an Immuron Investigational New Drug (IND) application.
Reece Pharmaceuticals (RCE) is working on synthetic antibiotics, thrilling investors when the news came out the CSIRO (Commonwealth Scientific and Industrial Research) included two Recce compounds in clinical trials of antiviral treatments for COVID. The news got better shortly thereafter when a US company — Path BioAnalytics – announced it was investigating those compounds, as they are ideally suited to Path BioAnalytics' advanced respiratory organoid model system. Recce management indicated the company had received multiple inquiries regarding its compounds. Preliminary results of current investigations will be available in September.
Incannex Healthcare (IHL) shed its prior business model as a developer of dental impressions to get into the medical cannabis sector. The company has developed a cannabidiol (CBD) based drug as a potential treatment for respiratory distress issues associated with COVID 19, with animal clinical trials commencing on 2 June.
Following the release of positive preliminary results on 17 July, the company announced meetings with biotech consulting firms indicating the Incannex treatment under study "will be a strong candidate for FDA Emergency Use Authorisation."
Online retailer of consumer electronics and information technology (IT) products Harris Technologies (HT8) made a strategic move into the PPE market through partnering arrangements with two Chinese manufacturing firms to sell masks and a broad range of hand sanitisers and other sanitising products through its existing online channels. The product line goes under the Pro-Hygiene banner.
The share price shot up 128% following the 17 April announcement, dropped off through early May but began recovering when the company announced Pro-Hygiene sales in excess of $1 million dollars, toping earlier forecasts of $400,000. Another boost came when Harris released an FY 2020 forecasted profit of $700,000 on revenues of $13 million. Company management expressed confidence increased use of its Pro-Hygiene product line will continue in a post-pandemic environment as consumers, corporations, and government agencies will remain aware of their benefits. The share price has cooled, up 18% over the past 3 months.
The other ASX PPE company – VIP Gloves (VIP) — makes a variety of protective gloves. In early July, the share price took off as the company announced its order book for VIP premium nitrile disposable gloves is filled through June of 2021, with the company now adding four production lines to meet demand, forecasted for growth of 15% through 2022. The added lines will increase glove production by 60%.
The announcement was immediately followed by the news Malaysian company Endless Earnings Sdn Bhd bought 45,634,862 shares in VIP for a 6.12% stake in the company. VIP shares are up 66% over the past three months.
There are two diagnostic testing companies, both with non-COVID related diagnostic products, experiencing substantial share price appreciation following moves to join the battle to reel in the COVID 19 pandemic.
Anteo Tech Limited (ADO) announced to the market it had developed a "proof of concept" dual purpose diagnostic test for both COVID 19 and the flu. A proof of concept is a demonstration in principle with the aim of verifying that some concept or theory has practical potential. The proposed test is a Point of Care (POC) Test, providing rapid results without the need for offsite laboratory testing. The company says clinical studies and regulatory approvals will take six to nine months.
Genetic Technologies (GTG) has diagnostic testing for breast and colorectal cancer and like many companies around the world took up the fight against COVID using technologies developed for other assessments and tests.
In mid-April, the company announced the shift to the market with the latest developments outlined in a prospectus supplement for a planned capital raise.
Genetic states development of its test kits is complete, with the company receiving its first shipment of kits in August. A patent application has been filed and the company has been in contact with the US Centres for Medicare and Medicaid Services (CMS) and the Australian National Association of testing Authorities for regulatory approval.