The second quarter of 2020 drew to a close with both the ASX 200 and the US Dow Jones Industrial Average (DJIA) posting impressive gains, with the Dow's 17.8% rise bested by the ASX 200 increase of close to 20%. For the ASX that move has not been seen here for more than two decades, since the fourth quarter of 1998. The quarterly performance for the DJIA was the best since 1987. Year over year, the performances of both indices represent a mirror image of each other, with the ASX 200 lagging slightly behind the DJIA. From the US financial website cnbc.com: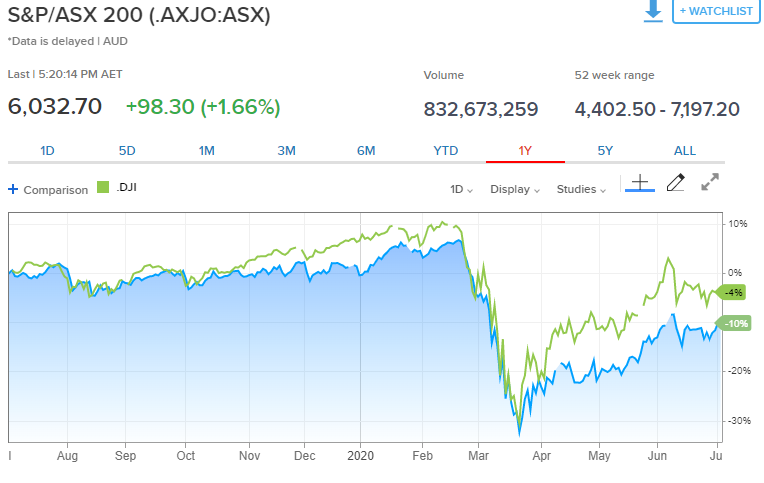 On the second trading day of Q3 the ASX 200 closed up 98.3 points (+1.6%), posting its highest level since 11 June. The move reportedly was spurred by the news that US pharma giant Pfizer's jointly developed coronavirus vaccine was showing positive signs in early stage human trials.
Following slight declines on the first trading day of Q3 in the US, the DJIA rose more than 400 points at the open on better than expected jobs numbers out of the US, paring gains late in the day to close up 92 points in a holiday-shortened trading week. The ASX closed the week on a four-day streak of gains, ending up 2.6%.
The US economy added 4.8 million jobs in June, dropping the unemployment rate to 11.1%. Estimates for the month were for an unemployment rate of 12.4% and 2.9 million jobs added.
Bulls and Bears rushed in with their spin on the numbers, with Bulls claiming evidence the US economy is recovering faster than expected and the Bears pointing to the odd fact the employment numbers are collected via mid-month surveys.
The argument is that a survey conducted on 12 June missed the stark reality that unlike most developed countries with Australia key among them, the US is going backwards with new cases of COVID-19 reaching new highs.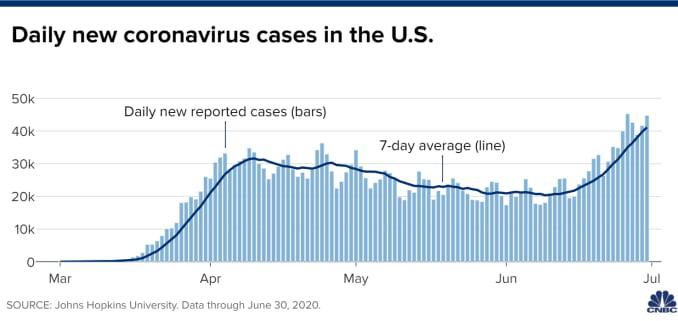 The situation in Australia is markedly better, with the current modest rise in cases restricted primarily to the state of Victoria.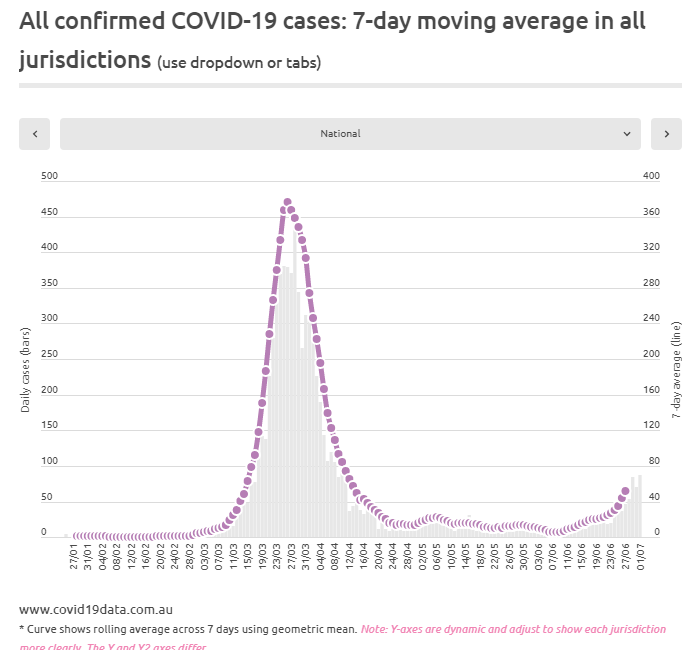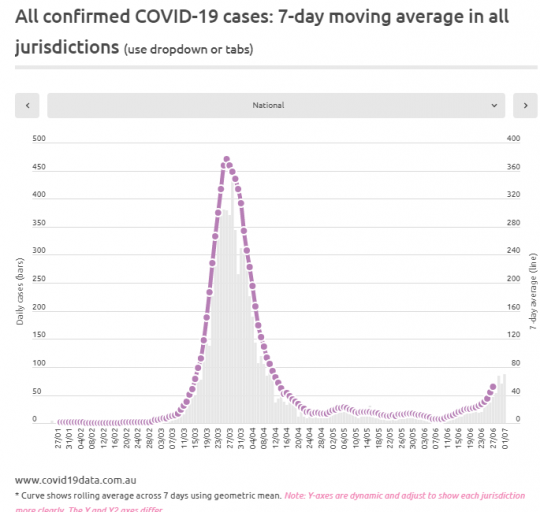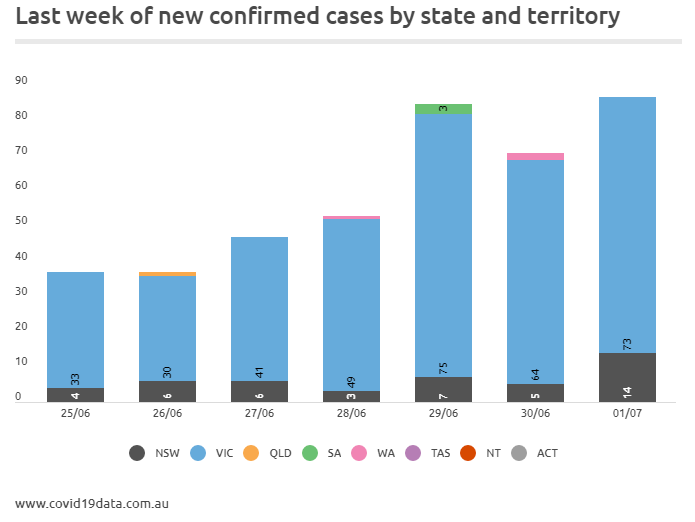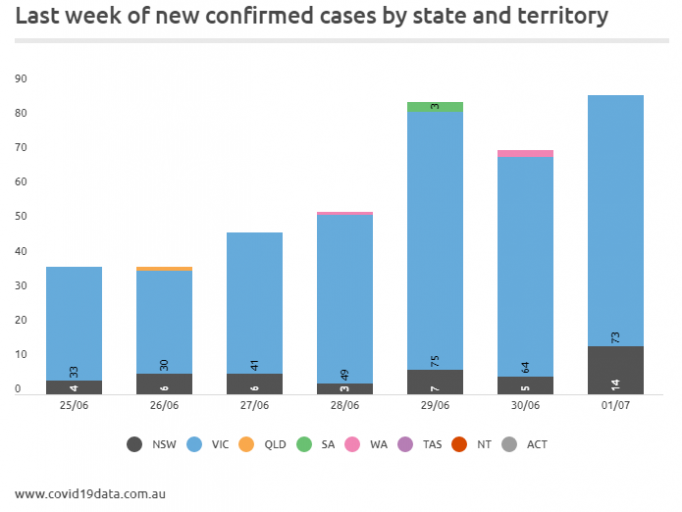 The Bull case in both countries is fueled by the belief government stimulus programs will be initiated or extended to soften the impact of the pandemic. The US has already passed a one-month extension of their Payroll Protection Program (PPP), targeting small and medium size businesses.
Here in Australia the RBA (Reserve Bank of Australia) is suggesting our economy will need federal policy support for years. Although not openly opposed to the need to maintain or increase federal stimulus efforts, Prime Minister Morrison is on record saying "When you're going through more than $10 billion a month, you don't rush those decisions, you make them carefully."
The latest PMI (Performance of Manufacturing Index) released by employer association Ai Group added to the Bull case in Australia, reporting a record 9.9 point rise in June to return to expansion territory with a reading 51.5. A PMI lower than 50 indicates contraction in manufacturing activity while readings above 50 indicate expansion.
The employment situation here is gradually improving, with the ABS (Australian Bureau of Statistics) reporting a 1% increase in total payroll jobs between mid-May and mid-June. In April, the World Economic Outlook issued by the IMF (International Monetary Fund) predicted our economy would contract by 6.7% in Fiscal Year 2021. The latest outlook released at the close of Q2 improved the forecast to a decline of 4.5%.
Despite the volatile swings, the current market conditions have opportunities for both short- and long-term investors with a tolerance for risk.
There are several ASX listed companies involved in some form with vaccines or treatments for COVID-19. Longer term, investors should be taking a hard look at the growth prospects of a stock under consideration once the pandemic fades into history.
Long term, some investors are already assessing what "normal" will look like post-pandemic. Financial websites are reporting opportunities in a "new normal" environment, including increasing demand for telehealth companies and all things promoting better health. There is speculation that the demand to "work at home" could increase as well, providing tailwinds for ASX stocks involved in cloud computing, data storage, and networking.
Redback Connect is a privately held Australian company providing "innovative tele, web and video conferencing services." On 25 June, the company released results of a study of 1,000 employees across Australia with the overall conclusion 86% currently working at home would prefer to continue on either a full-time or part-time basis. It remains to be seen how Australian employers will react, but one workplace consulting firm — Global Workplace Analytics — has a "best estimate" that 25-30% of the workforce will be working-from-home multiple days a week by the end of 2021.
Global IT research and advisory consulting firm conducted a survey of 317 Chief Financial Officers (CFOs) and other business finance leaders on 30 March. Opinions varied as to percentages of employees that will remain working at home:
about 25 percent of those surveyed expect 10 percent of their employees will remain remote

17 percent expect 20 percent will remain remote

4 percent expect 50 percent will remain remote

2 percent expect over 50 percent of employees will remain remote.
The following table includes historical performance and future growth projections for five ASX tech stocks that could benefit should the "work at home" speculation turn to reality.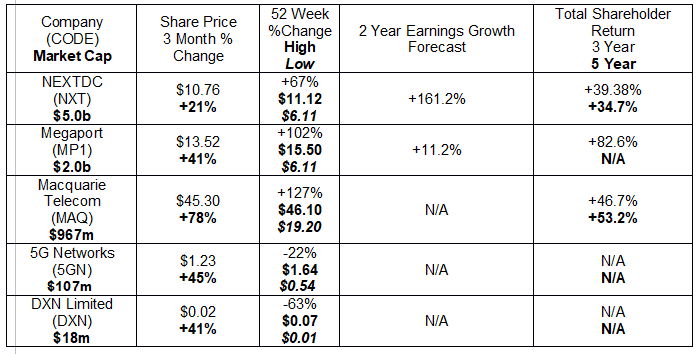 NEXTDC (NXT) is best known as an independent data centre operator, the company offers other services making it ideally suited for a work at home world. NEXTDC's nationwide network of data centres is complemented by the company's connectivity services and infrastructure management software.
The company maintains a "partner system" of cloud providers as well as IT service providers, enabling NEXTDC customers to create complete ecosystems to meet their connectivity and storage needs. NEXTDC's "Data-Centre-as-a Service" business model allows customers access to space, power, and support. In effect, customers use NEXTDC facilities as "extensions of their own property." The company also offers connectivity and infrastructure management as a service.
NEXTDC has grown revenue in each of the last three fiscal years, but profit has dropped, falling to a loss in of $2.4 million in FY 2019. Half Year 2020 results extended the pattern, with an 8% revenue increase along with a 56% profit decline. The company attributed the loss to "higher depreciation and data centre facility costs."
On 1 July NEXTDC updated the market of an increase in contracted commitments at its data centre facilities in New South Wales, prompting investment banking behemoth Goldman Sachs to reiterate their BUY rating on NXT and raise their target price to $11.10.
Megaport (MP1) was founded in 2013 by Bevan Slattery, the founder of NEXTDC. Both companies were recently elevated to the ASX 100 and although rivals in some ways, Megaport offers a unique approach to connectivity – "elastic" interconnection.
Elasticity comes from Software Defined Networking, or SDN. Unlike NEXTDC's reliance on traditional hardware and storage connectivity in many of its offerings, Megaport customers "connect" to a variety of services including cloud computing and internet access via one of more than 221 access points the company maintains throughout the Asian Pacific Region, North America, and Europe. Bandwidth is critical in internet connectivity and the Megaport virtual network frees customers from contracted bandwidth levels, allowing increases or decreases based on demand requirements.
Like NEXTDC, Megaport has grown revenue in each of the last three fiscal years while failing to post a profit. Both companies have seen outstanding share price appreciation since listing on the ASX, with NEXTDC up 549% since its 2011 December listing and Megaport up 384% since listing in 2015 December.
For a stock with a diversified business model, Macquarie Telecom (MAQ) is worth more than a look. The company has four core businesses – cloud services; government; telecom; and data centres.
Cloud Services allow enterprise customers to "hybridise" their IT operations, integrating cloud computing and data centres with the customers own internal resources. Macquarie provides consulting services and creates and manages hosting services according to customer needs.
The Government business segments adds cybersecurity services to cloud and data services. Macquarie claims it provides its services to 42% of Federal Government agencies.
Telecom services for the work at home employee include fast internet and unlimited calls and data. Macquarie provides both as well as offering traditional full-service data, voice, mobile and colocation services.
Macquarie has three data centres in operation now – one in Sydney's business district and another in the suburbs and one in Canberra, with a fourth added to the Sydney business district complex scheduled for completion this year.
On 16 June, the company announced federal government demand for the company's services have expanded to the point Macquarie will build its fifth data centre, adding to the company's existing Canberra data centre complex. The share price hit an all-time high of $35 per share and continued to rise to its current price of $45.30.
5G Networks (5GN) listed on the ASX on 30 November of 2017, closing its first day of trading at $0.39. The share price is up 215%. The company is small, but investors are taking notice of its aggressive expansion plans
5G Networks offers traditional telco customers "super" high speed internet and its business customers data networks, data centres, cloud services and managed services in the B2B (business to business) sector.
The company is shedding its "under the radar" status as an 11 June institutional share place was oversubscribed, raising over $18 million dollars for "fibre network infrastructure and merger and acquisition (M&A) activity.
The final stock in our table, DXN Limited (DXN) listed on 30 April of 2018, closing its first day of trading at $0.17, and proceeded to plunge to the current share price of $0.02, a drop of 88%. However, over the past three months the share price has risen about 40% with the uptick commencing on the announcement DXN had acquired a data centre in Hobart.
The ASX issued a "speeding ticket" to DXN following a big runup on 3 June. The company's response cited an interview appearing in the Market Herald as a possible cause.
The interview highlighted the company's self-proclaimed efforts to "redefine the way modern data centres are constructed and operated."
The approach has DXN designing, building, operating, and maintaining "modular data centres." DXN currently has three data centres in operation, one in Sydney, one in Melbourne, and one in Tasmania. DXN also offers cloud and connectivity services.
On 3 July, the company announced its Modular Edge Data Services had been shortlisted in the AFR 2020 Most Innovative Companies Awards submission process.