BHP Group has been transitioning to resources critical for decarbonisation.
The company shed its thermal coal and other non-essential assets.
BHP expanded its copper asset base with the acquisition of OZ Minerals.
The demise of the ICE (internal combustion engine) vehicles is only one component of the transition to a lower-carbon world.
Many investors eager to cash in on the trend are attracted to the 'glamour' minerals used in an electric vehicle (EV) battery – lithium, cobalt, nickel, manganese and graphite.
Estimates vary by battery type, but experts tell us that there is more copper and nickel in an EV battery than lithium or cobalt, and BHP mines both copper and nickel.
BHP operates the massive Olympic Dam copper mine, now enlarged with the OZ Minerals acquisition, along with three mines in Chile.
'Doctor Copper' is the crown jewel, used in more energy applications than any other metal – household and commercial electronics, wind and solar power generation, and electricity grid infrastructure.
BHP is consistently profitable with dips attributed to the fluctuating price of iron ore.
BHP Group Financial Performance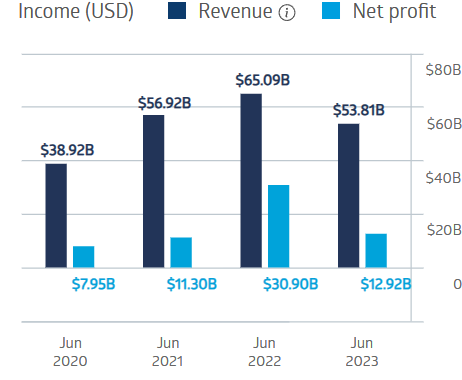 Source: ASX
The company is a dividend powerhouse, with a five-year average dividend payment of $2.87 per share and a yield of 6.98%.
Year over year, the share price is up 16.7%, but has gone flat year to date, up 0.07%.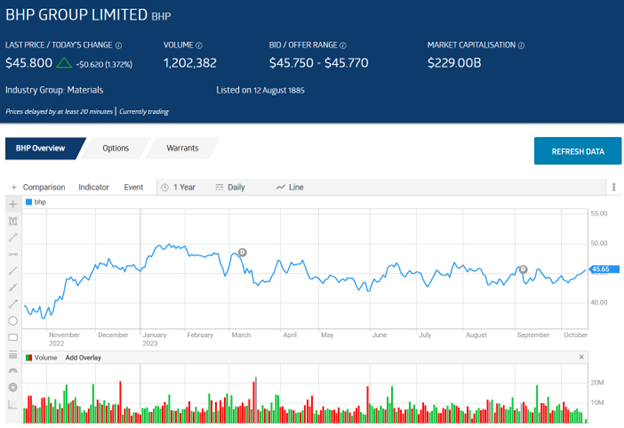 Source: ASX
An analyst at BW Equities has a BUY recommendation on BHP Group shares, highlighting the company's massive copper assets and the growing demand for copper, along with its other revenue streams.
Don't Buy Just Yet
You will want to see this before you make any decisions.
Before you decide which shares to add to your portfolio you might want to take a look at this special report we recently published.
Our experts picked out The 5 best ASX shares to buy in 2023.
We're giving away this valuable research for FREE.
Click below to secure your copy
Related Articles: