The price of lithium appears in freefall, weighed down by excess supply and Chinese demand outlook.
As prices skyrocketed, lithium miners ramped up production.
EV sales are below previously optimistic expectations.
As has happened with commodities turning red hot in the past, existing miners increase production and newcomers enter the space, often leading to an oversupply.
Most lithium miners have suffered due to the lithium price decline, few more so than exploration and development stage miners such as Patriot Battery Metals (ASX: PMT).
Patriot listed on the ASX on 6th December 2022 as the price of lithium began its decline.
Since listing, the stock price is up 60%, but over the last three months, the price has dropped 31%.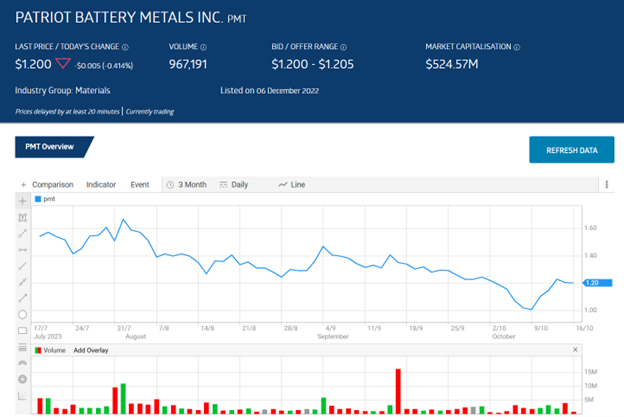 Source: ASX
Patriot is a Canadian company whose flagship asset is the wholly owned lithium hard rock Corvette Project in the James Bay mining region of Quebec.
Corvette has a maiden inferred mineral resource estimate of 109.2 million tonnes, which ranks it in the top 10 largest lithium pegmatite (hard rock) resources in the world.
The company's existing drilling program at Corvette had been hampered by travel restrictions due to Canadian wildfires, but these have now been lifted.
Patriot recently received a strategic investment totalling C$109m from Albemarle Corporation.
An analyst at BW Equities has a BUY recommendation on Patriot shares, stating that the stock is oversold considering that it holds what could become "a strategic asset in the key North American market".
Don't Buy Just Yet
You will want to see this before you make any decisions.
Before you decide which shares to add to your portfolio you might want to take a look at this special report we recently published.
Our experts picked out The 5 best ASX shares to buy in 2023.
We're giving away this valuable research for FREE.
Click below to secure your copy
Related Articles: