Demand for Ansell's gloves and face masks skyrocketed during the height of COVID.
Supply chain issues led to inventory stocking from Ansell customers.
As supply chain issues eased, existing inventory excess was sold down.
Ansell makes protective equipment for the healthcare and industrial sectors. The company's gloves, face masks, goggles, and protective clothing for healthcare workers and the consuming public sold at a breakneck pace during the COVID-19 Pandemic.
With the market screaming for product, protective equipment providers bought whatever inventory was available. As supply chains clogged by the spread of the virus began to ease, providers sold down excess inventory, denting sales of Ansell products.
In addition, rising interest rates to combat inflation led to recession fears in the industrial sector, further impacting Ansell's revenues while the company's input costs increased due to inflationary pressures.
The company's financial performance mirrored those dynamics.
Ansell Limited Financial Performance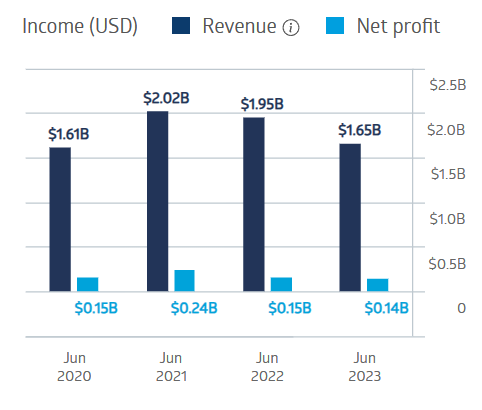 Source: ASX
Year to date, the Ansell share price has dropped 22.3%, with the most significant dip coming following the release of the company's Full Year 2023 financial results, with revenues declining 15.2% and net profit after tax (NPAT) falling 6.6%.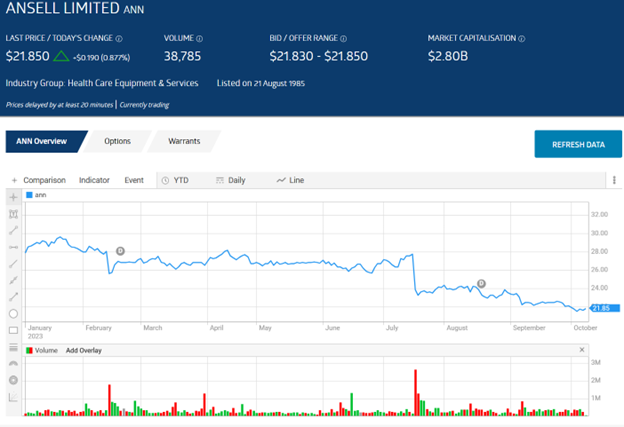 Source: ASX
Healthcare spending is one of many megatrends experts tell us will drive future growth. In addition, Ansell's protective equipment is in demand in ten separate industrial sectors, from agriculture to oil and gas.
An analyst at Catapult Wealth has a HOLD recommendation on Ansell shares, claiming the company has "business expansion across emerging markets providing growth opportunities."
Don't Buy Just Yet
You will want to see this before you make any decisions.
Before you decide which shares to add to your portfolio you might want to take a look at this special report we recently published.
Our experts picked out The 5 best ASX shares to buy in 2023.
We're giving away this valuable research for FREE.
Click below to secure your copy
Related Articles: