ALS Limited provides analytical measurement, testing and inspection services globally.
The company's two operating segments include customers from a wide range of business sectors.
The share price is down year to date due to a mining slowdown.
ALS Limited has been in business since 1863 and trading on the ASX since 1952.
The company's commodities division serves the mining sector with a range of sophisticated technical services.
The Life Sciences division includes recession-resistant companies in food and pharmaceuticals along with a growing number of customers using the company's environmental services expertise.
The company's financial performance weathered the COVID-19 pandemic, with profit growth throughout and a revenue dip in FY 2021.
By FY 2023, the company's net profit had more than doubled from pre-pandemic levels.
ALS Limited Financial Revenue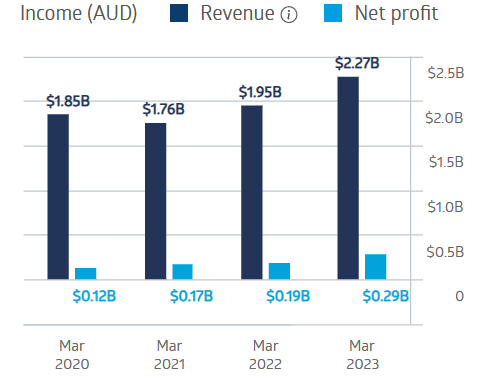 Source: ASX
The FY 2023 results were positive across the board, with revenues up 19.5% and underlying net profit after tax (NPAT) up 23.4%. The company made multiple revenue-generating acquisitions during the year and maintained a positive outlook for FY 2024. However, the report failed to produce an uptick in the stock price.
Over 10 years, the share price is up 64%, whilst year to date, the price has fallen 7.2%.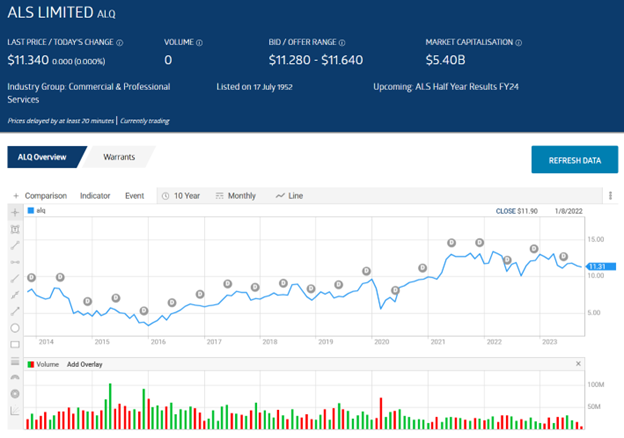 Source: ASX
The company has been a consistent dividend payer over the last decade, with a five-year average dividend payment of $0.25 per share and a yield of 2.54%.
An analyst at Ord Minnett has a SELL recommendation on ALQ shares, in the expectation that the post-pandemic mining boom that boosted the company will slow down, hurting ALS's commodities business.
Don't Buy Just Yet
You will want to see this before you make any decisions.
Before you decide which shares to add to your portfolio you might want to take a look at this special report we recently published.
Our experts picked out The 5 best ASX shares to buy in 2023.
We're giving away this valuable research for FREE.
Click below to secure your copy
Related Articles: