Central bankers are playing catch-up on inflation, leaving room for gold to run.
Gold producers have performed well of late; can Gascoyne Resources cash in?
Sitting on the promising Never Never deposit, Gascoyne is looking to make a run.
 Gascoyne Resources Limited ASX: GCY (GCY) has been recapitalised of late, selling off equity on the promise of decent assays on its flagship Never Never deposit.
With gold in the spotlight due to rampant international inflation and central bankers' inability to keep pace through rate rises, gold as an alternative store of value has been on a run of late, narrowing in on $2,000/oz earlier in the year before retreating to the current price of $1,923/oz.
Gold bugs will be willing for another decent run in the gold price, and GCY may just be the stock to play that run.
Having diluted its share capital by close to 100%, GCY has tapped the capital markets in order to take full advantage of the high gold price. Investors believe some steam is still left in the tank to support the current gold price.
Over the last month, shares in GCY are up over 50%. Solid mining results on promising assays and a sustained gold price will provide more room for investors to profit from this small market capitalisation gold miner.
Investing in junior miners is risky, and thorough due diligence is essential before buying stock in this company, as is ensuring the investment fits your current risk profile.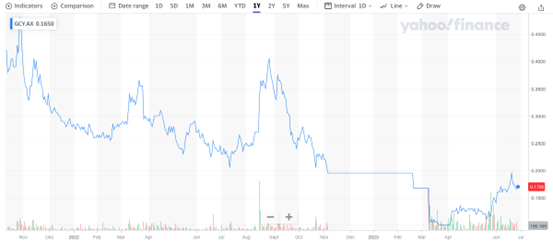 Source: Yahoo!Finance
Related Articles