The global lithium market is projected an annual increase of 20%.
Patagonia Lithium Ltd has been set up to cash in on some of that demand.
Focussing on the abundant lithium brines in Patagonia, this newly-minted company is scouring Patagonia, Argentina for opportunities.
For those that are looking for maximum multiple returns, the earlier you are to the investment, the greater the return can be. However, being earlier in investment can also mean a greater risk.
There are fewer investments on the stock market today that are more nascent in their timeline than Patagonia Lithium Ltd ASX:PL3 (PL3). Having been incorporated in 2021 and listed since March, PL3 is at the earliest stages of its investment cycle.
There is a great deal of unknowns with this investment. PL3 has acquired exploration licences in Patagonia and has returned promising results. To truly capitalise on this opportunity, there will need to be more proven drilling, as well as additional future funding. This funding would assist in the development of potential resources. The knowledge presented here is of no assurance that a decent equity share will remain of any end product.
The growth potential of Lithium is undeniable. With the current projected international demand of lithium-ion batteries, there is a shortfall to today's lithium extraction, and new resources will need to be developed.
PL3 has the potential to be a part of a diversified investment strategy in lithium – and the battery market as a whole. Despite the apparent potential of PL3, investors should always do their due diligence, and research the stock in detail before coming to any decisions.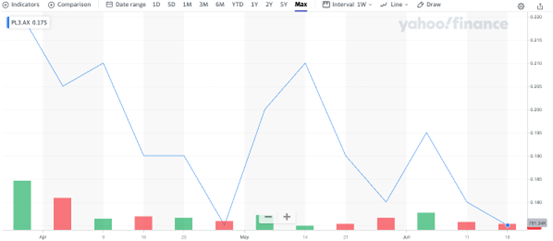 Source: Yahoo!Finance
Related Articles