On 28 September of 2016, tornadoes raging through South Australia did enough damage to the electricity transmission grid there to plunge the entire state into darkness, with only offshore Kangaroo Island being spared . When it was over, estimates claimed the blackout cost businesses $360 million dollars. The blackout lasted from four hours to two days.
Blame placing following the blackout focused on South Australia's reliance on renewable energy sources, pointing to the obvious that solar and wind lose their potency when the sun doesn't shine and the wind doesn't blow.
Another less severe blackout in December of 2016 led to a new round of blame placing.
Within six months the founder and CEO of one of the world's first entries into the market for Electric Vehicles – Tesla – stepped into the discussion of how to make South Australian electricity transmission more dependable.
Elon Musk made the– at the time — audacious claim that his company's Power lines of energy storage batteries could build a battery energy storage farm that could "fix" the system within 100 days, or Tesla would assume the entire cost.
The result was the Hornsdale Power Reserve, consisting of linked Tesla Powerpack batteries on the site of the Hornsdale Wind Farm. At the time, Hornsdale was the largest battery storage facility in the world. Hornsdale's storage capacity was increased in 2020 and now South Australia is adding more energy storage capability, as are other Australian states.
In 2021, Yadlamalka Energy embarked on a project in South Australia combining a VRFB system with a Solar Farm and a DC (direct current) enjoined inverter.
In Western Australia, nickel miner IGO Limited (IGO) has contracted with VSUN Energy to build a trial standalone energy storage system for plant operations using a vanadium redox flow battery. VSUN Energy is a subsidiary of ASX listed vanadium miner Australian Vanadium (AVL).
On a global scale, energy storage from renewable energy sources is in its infancy. But the status quo will undoubtedly change as these storage systems solve the problem plaguing wind and solar power – intermittent generation.
The Tesla Powerpack system utilised lithium-ion batteries but as is the case with batteries to power Electric Vehicles (EVs), alternative technologies are emerging, key among them are "flow" batteries, with the most prominent within that group powered by vanadium in the VRFBs – vanadium redox-flow batteries.
The following chart is from the website energypost.eu.
The storage market could top $100 billion in less than ten years. SOURCE:  WATTJOULE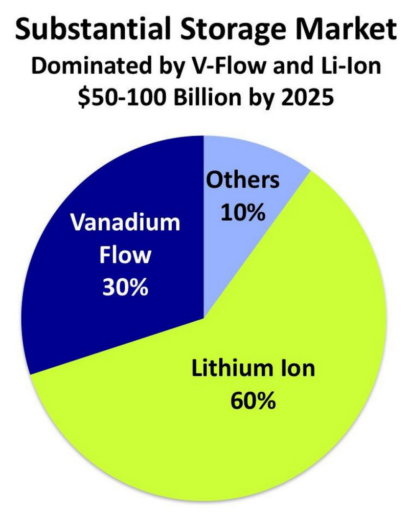 WattJoule is a Massachusetts based engineering services assisting customers interested in long-term adoption of VRFB storage systems.
A report from marketing and business intelligence firm IdTechEx suggests the entirety of redox flow batteries could overtake li ion storage batteries by 2031. Redox flow batteries differ in chemical composition from vanadium based batteries, to zinc-bromide solutions, to iron-chrome, to bromine polysulfide, to hydrogen bromide, and others. There is a second vanadium solution – vanadium/polyhalide. Vanadium based formulations are the current leader in the redox flow battery technology sector.
There are several major advantages of the VRFB and other flow batteries, starting with where the liquid electrolyte is stored. In a traditional li ion application, the battery is "solid state" meaning the electrolyte is stored within the battery. Flow batteries have the liquid electrolyte stored in external tanks, as seen in the following chart from the website of the German firm DilLiCo Engineering;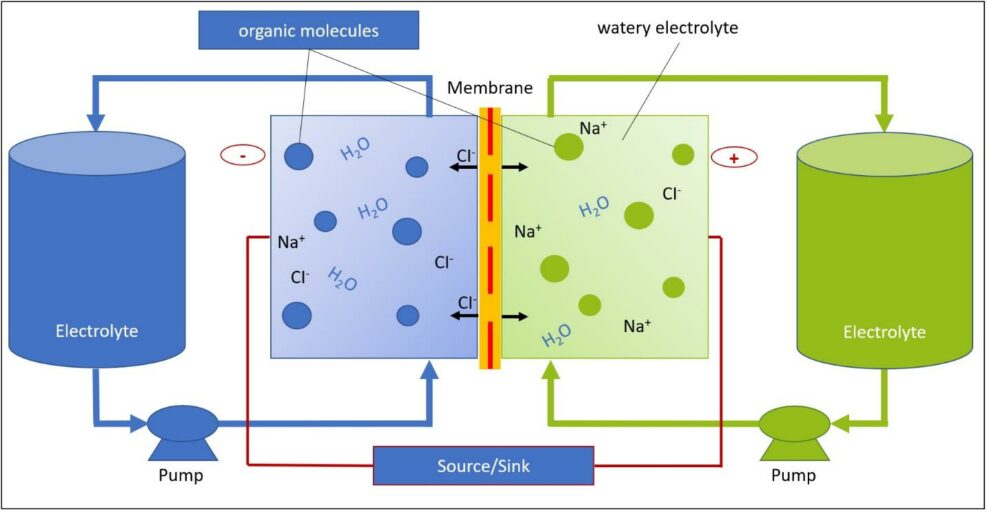 The external tank system allows VRFBs to be easily scaled up or down by changing the size of the tank. Two other key advantages are durability and long term cost. Initially a VRFB costs more to produce but their lower operating costs and longer life span – 20 years or more – make them more cost effective. They are also safer, free from the fire risk associated with li ion batteries.
In addition, vanadium, like cobalt, is most often extracted from vanadium and titanium bearing magnetite ore bodies. The use of vanadium is also enhanced by its environmentally friendly sourcing from mining tailing waste as well as from spent oil wells and storage depots.
The VRFB was developed here in Australia in the 1980's and there are a host of mining companies large and small either actively pursuing commercialisation of vanadium or having the potential to do so from what they mine.
For example, the largest graphite miner on the ASX — Syrah Resources (SYR) – has significant vanadium reserves at its Balama Graphite Mine in Mozambique, as do ASX iron ore miners from their operating assets.
The primary market for vanadium remains as a strengthening catalyst for steel products, but its battery applications provide substantial growth opportunities.
The following table lists relevant metrics for three ASX listed miners with market caps in excess of $100 million dollars and vanadium production as a key focus.
Company

(Code)

Market Cap

Current Share Price

Share Price

52 Week High

52 Week Low

Year over Year % Change

Year to Date % Change

Gearing

(Debt to Equity Ratio)

Total Shareholder Return

3 Year

5 Year

10 Year

Neometals

(NMT)

$661m

$1.29

$1.97

$0.69

+76.0%

-9.5%

0.04

+103.5%

+43.1%

+26.6%

Australian Vanadium (AVL)

$173m

$0.04

$0.04

$0.12

+76.0%

+51.7%

0.14

+58.9%

+24.0%

+14.4%

TNG Limited

(TNG)

$133m

$0.09

$0.14

$0.05

+30%

+20%

0.24

+4.7%

-5.5%

+3.2%
Neometals describes itself as an "emerging, sustainable battery metals producer." The company has three business segments"
Lithium ion battery recycling

Vanadium recovery

Lithium chemicals
Neometals has a proprietary process for recovering and recycling components of "end of life" lithium ion batteries and scrap cell production. The process targets a 90% recovery rate for all battery minerals in a lithium ion battery.
The company has a joint venture (JV) — "Primobius GmbH" — in place with German multi-metals manufacturer SMS Group for the construction of a lithium ion battery recycling demonstration plant in Germany. Upon completion of the plant the JV partners will assess commercial feasibility and market evaluation prior to a decision to move to commercial production.
Neometals has a collaboration agreement with Australian mineral development company Critical Minerals to assess the feasibility of constructing a recycling facility for recovering vanadium from steel production. Critical Minerals has a ten year agreement in place with Swedish steel maker SSAB for access to about two million tonnes of steel production waste from three operating mills bearing vanadium.
A 7 July release of a feasibility study at Neometal's Vanadium Recovery Project estimated the project could yield about nineteen million pounds of vanadium per year at a cost of $4.38 per pound.
Neometals is the sole owner of the Barrambie Titanium and Vanadium Project in Western Australia. The project is in the exploration and development stages and could blossom into another JV, this one with China's Institute of Multipurpose Utilisation of Mineral Resources Chinese Academy of Geological Sciences (IMUMR.).
Australian Vanadium has its sights on the flagship asset reflecting the company name – the Australian Vanadium Project in Western Australia.
On 6 April, the company released the results of a Bankable Feasibility Study, confirming the project as having the potential to become a primary vanadium producer of global significance, focusing on vanadium as a critical mineral for the steel and energy storage sectors. The Project has a twenty five year mine life with the strategic separation of the mining and processing operations enabling easy access to needed infrastructure in the area.
The company has three other assets – Vanadium/PGE/Nickel/Copper deposits, lithium/tantalum deposits, and uranium/vanadium deposits– with two in development and one available for JV or sale.
Australian Vanadium has a subsidiary company – VSUN Energy – that offers VRFBs for large scale energy storage applications. With the project including a processing plant along with the mining site, the addition of VSUN to receive battery ready vanadium makes Australian Vanadium fully vertically integrated.
On 31 May of 2022 VSUN signed a Memorandum of Understanding with North Harbour Clean Energy (NHCE) to collaborate on developing renewable energy storage projects.
NHCE is a privately held energy storage company with pumped hydro and smaller scale VRFB projects. The company has an existing joint collaboration activities agreement with the University of New South Wales to further research and commercialise VRFBs. UNSW is the birthplace of FVFRB technology.
TNG Limited does not share the admirable historical performance in shareholder return of the other two companies. Prior to the rise in investor enthusiasm for battery related minerals in 2021, investing in vanadium rested on the outlook for steel production. TNG has not benefited from the market uptick in battery mineral stocks in 2021 as the outlook for large scale energy storage facilities came to the fore. From the ASX website, here is a price movement chart for the three companies.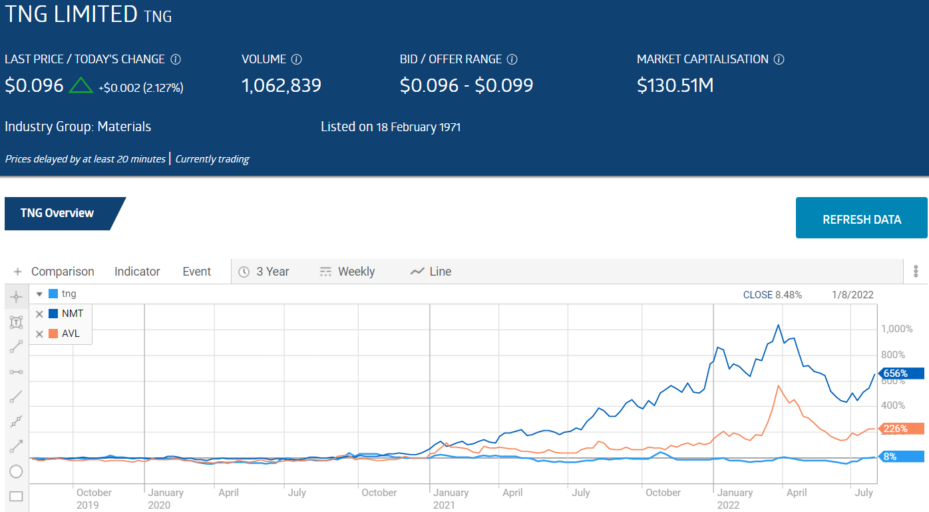 TNG's flagship project is the Mount Peake Vanadium/Titanium/Iron deposit in the Northern Territory. Both the Federal and Northern Territory Government have acknowledged Mount Peake as qualifying for Major Project Status.
The operation joins mining with advanced processing capability at the site. The company's innovative TIVAN® technology enables production of three high-purity commercial grade products. TNG has offtake agreements in place for all three mineral offerings.
Mining licenses and most regulatory approvals are in place and TNG has an engineering and construction firm – Clough Group — spearheading completion of the project. The company also has a subsidiary and a JV partner working on development of other green energy projects, including green hydrogen. The JV partnership with AGV Energy is developing a green hydrogen production facility – the HySustain Darwin Project also in the Northern Territory.