Treasury Wine Estate's stock rose and then fell due in large part to its China business.
Copycat wines in China sent investors to the exits in early 2020.
Tariffs imposed later worsened the situation, but China may reconsider those tariffs.
Treasury Wine Estates (ASX: TWE) listed on the ASX in 2011 as a spin-off from Australian brewer Fosters. The share price has appreciated 261% since its first day of trading.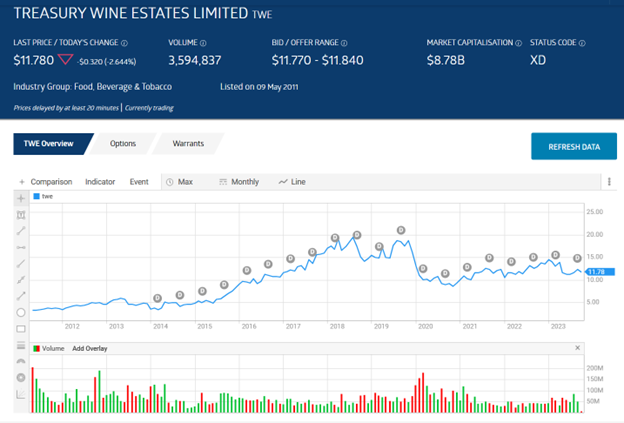 Source: ASX
One of the largest wine companies in the world, TWE has three operating divisions – Penfold (the flagship brand), Treasury Americas, and Treasury Premium Brands.
The share price experienced its first major stumble when investors became concerned about copycat wines in TWE's exploding Chinese market. China bit the hand of TWE again, levying steep tariffs as high as 200% on wine imports in late 2020. The company's financial performance stuttered, with revenue growth falling while maintaining net profit after tax (NPAT) stability.
Treasury Wine Estates Financial Performance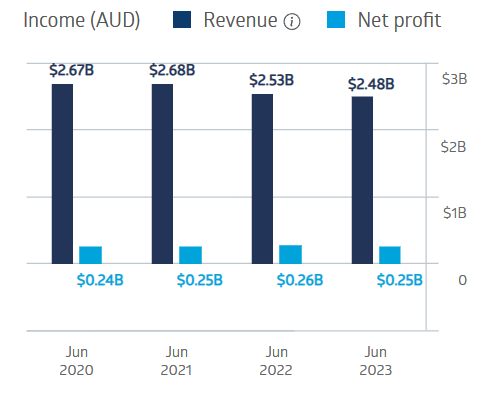 Source: ASX
The company continued dividend payments, with a five-year average of $0.32 per share and a five-year average yield of 2.58%.
Sky News Australia is reporting the Australian government has rejected an offer from the Chinese government to drop its tariff on wines for better terms from Australia on "wind towers, railway parts, and stainless-steel sinks."
ABC News is reporting Australia's trade minister is optimistic about incremental progress in relations with China.
An analyst at Morgans has a BUY recommendation on TWE shares, claiming investors can "expect strong returns driven by strategic advantages and market dynamics," as well as a possible change in tariffs.
Don't Buy Just Yet
You will want to see this before you make any decisions.
Before you decide which shares to add to your portfolio you might want to take a look at this special report we recently published.
Our experts picked out The 5 best ASX shares to buy in 2023.
We're giving away this valuable research for FREE.
Click below to secure your copy
Related Articles: