Beginning on 1 November, a wave of domestic and international COVID 19 induced travel restrictions will begin fading away here in Australia, culminating as of this writing with Western Australia remaining as the only place in the country without a plan for opening borders by 23 December.
The reopening has been expected and in anticipation ASX travel stocks have seen impressive share price gains. Three of the top travel stocks – Qantas Airways (QAN), Flight Centre Travel Group, and Webjet Limited (WEB) – have been steadily rising since November of 2020.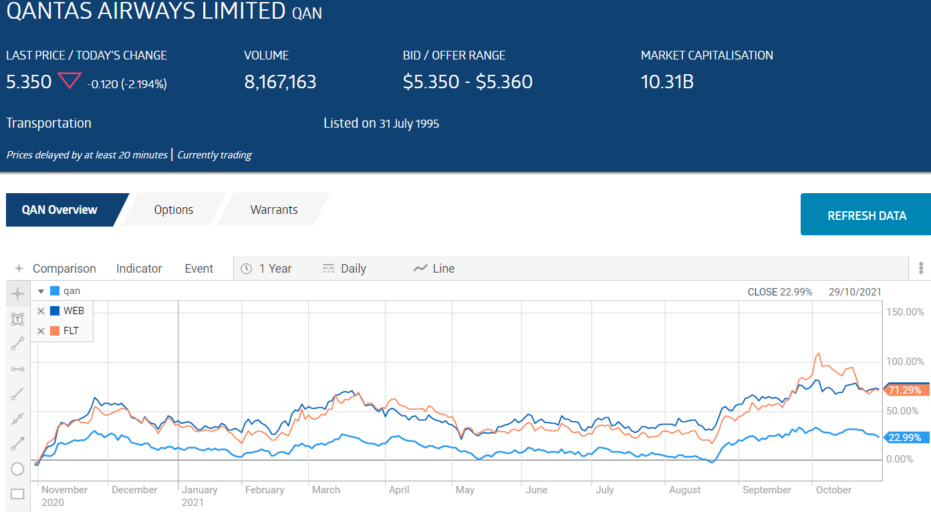 As the Delta Variant made its appearance lockdown measures returned and the earlier euphoria over the prospect of easing travel restrictions faded, only to return during the month of August of 2021.
While most analysts and market experts remain bullish on the prospects of these major travel providers – at least in the short term – some are tinged with skepticism since nothing is certain about the longer term travel outlook once the initial boom fades.
Companies involved in serving domestic and international travelers once they arrive – tourism stocks – are worth a look. Investors have shown a clear preference for the big name travel providers over the tourism companies as indicated by average trading volumes.
Over the last thirty days Qantas has averaged 7.3 million shares traded per day while Webjet averaged 3.1 million shares and Flight Centre averaged 2.7 million.
There are five ASX tourism listed companies rivaling the big names in terms of share price appreciation but lagging far behind in investor interest as seen in trading volumes.
Two of the companies – Apollo Tourism & Leisure (ATL) and the recent IPO Camplify Holdings (CHL) – provide RVs (recreational vehicles) and related services for tourists. Apollo has averaged 308 thousand shares traded per day over the last thirty days while Camplify trades a mere 188 thousand shares.
Ground and water transportation provider Sealink Travel (SLK) averages 590 thousand shares while tourist activities providers Indoor Sky Dive Australia Group (IDZ) trades 826 shares per day and Experience Co Limited (EXP) trades 981 shares per day.
All of these stocks have seen comparable share price increases over the last three months with one notable exception – Camplify. The commonsense argument favoring the tourism operators over the travel operators is trading volume. One could make a persuasive case these companies remain under the radar of many investors at this time.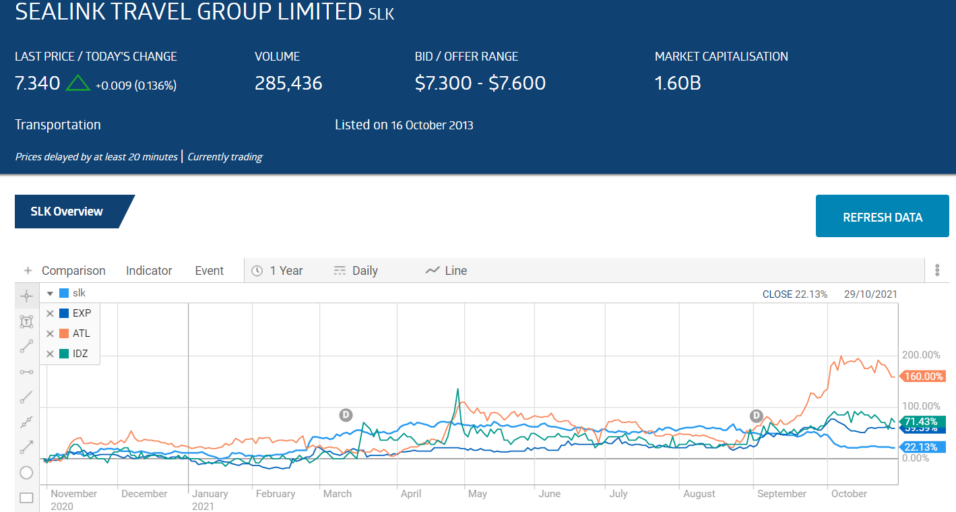 While Apollo is the clear leader, it trails the new player Camplify with CHL stock rising 181% since listing on 30 June of 2021. Investor unfamiliar with these two companies it may come as a surprise that Apollo owns 17.8% of Camplify.
There are significant differences in their business models, with Camplify following the digital "app" platform that has powered companies like Uber and Airbnb.
Camplify links owners of caravans and RVs looking for income from their asset with tourists looking for a more adventurous vacation experience.
Interested investors can still find the Camplify IPO Prospectus in the announcements section for CHL on the ASX website.
The company began here in Australia when a devoted advocate of "open road" vacations noticed the RVs gathering dust unused in neighborhood driveways. Camplify now operates in New Zealand, the UK, and Spain and ranks as one of Australia's largest RV P2P (peer to peer) sharing service platform.
The company's UK and Spain operations spurred a 108% revenue increase for the first quarter of FY2022 while much of Australia was in the midst of lockdowns. Camplify added close to nineteen thousand new customers in the quarter and increased its flee of available RVs to 6,489.
Full Year 2021 Financial Results announced in late August showed dramatic revenue gains, even here in Australia, but the company remains unprofitable – posting a loss of $2.1 million dollars. Revenues in Australia were up 181% while UK revenues are up 523% and New Zealand d posted a 347% rise. The Spanish market was not fully operating in 2020.
An immediate question that should come to the minds of most investors is the supply of RVs and caravans for leasing out. The company reports as of January of 2021 there were 741,000 registered RVs here in Australia, with 51% of owners looking to sell for lack of use now having a viable option for capitalising on their investment.
On 26 October, the share price reached new all-time highs following the announcement the company had acquired two rival platforms – SHAREaCAMPER and Mighway. Based in New Zealand, the acquisitions will make Camplify the largest provider in New Zealand. The cost to Camplify will be approximately $7.37 million dollars in share allocations. The resulting share dilution seems to have disappointed Camplify investors as the stock price has dropped following the initial rise. The company has a market cap of $106 million dollars and last traded at $4.08 per share.
Apollo's business model is far more complex and comprehensive. The company operates globally with operations in the US and Canada, the UK, Ireland, Germany, and France, as well as here in Australia and New Zealand.
Apollo makes and sells a variety of RVs, both for use in rental fleets and direct to the consumer. The company also sells used RVs from its rental fleet. The pandemic crushed the company, with bookings dropping to five percent of pre-pandemic sales during the worst period. Revenues for FY 2021 fell 20.5%. A loss of close to 18% was not as devastating as the 61% loss in FY 2020.
On 23 September, the company announced its FY 2021 Financial Results, with some bright spots. To deal with its idle rental fleet, the company raised cash selling some of its assets. Apollo signed an agreement with Qantas Airways where renters of an Apollo product earn points in the Qantas Frequent Flyer program.
Management expressed confidence the company's liquidity, cash reserves, and lower costs are sufficient to weather the waning days of border lockdowns. Apollo The company has a market cap of $121 million dollars and last traded at $0.655 per share.
Sealink Travel Group began as a tourist operator, providing ferry service to Kangaroo Island and later expanding into New Zealand and in 2011 launching the Captain Cook Cruises operation. The company has expanded into land transport, with fleets of buses and trams for tourists and commuters alike, both here in Australia and in Singapore and London.
The share price has been declining since the release of the company's FY 2021 Financial Results. Record setting revenues were up 88% while underlying net profit after tax (NPAT) rebounded strongly from the prior year loss and increased 395% while dividends were up 45%.
So what is not to like here?
First, more than half of the company's revenues came from its international and domestic bus contracts, which are lower margin businesses compared to the more lucrative tourism operations.
Second, the company's outlook for FY 2022 states no international tourism is expected for the fiscal year. Sealink is now part of the ASX 200. . The company has a market cap of $1.6 billion dollars and last traded at $7.40 per share.
Experience provides activities not for the faint of heart. The company offers the adventurous snorkeling on the Great Barrier Reef, hot air ballooning, diving tours, tandem skydiving, white water rafting, and helicopter touring.
For the less hardy the company offers glass bottom boat tours of the Great Barrier Reef, rainforest walking tours, and multi-day wilderness experiences.
The company's Full Year 2021 Financial Results were disappointing, although the company did improve on an FY 2020 loss of $51.4 million dollars to post a loss of $4.3 million. Management attributed the improvement to a surprising demand for domestic tourism within states and in non-lockdown periods and stated its expectation of a "fast snap-back as and when lockdowns and restrictions are eased."
Experience has made some key acquisitions to capitalise on domestic tourism demand. Earlier in the year the company acquired Wild Bush Luxury wilderness properties and Tassie's Maria Island Walk.
On 29 September, the company announced an acquisition and a capital raise to fund it. To add to its challenging adventure experiences, the company acquired Trees Adventure, the biggest provider of ziplining and rope courses facilities. Trees operates fourteen sites in five states.
Experience management is calling this acquisition "transformational," given the growth potential and attractive financials Trees Adventure brings to the table. In FY 2021 Trees Adventure reportedly posted proforma earnings before interest tax, depreciation, and amortisation (EBITDA) of $6.6 million dollars up to $7.3 million.
The Capital Raise has successfully completed, and the acquisition is expected to finalise by the end of November of 2021. Experience has a market cap of $365 million dollars and last traded at $0.365 per share.
With a market cap of a mere $8 million dollars and a share price of $0.02 per share, Indoor Skydive Australia is clearly the minnow of the group. However, investors with high risk tolerance might be interested in the evolution of Indoor Skydive Australia.
The company began with indoor skydiving to simulate the experience of free-falling and wind tunnels for performing aerobatics while flying within the tunnel.
With two skydiving facilities in place, the company expanded into virtual reality centres under the FREAK Entertainment brand. In November of 2021, the company will open its fourth FREAK Entertainment site at the Macquarie Centre in Sydney.
The move into virtual reality has led the company to rebrand itself as XReality Group, focusing on creating immersive virtual reality experiences.
Indoor Skydive already has in place Red Cartel, a virtual reality production company, and Operator Tactical Solutions.
FY 2021 Financial Results showed a 45% increase in revenues, to $7.3 million dollars and a profit of $4.5 million, reversing the prior year loss of $5.4 million.
The company's change in strategic direction has been aggressive, first acquiring Red Cartel in August of this year to create new product offerings for the FREAK brand venues suitable for high traffic areas.
Also in August the company's history with military training expanded with the launch of Operator, a virtual reality tactical training solution.
Although domestic tourism will benefit from easing of lockdown restrictions and border closings in Australia, some analyst do not foresee a significant return of international tourists until 2022, and possibly 2023.