Temple % Webster has a "drop ship" business model, reducing the cost of doing business (CODP)
The company's financial performance was both helped and hindered by the COVID-19 Pandemic
Temple & Webster is an online-only retailer of furniture and a wide variety of homewares. Unlike many other online-only sellers, Temple has no need for costly warehouses to hold its inventory. Customer orders go directly from Temple to the product manufacturer for direct shipping to the customer.
COVID-19 proved to be a "double-edged sword" for the company as sales boomed during the early lockdowns, sagged as a return to normalcy loomed, only to boom again with the onset of variants before collapsing once more. Sales comparisons over previous corresponding periods of boom times hurt results reporting the following year.
Full Year Financial Results were a mix of "COVID on, COVID off" periods.
Temple & Webster Financial Results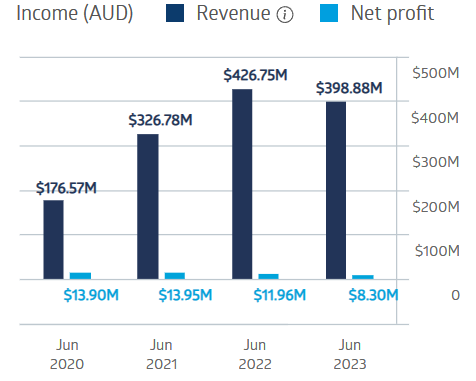 Year to date, Temple & Webster shares are up 35.5%. Over five years, the share price is up 832.8%.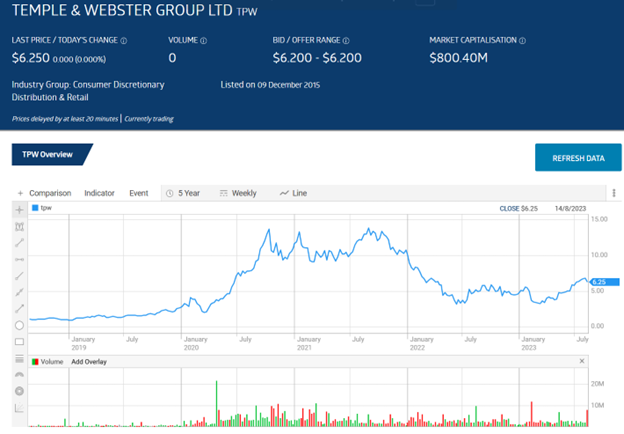 Source: ASX
The share price took a hit in February on less-than-expected results, mainly due to ballooning results in the prior corresponding periods. Investors came back in May on a company trading announcement touting a 10% sales increase over four weeks prior, reiterated its full-year guidance, and announced significant initiatives utilising Artificial Intelligence for customer conversion and benefits and reductions in CODP. The AI effort has both an external source – an Israeli AI start-up – and a team of in-company experts.
An analyst at Tradethestructure has a HOLD recommendation on TPW cautioning investors to "take some profits" in light of reductions in consumer spending.
Related Articles