Silk Logistics posted a blockbuster financial report in its Half Year 2023 Financial Results
The company paid dividends in its first full year of operations on the ASX
Silk Logistics is growing both organically and through acquisitions
Silk Logistics Holdings was created via the merger of two Australian logistics companies with 50 years of experience.
The company has operations in major cities in Australia offering "third party" or outsourced logistics solutions for Australian businesses. Silk offers customers "port to door" solutions from warehousing to transportation and distribution. All are backed by the company's Tier 1 technology that powers its warehouse management systems, transportation systems, and integrated solutions.
Silk Logistics listed on the ASX on 8 July 2021, with the share price dropping 21.52% since the first day of trading. Year to date, the share price is down 12.95%.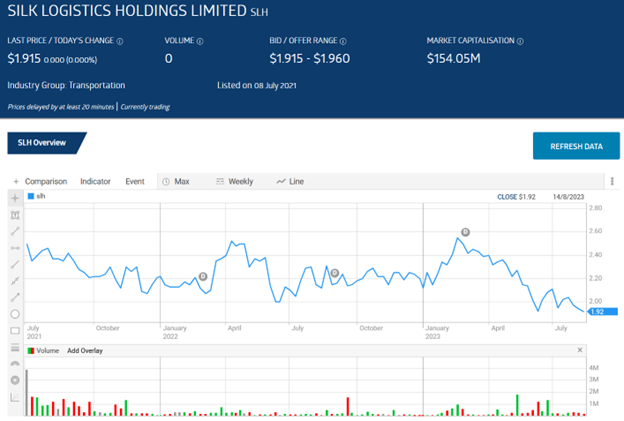 Source: ASX 
The company paid dividends in its first year of operation — $0.14 per share – for a dividend yield of 6.04%. Although Silk is new to the ASX, its financial track record since FY 2019 cements its status as a significant player, with revenues increasing yearly and strong profit growth in FY 2021 and FY 2022.
Silk Logistics Holdings Financial Performance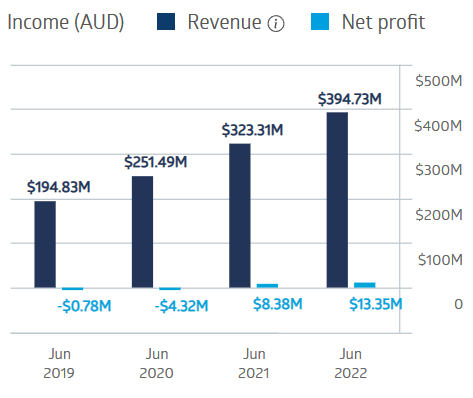 Source: ASX 
Half Year FY 2023 Financial Results continued the trend, with a 39.1% revenue increase and a 32.4% rise in net profit after tax (NPAT). On 4 August, Silk announced a binding agreement to acquire privately held Secon Freight Logistics, with a large presence in Victoria. Silk management expects the acquisition to add 10% to the company's earnings per share, pending integration costs.
An analyst at Morgans has a BUY recommendation on SLH shares, based mainly on the growth potential of the Secon acquisition enhancing Silk's presence in Victoria.
Related Articles