Newcomer Atturra Limited continues to post stellar financial results
The company has a well-diversified customer base
Atturra has partnered with an impressive list of technology companies
Technology company Atturra Limited is a relative newcomer to the ASX, listing on 21 December 2021. The share price is up 50.34% year over year, but the lustre has faded since the start of the trading year, with the share price falling 6.32% year to date.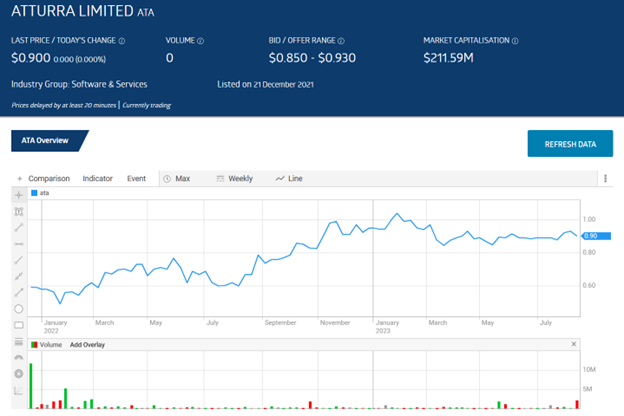 Source: ASX 
Atturra was formed when former parent FTS Group decided to boost its growth in Australia and New Zealand by combining eight of its subsidiary companies into a single entity – Atturra Limited.
The company provides a broad array of technology services, from cloud services to data and integration, to business applications, advisory and consulting.  The company designs, implements and maintains the technology solutions it provides for its customers. Atturra counts among its partnering companies some of the world's biggest technology companies, including Microsoft and Hewlett-Packard.
The company's first full-year financial results for 2022 continued its pre-listing positive upward trends, with increases in both revenue and profit.
Atturra Limited Financial Performance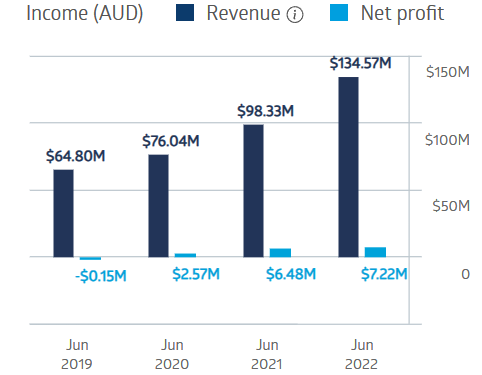 Source: ASX 
Half Year 2023 Financial Results kept its financial momentum going, posting a 34% increase in revenues and a 32% increase in NPAT (net profit after tax). In addition, the company added 45 new clients in the half year.
On 31 July, the company announced an update on its expected results for the Full Year 2023. Atturra management expects unaudited revenue to increase by 30% over FY 2022, setting a record for the company. Unaudited earnings before interest and tax (EBIT) are also expected to increase by 30%.
An analyst at Morgans has a HOLD recommendation on ATA shares, mainly based on the updated guidance for FY 2023 financial results.
Related Articles