The weekly TheBull.com.au stock pick
This week it's a real estate investment trust (REITs) listed in Australia.
REITs listed on stock exchanges are the most cost-effective and straightforward way to invest in property and return an income.
 Charter Hall Long WALE REIT ASX:CLW (CLW) operates a portfolio of over 1,300 high-quality properties, last valued at $45b, across Australasia. The corporate aggregation of a portfolio of property investments intended to divest regular income to investors is called a Real Estate Investment Trust (REIT).
CLW is the 10th largest REIT in Australia. The CLW listing on the ASX democratises participation in the real estate markets historically reserved for larger investors. With a  diverse portfolio in the currently hot Australasian market, CLW's portfolio of assets is not only creating income for its investors but is offering domestic and international investors access to one of the more insulated global property markets.
Top Australian Brokers
Charter Hall Long WALE REIT (CLW)
 CLW is a REIT that has been performing strongly in recent times. With a focus on quality real estate assets primarily leased to corporate and government tenants, the trust has achieved an impressive occupancy rate of 99%.
CLW's portfolio is weighted towards longer-term leases with a weighted average lease expiry of 11.8 years. This provides long-term income security, making it an appealing investment option for those seeking a steady stream of passive income.
Another factor that makes CLW a good investment is its recent trading discount to net tangible assets. This creates an attractive entry point for investors looking to invest in a high-quality real estate portfolio at a discounted price. Furthermore, CLW also offers distribution yields that appeal to investors seeking a regular income stream.
Given its strong track record of high occupancy rates, long-term leases, and attractive distribution yields, CLW presents a compelling opportunity for investors looking to gain exposure to the real estate market without the hassle of owning and managing physical properties.
Tim Haselum of Catapult Wealth believes that CLW could be a good investment option for those looking to diversify their portfolio with stable and reliable income streams from a high-quality real estate portfolio.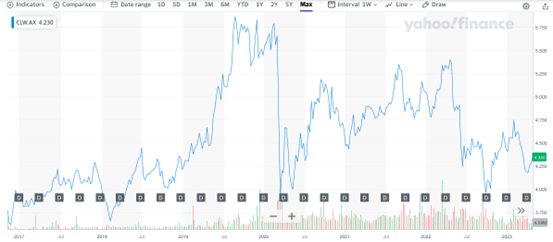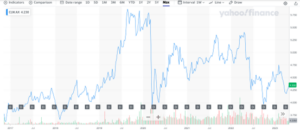 Source: Yahoo Finance
Related articles