• This article will look at a weekly TheBull.com.au stock pick.
• This week it's a gold producer and junior gold miner investor.
• Spreading its bets, this stock will rise with all tides on a higher gold price.
Alkane Resources Limited ASX:ALK (ALK) operates a gold production company out of the Tomingley Gold project while investing in junior gold mining operations and projects.
ALK's experience and size allow the gold investor to invest in a stable operation while benefiting from its portfolio of undiscovered and newly mined projects. The leverage offered on junior projects, combined with the steady cash flow of bedded operations, is an intriguing addition to any gold investor portfolio.
Top Australian Brokers
Alkane Resources Limited ASX:ALK (ALK)
ALK, a gold mining company based in Australia, has shown promising growth potential in recent months, making it a potential target for investors looking for a strong investment opportunity.
One of the primary reasons for this is the strong performance of the Tomingley gold mine, which produced 16,641 ounces of gold at an all-in sustaining cost of $1805 AUD an ounce in the March quarter of 2023.
ALK has upgraded its fiscal year 2023 guidance from 65,000 ounces to 73,000 ounces of gold at an all-in-sustaining cost of between $1550 AUD an ounce and $1800 AUD an ounce. This significant increase suggests the company is well-positioned for continued growth.
ALK has received approval to develop the Roswell and San Antonio deposits, which will open Tomingley to 100,000 ounces of gold production in the calendar year 2025. This expansion indicates that the company has a solid plan for future growth and is committed to expanding its operations.
ALK is a gold mining company with a strong track record of performance, with the Tomingley gold mine delivering impressive results. The company's upgraded guidance and expansion plans suggest a clear growth strategy, making it an attractive investment opportunity for those looking for exposure to the gold price and subsequent earnings.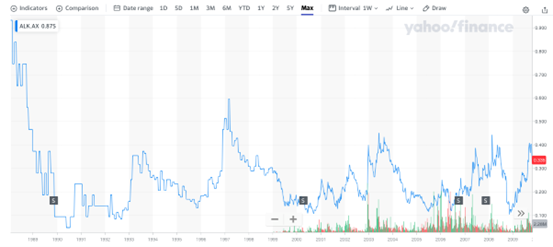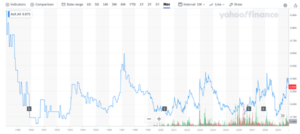 Source: Yahoo! Finance 
Related Articles