Coles Group is Australia's second-largest supermarket chain, behind Woolworths.
The share price cratered following a disappointing trading update on the company's planned automated fulfilment centres.
The company's Full Year 2023 financial results were satisfactory but failed to reignite the share price.
Coles Group operates more than 840 supermarkets, 950 liquor stores and online sites. Over the past four fiscal years, revenue and net profit have been steady, if not spectacular.
Coles Group Financial Performance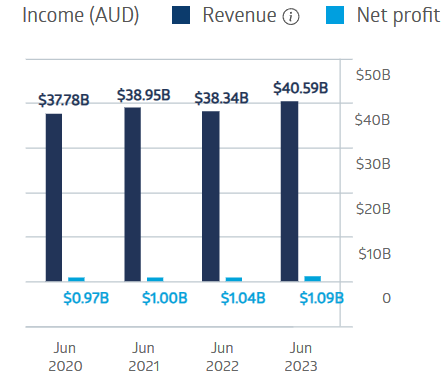 Source: ASX
FY 2023 Full Year Financials released on 21st August saw sales revenues rise 5.9% and net profit after tax (NPAT) from continuing operations decline 0.3%.
The share price was already dropping on the day of the release and the results announcement saw the share price fall further, down 16.3% over three months.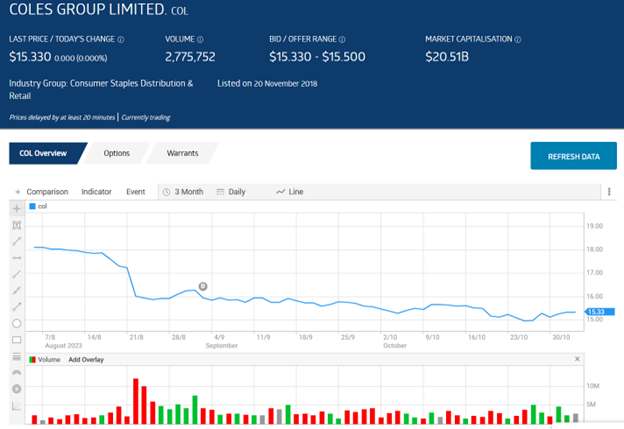 Source: ASX
The rout began on 18th August when Coles announced delays and added costs in the company's planned introduction of two automated customer fulfilment centres. Originally scheduled to ramp up in mid-2024, they are now delayed until mid-2025. The delays are anticipated to increase the project capital and operating expenditure by $70m and $50m respectively.
On 26th October, the company released results for Q1 2024, showing a 6.7% revenue increase from continuing operations year over year. Ecommerce growth showed a 24.6% rise in supermarkets and a 32.2% rise in liquor sales.
Analyst recommendations have shifted markedly from three months ago. According to the Wall Street Journal, there were seven Buys, one Overweight, four Holds, one Underweight and three Sells three months ago. Today, there are four Buys, seven Holds, two Underweight and three Sells.
An analyst at Fairmont Equities has a SELL recommendation on Coles shares, stating that "the stock is expensive as price momentum is skewed to the downside".
Don't Buy Just Yet
You will want to see this before you make any decisions.
Before you decide which shares to add to your portfolio you might want to take a look at this special report we recently published.
Our experts picked out The 5 best ASX shares to buy in 2023.
We're giving away this valuable research for FREE.
Click below to secure your copy
Related Articles: