Woolworths is Australia's largest retailer.
The company's food and grocery business is virtually recession-proof.
Woolworths can pass along inflationary costs to consumers.
Woolworths has long been a favourite of Australian investors for its dividend-paying history and defensive business model. The company has paid a dividend every year for the last decade without cutting payments substantially during the COVID-19 pandemic. Over the last five years, the average dividend paid was $0.98 per share, with an average yield of 2.71%.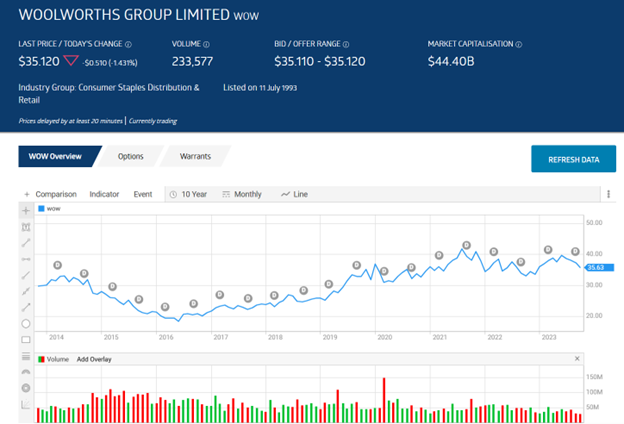 Source: ASX
Over the past three months, the stock price is down 9.3%, intraday on 26 October. Despite the company's financial performance over the last four fiscal years and its defensive qualities, the analyst community was decidedly mixed on Woolworth shares at the end of September, with three at BUY, three at HOLD, and five at UNDERPERFORM.
Woolworth Financial Performance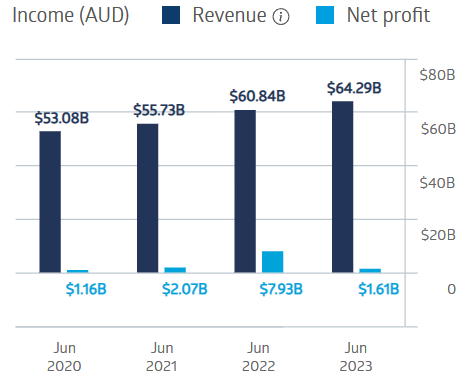 Source: ASX
Net profit without one-offs in 2023 was $1.61 billion, but the company's operating margins fell slightly from 10.2% in FY 2022 to 10.1% in FY 2023.
The lower margins, rising wages, and "continuing competition pressure" pushed an analyst at Medallion Financial Securities into the SELL column. The analyst acknowledges the company's defensive qualities but feels there are other stocks available with "lower valuations and higher dividend yields."
Don't Buy Just Yet
You will want to see this before you make any decisions.
Before you decide which shares to add to your portfolio you might want to take a look at this special report we recently published.
Our experts picked out The 5 best ASX shares to buy in 2023.
We're giving away this valuable research for FREE.
Click below to secure your copy
Related Articles: