Redbubble's online marketplace connects design artists with consumers looking to buy a variety of products with their chosen design on the product.
COVID lockdowns and government largesse to strapped consumers saw boom times for Redbubble.
COVID-19 vaccines burst the bubble.
The Redbubble business model allows the company to remain "inventory-free" as product orders go directly to fulfilment centres for production and shipping. The fulfilment centres are independently owned and are paid for by Redbubble.
Like some companies on the ASX, the COVID-19 pandemic caused substantial revenue and profit increases followed by equally significant declines as the products in demand during COVID saw drastic reductions as the pandemic eased its global grip. In Redbubble's case, the product was face masks with custom designs.
Redbubble saw dramatic increases in revenue and profit from FY 2020 into FY 2021, only to see profit turn negative in FY 2022 and further in FY 2023.
Redbubble Financial Performance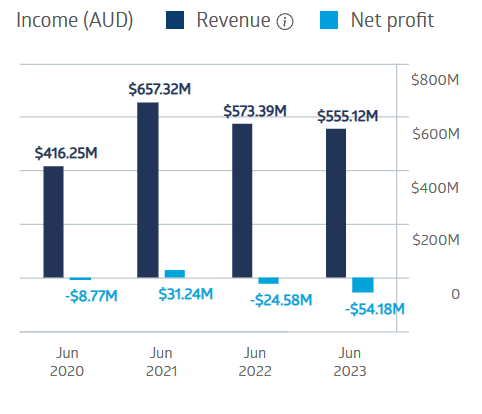 Source: ASX
Investors got a glimmer of hope on 12 October with the company's trading update for the first quarter of 2024. Redbubble may have turned a corner in Q1, with cash flows turning positive, increasing by $16.9 million over Q1 of FY 2023 and $5.5 million over Q4 of FY 2023. The company's operating expenses have been high between technological innovations and acquisitions. Full Year 2023 results highlighted a $45 million dollar reduction in operating costs.
Over the past month, the share price is up 38.1%.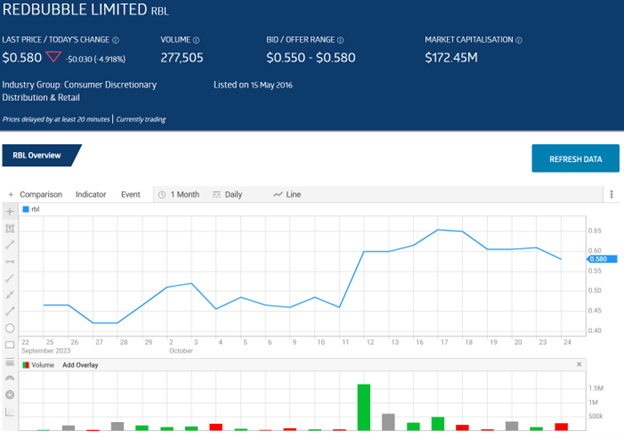 Source: ASX
An analyst at Red Leaf Securities has a HOLD recommendation on Redbubble shares, stating the cash flow turnaround "could be the start of a recovery."
Don't Buy Just Yet
You will want to see this before you make any decisions.
Before you decide which shares to add to your portfolio you might want to take a look at this special report we recently published.
Our experts picked out The 5 best ASX shares to buy in 2023.
We're giving away this valuable research for FREE.
Click below to secure your copy
Related Articles: