The lithium market is expanding rapidly, and mining companies are racing to keep up.
Sayona Mining is expanding operations at home and abroad to meet the surging demand, keeping Australia at the forefront of world production in this burgeoning sector.
 The lithium sector is currently experiencing a significant surge, driven by an increasing global shift towards electric vehicles (EVs) and renewable energy storage solutions. As lithium-ion batteries form the backbone of these technologies, demand for lithium, including lithium ores like spodumene, is skyrocketing
Companies like Sayona Mining are actively adapting to these changes, ramping up their exploration and production capacities to meet the growing demand. This strategic approach ensures sustained company growth and a steady supply to the expanding market.
  Sayona Mining ASX:SYA (SYA)
 SYA is an emerging player in the lithium sector, a market segment projected to grow significantly with the ongoing global transition towards green energy.
A key reason why SYA presents a potentially profitable investment opportunity is its recent announcement of resuming commercial spodumene concentrate production at the jointly owned North American Lithium project in Quebec. This move underlines the company's operational capabilities and its commitment to meet increasing lithium demand.
The company's annual production target of 226,000 metric tonnes indicates a robust revenue stream. The first commercial shipments scheduled for the third quarter of fiscal year 2023 offer potential short-term returns.
In parallel, SYA is embarking on an aggressive exploration campaign in Australia and Canada. This strategy aims to expand its resource base, ensuring a continuous supply to meet future market demands, thereby promising long-term growth.
The global push towards electric vehicles and renewable energy storage solutions, both heavily reliant on lithium, is expected to drive the demand for lithium exponentially. This positions SYA favourably to capitalise on this trend.
An investment SYA may be an effective way for investors to gain exposure to the green energy market and potentially reap significant returns.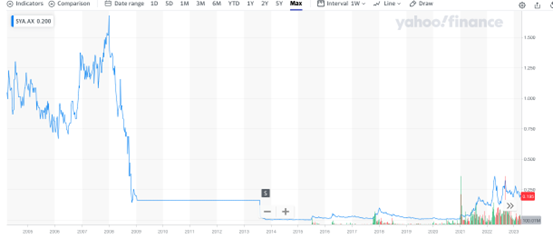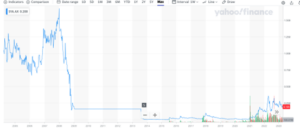 Source: Yahoo Finance!
Related Articles