Sagging growth in China has impacted ASX resource stocks
IGO has successfully transitioned into a provider of energy metals
The company reported over one billion dollars in revenue in FY 2023
In 2020, IGO management made the strategic decision to enter the lithium sector, acquiring a 49% interest in the Western Australian Greenbrushes lithium mining project along with a downstream lithium processing plant in a joint venture with China's Tianqi Lithium.
In 2021, the company formally exited the gold sector, selling off its interests in the Tropicana Gold Mine.
IGO's asset portfolio now includes multiple nickel operations along with copper and cobalt, with its lithium now appearing ready to assume the mantle of crown jewel. The company's financial performance over the last four fiscal years was solid, but its lithium assets propelled the FY 2023 results to near-blockbuster status.
IGO Financial Performance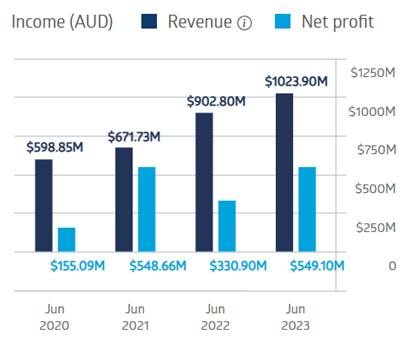 Source: ASX 
Total revenues were up 13%. Net profit after tax (NPAT) rose 66%, with EBITDA (earnings before interest taxes, depreciation and amortisation) up 177%, propelled by strong growth at the Greenbushes lithium operation.
The company declared a final dividend of $0.44 per share and a special dividend of $0.16 per share, both fully franked. The resulting dividend payout for FY 2023 of $0.74 cents per share was a 640% Increase over FY 2022. The report boosted the volatile share price, with a price appreciation year to date of 8.5%.
Over five years, the share price is up 244.8%.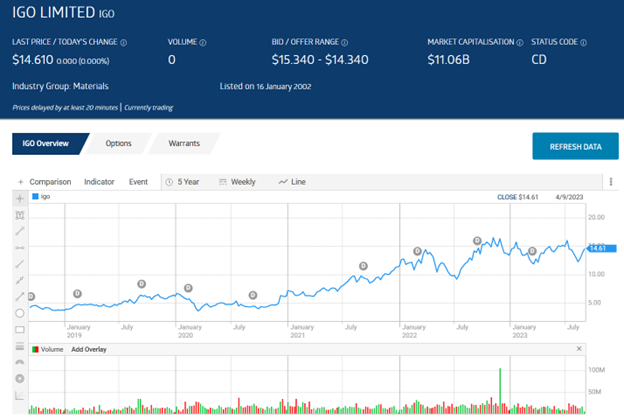 Source: ASX
An analyst at Fairmount Equities has a BUY recommendation on IGO shares, stating the company is one of several resource stocks that have been oversold, presenting a buying opportunity.
Don't Buy Just Yet
You will want to see this before you make any decisions.
Before you decide which shares to add to your portfolio you might want to take a look at this special report we recently published.
Our experts picked out The 5 best ASX shares to buy in 2023.
We're giving away this valuable research for FREE.
Click below to secure your copy
Related Articles