Woolworths beat analyst expectations with the company's FY 2023 financial results
The analyst consensus recommendation is HOLD
The company has benefited from the inflationary environment
Woolworths is an iconic name to Australians, with a reputation as a solid, if inconsistent, dividend payer. Over ten years, the share price is up 25.99%, with dividends paid every year.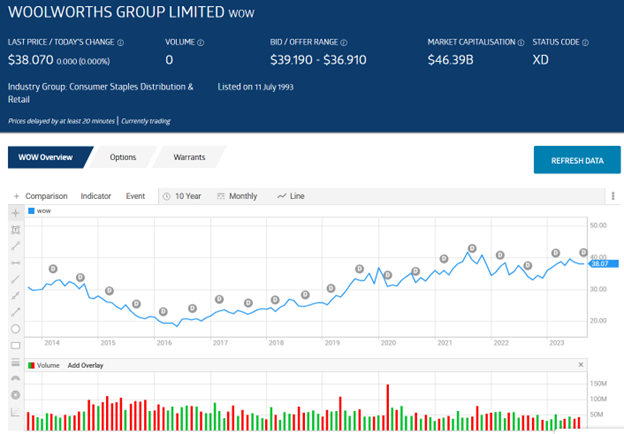 Source: ASX 
Over five years, the average dividend investors received was $0.98 cents per share, with an average yield of 2.72%. However, when you factor in the percentage investors gained from Woolworth share buybacks, the five-year average yield increases to 3.55%.
Woolworths operates grocery and discount merchandise outlets in Australia and New Zealand, a business-to-business (B2B) segment that sells food and related products to other businesses for resale, and a digital eCommerce platform, WooliesX.
The company's full-year 2023 Financial Results showed a 5.7% increase in Group revenues and a 13.7% rise in NPAT. Woolworths' outlook remains mixed, with food sales expected to increase, already up about 6% in the first eight weeks of 2024. Sales at BIG W discount outlets are down about 6.5% over the same period.
An analyst at Catapult Wealth has the consensus HOLD recommendation on WOW, in the expectation of rising costs in wages, transportation, and energy.
As is often the case with averaging, the consensus HOLD recommendation on WOW shares is lowered by the eight analysts at HOLD, UNDERPERFORM, or SELL. That masks the positive views of the eight analysts with BUY or OUTPERFORM recommendations.
Don't Buy Just Yet
You will want to see this before you make any decisions.
Before you decide which shares to add to your portfolio you might want to take a look at this special report we recently published.
Our experts picked out The 5 best ASX shares to buy in 2023.
We're giving away this valuable research for FREE.
Click below to secure your copy
Related Articles