A 16 September article appearing on the website of multinational UK based asset management firm Schroders posed the question in the following way:
Will decarbonisation be the mega-trend of the next decade?
The question now appears moot, as multiple sources have chimed in on the emergence of all things related to decarbonisation.
On 29 September in 2021 mining.com was outlining the disruptive impact of the decarbonization megatrend on mining.
On 4 October of 2022 BHP told analysts that the iron ore, copper, and nickel the company produces will see increasing demand as a result of what the company calls the "giga-trend" of decarbonisation.
The war in Ukraine has had negative impacts too numerous to mention, but most analysts agree the war will accelerate the push toward decarbonisation.
Business sectors and some governments around the world have a goal of decarbonizing by the year 2050 in transportation and other sectors,
To meet that goal an "old" technology – hydrogen – is getting new life as an additional technology to assist in reaching the 2050 goal and beyond. The megatrend moniker is now applied to the potential impact of hydrogen in areas like transportation, agriculture, and others.
Hydrogen has the potential to fit into the decarbonisation scheme in multiple ways.
First, hydrogen can play a role in energy production, replacing or reducing fossil fuel generation.
Second, hydrogen fuel cells have been the subject of much speculation on their potential in transportation, but currently there are only two FCEVs (fuel cell electric vehicles) on the market – the Toyota Mirai and the Hyundai Nexo, along with some fuel cell operated buses.
Third, hydrogen can be used to produce ammonia, a vital ingredient in much of the world's fertiliser for agricultural production, another megatrend.
Fourth, due to its lighter weight, hydrogen is an alternative fuel for large vehicles, such as buses, trucks, airplanes, and the US space program. American space shuttles during the building of the International Space Station use hydrogen fuel cells to generate electricity.
Hydrogen is the most common element on earth and currently has a variety of industrial applications. Not all hydrogen is "created equal," with the significant differences indexed by a color coded scheme.
Hydrogen produced using heat generated by fossil fuels is coded BROWN or BLACK for production using thermal coal. This is described as "dirty" hydrogen by the proponents of more environmentally friendly sources.
BLUE hydrogen uses natural gas and is considered by some in the industry as well as some government agencies as environmentally friendly sources.
However, BLUE hydrogen consumes more electricity in production than would be required for use as a direct heating source, eliminating the need for hydrogen energy production. Natural gas is cleaner than coal or oil emitting fifty to sixty percent less carbon emissions than coal or oil. In addition natural gas leaks methane in both the production and transportation.
GREEN Hydrogen is the standard for contributing to global decarbonisation as it is produced using renewable energy – wind, solar, or direct sunlight. Some references to "green energy" will include both GREEN and BLUE hydrogen.
Australia is one of many countries around the world committed to developing a "hydrogen economy" where the production of electricity, fuel for heavy transport, and industrial processes like the processing of iron ore and other minerals as well as aluminum and ammonia production will be carbon neutral.
Despite the explosion in the hype surrounding hydrogen as a revolutionary savior of the planet, over seventy per cent of current hydrogen production is "blue" – using natural gas – and ninety six percent uses fossil fuels – coal, oil, or gas.
Investors interested in the sector need to discriminate the type of hydrogen being produced. GREEN hydrogen is the standard but it is expensive to produce, making BLUE hydrogen an attractive alternative since natural gas currently costs less than hydrogen and the carbon dioxide released during production is captured and stored.
Australia is well positioned to capitalise on the prospective hydrogen boom. Global research and consulting firm Wood Mackenzie in an August of 2022 report on Australia's hydrogen opportunity has Australia leading the world in low carbon hydrogen project announcements between 2015 and 2022 – eighteen percent of the total announcements. The US was in second place at fourteen percent
And from the Wood Mackenzie report, the following map shows seven of the largest hydrogen projects in Australia: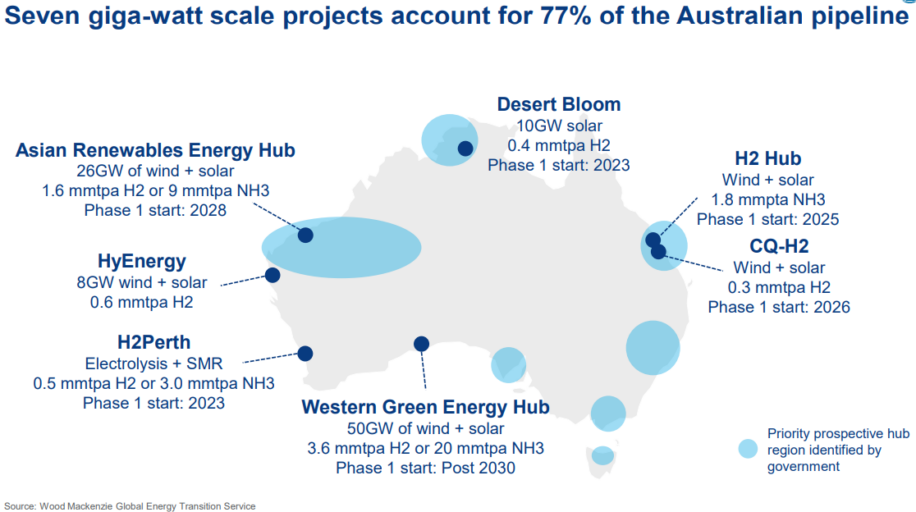 Only one of the projects has no Phase 1 Start date – The HyEnergy project in Western Australia. The others have start dates ranging from 2023 to 2030.
A little research will show the HyEnergy project has already completed scoping studies and a feasibility study from an independent source.
The project has the backing of the CSIRO (Commonwealth Scientific and Industrial Research Organisation) with global independent energy producer Total Eren/Total Energy working in collaboration with ASX listed Province Resources (PRL). Provaris Resources – formerly Global Energy Ventures – was part of the agreement to supply marine transport capability for global export.
The project is expected to produce 550,000 tonnes of hydrogen — produced with renewable energy — per year for the export market when fully operational.
The joint partners commissioned Provaris to conduct a feasibility study in August of 2021. In the ensuing year the project received funding and additional support from the government of Western Australia. By August of 2022 the export study for the project was nearing completion. The Provaris role in the project once completed will be to use a fleet of the company's H2Neo hydrogen carriers to safely store and transport the hydrogen throughout the Asia Pacific Region, beginning with Singapore. The project is located in the Gascoyne region of Western Australia and will include an onshore compression facility for the hydrogen produced from wind or solar energy. Provaris was formerly called Global Energy Ventures.
In mid-August of 2022, Provaris released its positive findings to the Total Eren/Province Resources partnership. The study was conducted by a "world class" team of consultant specialists. The full study will be available to shareholders in the December quarter of 2022.
There are other companies in the space, with a narrow range of progress. Many remain in the proposal stage with little, if any, action taken.
This includes the 800 pound gorilla in the space, Fortescue Futures Industries, a recently created subsidiary of mining giant Fortescue Metals (FMG). category Fortescue management sees hydrogen as the key to transitioning Fortescue's mining operations to zero emission goals. The FFI (Fortescue Futures Industries) website has a news/media section with announcement after announcement on a host of global projects from hydrogen to hydro backed by Fortescue's intention to be a global leader in decarbonisation efforts. The announcements are filled with partnership signings and grand proposals, but apparently no action beyond talking and partnering. Fortescue has pledged to invest $6.2 billion dollars in a variety of renewable energy sources by 2030..
In short, there presently is no hydrogen produced here in Australia. An internet search for hydrogen production here yields nothing but proposed and in place projects, Yet analysts and industry exports tell us Australia is poised to become not only a major producer of hydrogen for domestic use, but also a major exporter. But when?
Interested investors have to be heartened by a bit of news covered here on thebuill.com.au on Monday of this week – the opening of a functioning electricity generating plant powered by green hydrogen stored in a hydrogen fuel cell. The hydrogen was produced using solar power.
The Denham Project, as it is called, is small and government funded, but the energy minister for Western Australia where the project is located points out Denham's use of hydrogen in a micro-grid is the first of its kind in the world. A micro-grid is a small, locally sourced stand-alone electricity network.
For the skeptics, the presence of Fortescue and now Woodside Petroleum in a JV to build a plant in the US state of Oklahoma supports a positive view on decarbonisation generally and hydrogen specifically. In addition unlisted global parties such as Total Eren are here with development project as well. Total Eren supplemented its interest in the HyEnergy, adding an agreement with the government of the Northern Territory to develop the Darwin H2 Hub.
There are more ASX listed companies bouncing around the hydrogen space, but prudence suggests caution. The ASX investment community has shown its interest in three additional small caps based on impressive 3 year share price appreciation.
Here is a three year share price appreciation chart for Province Resources along with two other companies with three year share price appreciation in excess of $200 per share: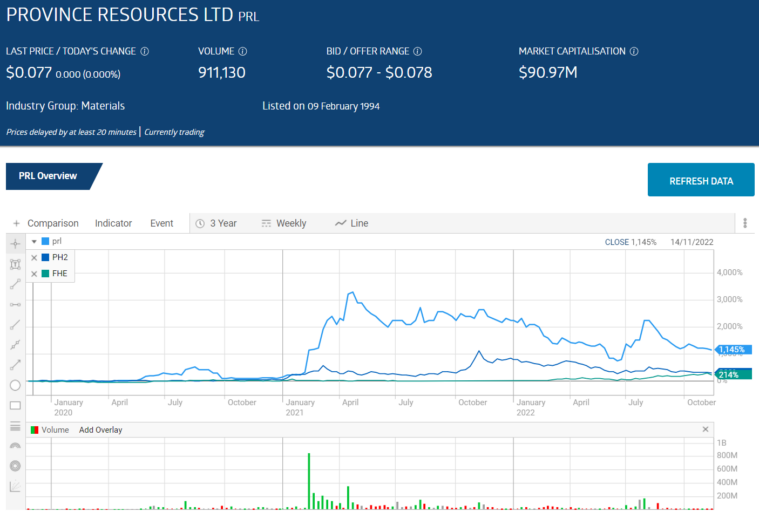 Province has the best performance while its collaborator on the HyEnergy Project, Provaris, didn't match the performance of the other companies, down 60% over the same period.
Pure Hydrogen (PH2) uses a different renewable source to produce hydrogen – biomass. Converting biomass to hydrogen involves heating, steaming , and oxygen. Purists would characterize this process as BLUE while proponents would claim it to be GREEN since the biomass removes carbon dioxide, resulting in very low emissions from the process or no emissions if carbon capture is employed.
The company is diversified, with the Emerald Hydrogen Plant in Brisbane expected to be producing sometime in 2023, along with a "Hydrogen Superhighway" – a string of hydrogen production facilities to be built along the East Coast. Pure Hydrogen is developing a gas asset in Africa to produce green energy there. The company has a JV agreement in place in India to produce hydrogen for heavy vehicles.
Pure Hydrogen is working with Australian fuel cell electric vehicle manufacturer – H2X Global – to develop a range of vehicles from Vans and SUVs to forklifts. The company has multiple other projects in early stages and also has developed a line of hydrogen powered generators and is working on producing forklifts, buses, and waste collection vehicles.
Frontier Energy (FHE) does not have an impressive list of projects to be completed someday. The company's Bristol Springs Green Hydrogen Project in Western Australia has a Pre-Feasibility study in place impressive enough to raise $10 million dollars from high net worth and institutional investors to fund construction operations at the facility.
The study found that the project has the potential to produce about 4.4 kilograms of hydrogen per year from an existing solar farm at cost of about $2.83 per kilogram, a low cost driven by existing infrastructure for the project.
Frontier acquired Bristol Springs – a Solar project nearing completion – in February of 2022. Early positive studies led the company to contract a firm to assess the feasibility of developing a hydrogen production facility on the site and its expansion potential, given the size of the project.
On 11 November Frontier announced that the Australian Smart Energy Council had begun a pre-certification process to assess whether the production process at the project can deliver zero carbon Green Hydrogen, with results expected in Q2 of FY2023.
The following table includes share price information for these companies. Frontier Energy changed its name in January of 2022 and was not readmitted for trading on the ASX until 2 March.
While lithium will remain the glamour stock in the minds of the investment community, investors with an eye for opportunity surely have noticed a consistent theme from all these fledging companies – lighter weight hydrogen could capture the market for larger vehicles of all kinds around the world – trucks, buses, earth moving and digging equipment, and more.
Company

(CODE)

Market Cap

Share Price

52 Week

High

Low

Percent Change

Year over Year

Year to Date

Total Cash (mrq)

Total Debt (mrq)

Province Resources

(PRL)

$94.5m

$0.07

$0.17

$0.05

-54.7%

-35.8%

$20.38m

$54.2k

Provaris Resources

(PV1)

$32.9m

$0.056

$0.13

$0.03

-55.2%

-38.4%

$11.6m

N/A

Pure Hydrogen

(PH2)

$80.3m

$0.225

$0.47

$0.225

-48.8%

-39.6%

$9.5m

N/A

Frontier Energy

(FHE)

$159.4

$0.44

$0.60

$0.13

+166.7%

N/A

$9.3m

$214.8k