City Chic Collective has prospered by focusing on an underserved market – plus-size fashion-conscious women.
The company has multi-channel sales outlets – online and brick-and-mortar stores.
City Chic has completed a strategic review and expects to return to profitability.
City Chic Collective operates in the Asia Pacific, the Americas, Europe and the Middle East. In its strategic review, management opted to exit the Europe and Middle East regions to concentrate on the Asia-Pacific region and the Americas.
Over the past year alone, shares have dropped 79.2%.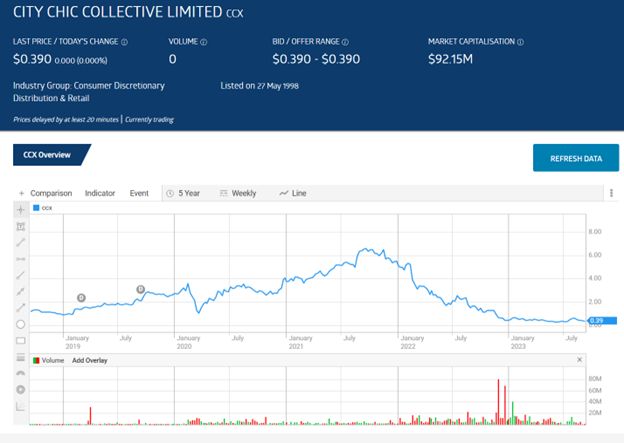 Source: ASX
Like many online retailers, City Chic boomed during COVID-19 lockdowns, with the stock price hitting an all-time high of $6.70 per share on 13th October 2021.
Like many online sellers, City Chic assumed that the boom times would continue post-pandemic, so it bought excess inventory to meet what it thought would be excess demand. The company's year-end FY 2021 inventory of $67m ballooned to $195.9m in FY 2022. The demand never came.
To shed inventory, retailers are often forced into heavy discounting, resulting in selling products for less than they paid for them.
Supply chain disruptions added to the negative environment with inflation topping it off, raising the cost of goods for retailers.
City Chic managed to increase revenues throughout, but profit fell through the floor in FY 2023.
City Chic Collective Financial Performance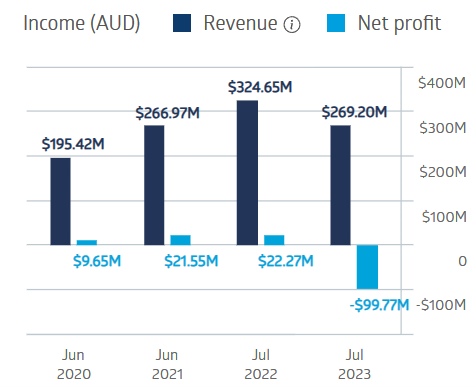 Source: ASX
An analyst at Sequoia Wealth Management has a HOLD recommendation on CHX shares, citing the company's strategic review with its emphasis on cost-cutting.
Don't Buy Just Yet
You will want to see this before you make any decisions.
Before you decide which shares to add to your portfolio you might want to take a look at this special report we recently published.
Our experts picked out The 5 best ASX shares to buy in 2023.
We're giving away this valuable research for FREE.
Click below to secure your copy
Related Articles: