On 17 October of 2018 Canada became the first developed country to legalize the regulated sale of recreational marijuana.
Predicting the "next big thing" is a favored pastime of countless market insiders offering their opinions on financial websites. The Canadian announcement had been anticipated for some time, resulting in a massive rush from Canadian cannabis producers to increase supply in the face of what many were saying would be outsized demand.
Added to the mix of factors fueling the "next big thing" narrative was the gradual movement of states in the US approving recreational marijuana. Medical marijuana is now approved for use in 37 US states. California and Washington state were the first to legalize recreational marijuana in 2012 and by 2022 they were joined by another nineteen states.
Speculation about the pace of legalisation in the remaining states and a possible federal law legalising recreational marijuana everywhere continue to fuel the "next big thing" speculation.
Since Canada ignited the blaze, the performance of the cannabis sector has treated the "next big thing" prognosticators to massive underperformance.
The Canadian experiment got off to a ragged start as the country failed to approve enough distribution outlets and the producers had ramped production up to create significant oversupply conditions.
ASX producers with supply agreements with the likes of Canadian cannabis giants Canopy Growth and Aurora Cannabis piqued the appetites of investors. Australia legalised medical marijuana in 2016, controlled by the TGA (therapeutic goods administration.
Some investors seem to fail to recognise the critical difference between producers and distributors of medical marijuana and recreational marijuana – regulation. Coverage of the sector often fails to make the distinction. The first marijuana ETF(exchange traded fund) listed in both Canada and US — Horizons Marijuana Life Sciences ETF (HMLSF) – includes both recreational and medical companies deriving revenue in North American markets. The ETF listed in 2017. From google finance, here is a comparison chart of HMLSF against the ASX S&P 200.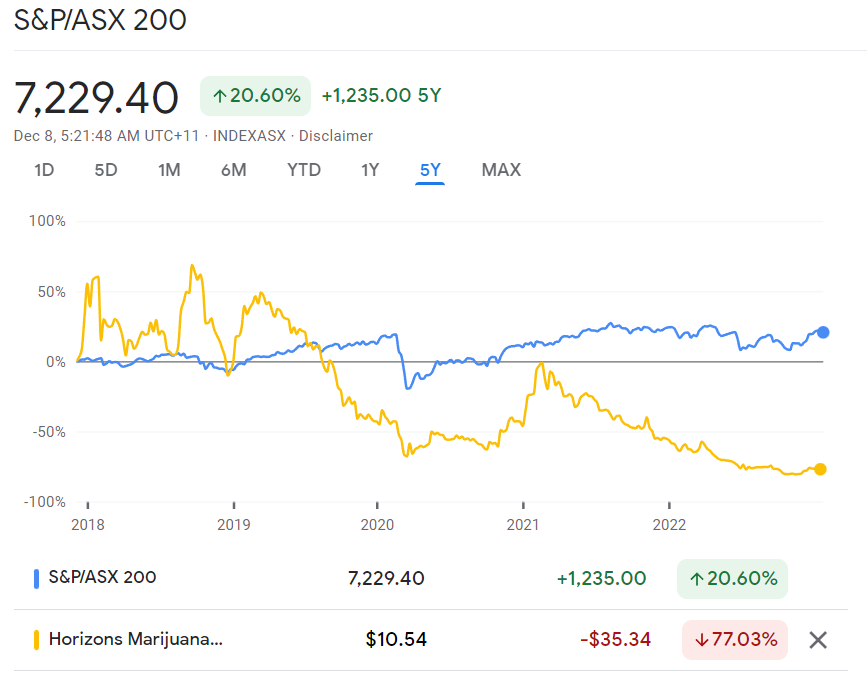 Although the marijuana sector's failure to live up to expectations remains massive, bright spots have appeared along the way, reigniting the fire. The November of 2021 elections in the US spurred hopes of more US states joining the ranks of marijuana approvers and even of federal legislation. Two states raised the total from nineteen to twenty one, but federal legislation remains a distant dream, as the Republican party's takeover of the US House of Representatives does not bode well for a federal level deregulation of marijuana.
The pattern of US news boosting or booting the cannabis sector continued when on 6 October US President Joe Biden took executive action to change US marijuana laws. First, he pardoned all previous federal convictions for simple marijuana possession.
Second, he directed relevant federal officials to reclassify marijuana, differentiating it from heroin, LSD, fentanyl, and methamphetamine.
Share price of US cannabis stocks went up then and again on 2 December when President Biden announced the signing of the Medical Marijuana and Cannabidiol Research Expansion Act, a rare instance in the US of support from both political parties, the bill was introduced in July of this year and passed in November.
The bill's intent is to promote and facilitate research on the potential health benefits of medical marijuana. It streamlines the role the US DEA (drug enforcement agency) formerly played in research projects by allowing both private companies and academic institutions to obtain DEA licenses for cultivating their own marijuana for research purposes.
Although these announcements out of the US have industry experts extolling the future of medical marijuana, investors seem unimpressed. The following price movement chart shows investor reaction to the news on the share price of two well-known medical marijuana stocks trading in the US – Curaleaf Holdings (OT:CURLF) with a market cap of $4.23 billion dollars, and Tilray Brands (NASDAQ:TLRY) with a market cap of $2.2 billion dollars. dollars. From Yahoo Finance: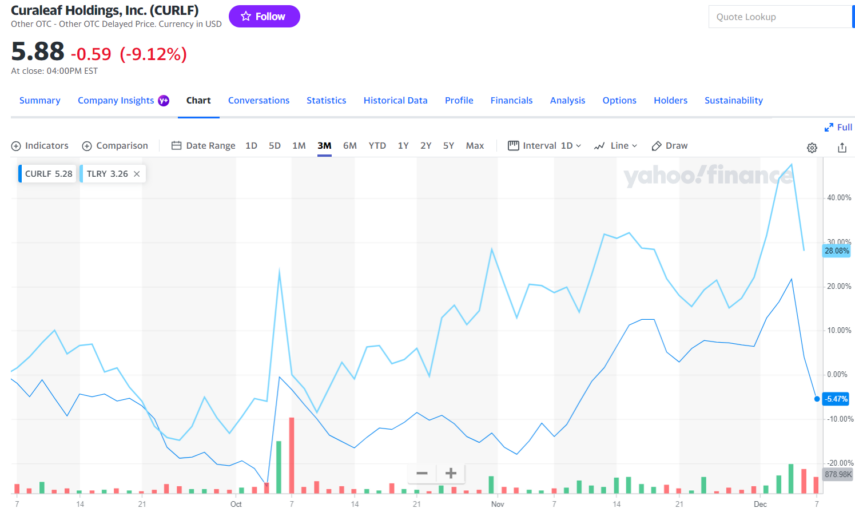 Apparently investors were enthusiastic about the drug reclassification announcement but not so much on the Medical Marijuana and Cannabidiol Research Expansion Act made possible in part by the reclassification executive order.
Despite lagging behind much of the world in marijuana use, the ASX has a robust collection of marijuana stocks, from medical marijuana providers to hemp and CBD producers to technological improvements in cultivation, and the global market for marijuana is promising. From the market research firm ProfShare: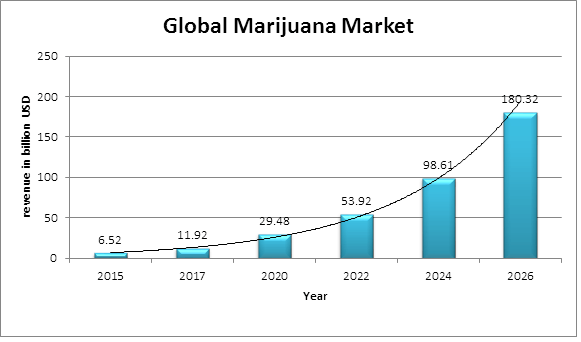 The fact remains that right now it is medical marijuana, not recreational marijuana, which has a bit of a tailwind at its back. The following table lists relevant metrics for three of Australia's leading medical marijuana stocks – Cronos Australia (CAU), Incannex Healthcare (IHL) and Cann Group (CAN).
Company

(CODE)

Market Cap

Share Price

52 Week

High

Low

%Change

3 Year

Year over Year

Total Cash (mrq)

Total Debt

Price to Book

Book Value per Share

Cronos Australia

(CAU)

$363.4M

$0.66

$1.04

$0.175

-5.27%

+230%

$16.08M

$5.06M

13.82

$0.05

Incannex Healthcare

(IHL)

$304.7M

$0.19

$0.76

$0.18

-13.7%

-64.2%

$37.5M

0

8.71

$0.03

Cann Group

(CAN)

$785.4M

$0.22

$0.43.5

$0.22

-35.2%

-25.42%

$1.91M

$47.16M

0.97

$0.24
Aussie investors thinking of getting into this sector will be pleased to know the ASX has one of the few cannabis stocks not only generating revenue, but also posting a profit and paying a dividend.
Cronos Australia has no relationship with Canada's Cronos Group other than the 2021 merger/acquisition of a Cronos Group subsidiary company here in Australia – CDA Health. The share price was lumbering along amidst the downturn of the cannabis sector when on 25 July the company released the financial results for the fourth quarter of 2022.
Cash receipts from customers for the company's array of medical marijuana products hit a record $70 million dollars – up 245% from Q4 of 2021. The Cronos online platform CanView reported a record 486,000 products sold, year over year, up 270%.
Full Year 2022 Financial Results reported on 25 August were equally impressive, with revenues up 208.5% and profit up 326.7%, capped off with the welcome announcement Cronos would pay shareholders their first dividends of $0.01 per share. In addition, the company will now offer investors a dividend reinvestment plan.
Both announcements set off a rising share price.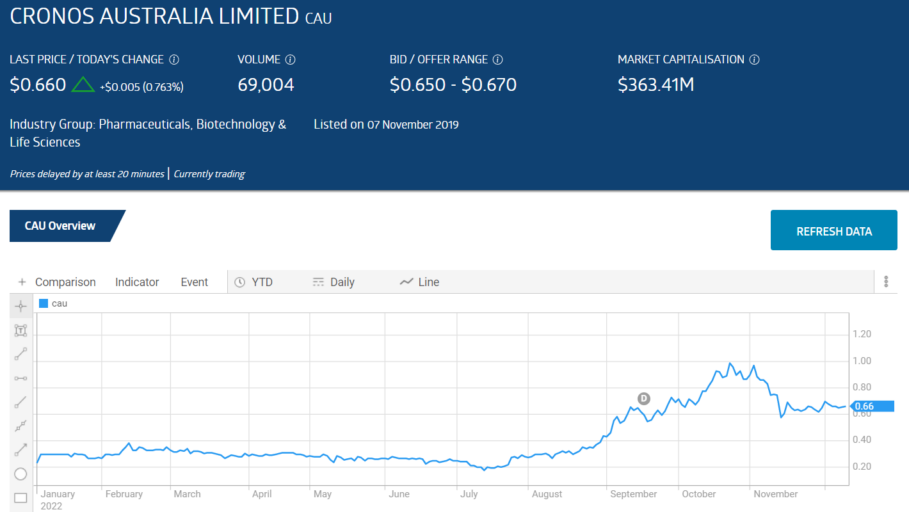 Cronos listed on the ASX in 2019 and management credits much of the company's success to the CDA merger. The company derives most of its revenue from Australian operations but also exports into the Asia Pacific Region. Product manufacturing is outsourced and distributed via three operating segments – Medical, Clinic, and Consumer. The Medical segment serves the physician community while Clinics serves the pharmacy community. Products are available for sale to all three operating segments via the company's online platform CanView. For consumers, the platform handles the process from prescription to delivery.
Cronos has 800 registered prescribing physicians, 7,000 registered patients, and 3,000 registered pharmacies selling more than 190 branded products. The company now has registered more than 50% of all Australian pharmacies. Cronos points to its distribution business model as "asset light," eliminating the capital and operating costs of cultivation, extraction, and manufacturing of medical marijuana products.
Incannex Healthcare represents the other extreme of ASX listed medical marijuana companies – multiple potential products in a various stages of development and clinical trials and not one dime of revenue to date.
The company has six clinical programs in progress, all aiming for US FDA (food and drug administration) New Drug Approval (NDA).
IHL-42X Obstructive Sleep Apnoea.

Psychedelic Medicine for Generalised Anxiety Disorder

IHL-675A Lung Inflammation.

IHL-675A Rheumatoid Arthritis.

IHL-675A Inflammatory Bowel Disease.

IHL-216A Concussion and Traumatic Brain Injury.
Incannex has in place an Australian license for the import, export, and distribution of medical marijuana products. The company's 2022 Annual Report was entitled 'Limitless Potential" due to its impressive pipeline of drugs.
The company is one of the few to incorporate the new field of psychedelic medicine in its product portfolio, working in conjunction with Monash University for treating Generalised Anxiety Disorder.
The Sleep Apnoea treatment has completed a "Proof of Concept' clinical trial, with multisite international clinical trials proposed in coming years, according to the company website.
A Phase 1 Clinical trial for the company's lung inflammation treatment was conducted in 2021 in Australia. On 13 October of 2022, the company announced preliminary results of the trial were positive enough for Incannex to begin planning for Phase 2 trials in 2023.
A 2021 study of the Rheumatoid Arthritis and Inflammatory bowel disease treatments in mice showed positive improvements in the proposed Incannex combination treatment versus other treatments using only cannabinoids. More clinical trials to follow.
The company has a successful treatment for traumatic brain injury in mice with a treatment for humans in development.
A massive development portfolio is capital intensive and Incannex on 5 December of 2022 the company announced a $13 million dollar capital raise to fund these clinical programs. According to Yahoo Finance Australia, Incannex had $37.5 million dollars in total cash as of the most recent quarter (mrq) and no debt.
Cann Group was an early mover among the ASX cannabis stocks, receiving the first Cannabis Research Licence by the Australian Government's Office of Drug Control in 2014. Cann Group became the first company in Australia to legally cultivate marijuana for research purposes.
In February of 2017, the company received its second cultivation license, allowing Cann to cultivate cannabis for research purposes. One month later, Cann received its second license – the first of its kind Medical Cannabis Cultivation Licence. With appropriate permits the company can cultivate cannabis not only for research purposes, but also for medicinal purposes.
The company has established cultivation and research and development facilities here in Australia with an eye towards facilitating the supply of marijuana for medical use. The business model will be fully integrated, from plant genetics and breeding to cultivation and manufacturing to clinical evaluation.
In 2019 the company entered into an agreement to supplement its two existing cultivation facilities with a $130 million dollar project at the Mildura facility in Victoria.
By 2 June of 2022, the Mildura facility along with Cann's two other cultivation facilities were producing commercial medical cannabis crops. Crops will be used to fulfill the company's existing commercial supply agreements, both locally and internationally.
Regulatory approvals followed at the end of June with the TGA (therapeutic goods administration) granting the company a GMP (good manufacturing practice) license at Mildura. Coupled with earlier regulatory approvals from the ODC, Cann can now make APIs (active pharmaceutical ingredients) and Satipharm hard capsules for human use in sleep treatments.
The company's Full Year 2022 Financial Results highlighted a successful capital raise of $18.69 million dollars and revenues of $6.41 million dollars from the sale of dried cannabis flowers and other ingredients for medical marijuana production.
The company's Satipharm capsules are patent protected, with Cann signing an evaluation rights agreement with UK based Haelon (formerly GSK Consumer Healthcare). The agreement allows Haelon the right to evaluate the commercial potential of the capsules in Australia and the results of an upcoming Phase III clinical trial.
On 25 October, the company announced a share purchase plan to raise between $8 million and $10 million dollars.
On 7 November Cann announced progress in negotiating an agreement for the commercialisation of Satipharm capsules for over the counter distribution.
International research firm Research and Markets presents a bullish future for the global adoption of medical marijuana products, driven by an increasing number of countries legalising medical marijuana, the growth of therapeutic applications for medical marijuana, and a growing number of studies showing positive results from medical marijuana treatments of chronic diseases.