On 17th October 2018, Canada became the largest country in the world to legalise the recreational use of marijuana (cannabis). Uruguay holds the title of the world's first legalising marijuana for recreational use in 2013.
Canada and Australia are two of 48 countries around the world where medical marijuana is legal. However, only seven countries have approved the recreational use of marijuana. In Australia, user-grown recreational marijuana is legal only in the Australian Capital Territory.
Once market regulations for recreational marijuana began disappearing globally, investors were quick to respond, hoping that the US would follow Canada's lead. Although marijuana is legal in 23 states in the US, this number is subject to change in the future. The country did not completely follow Canada's example of total legalisation.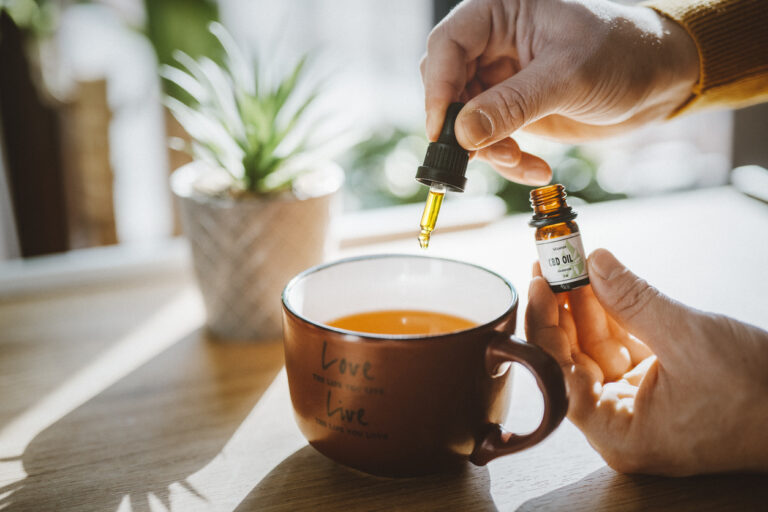 Two of the top contenders for the title of best marijuana stock had supply arrangements with Australian cannabis growers – Canada-based Canopy Growth (NASDAQ: CGC) and Aurora Cannabis (NASDAQ: ACB).
Alongside many other marijuana producers, the cannabis bubble burst for companies.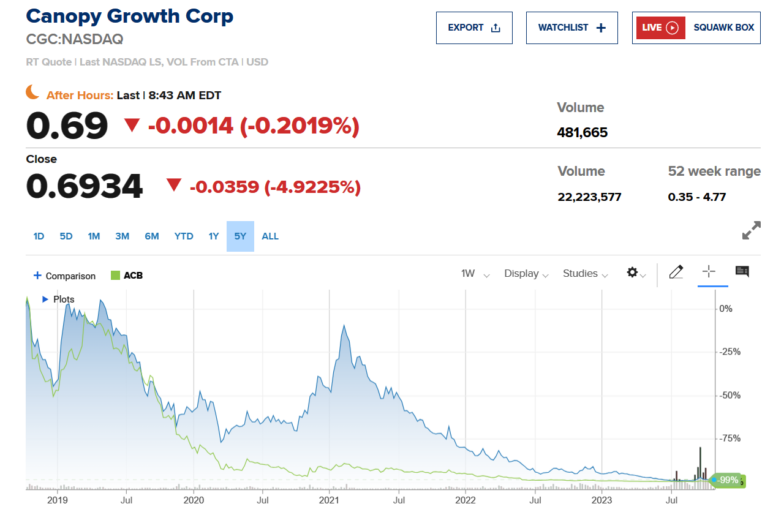 Source: CNBC.com
A variety of factors contributed to the collapse, not the least of which was the failure of federal approval of marijuana in the US.
In anticipation of federal approval, Canadian cannabis producers ramped up production to levels that proved to be unsustainable. Investors and analysts alike hyped the profit potential of the recreational marijuana market but failed to consider three factors that started the debacle.
The first factor was distribution. The distribution system to the public was based around distributing through provincially controlled stores and also through privately owned stores. The end result was not enough distribution centres.
The second was the oversupply in anticipation of the new law. Some growers shut down production sites within a year.
The third was taxation. Taxes tacked onto legal marijuana sales almost doubled the price from illegal marijuana dispensaries.
Since 2016, the Australian Office of Drug Control has granted licences for the cultivation, growth and export of marijuana for medical or scientific purposes in Australia. Marijuana export licences were granted from 2018. This suggests that the best ASX cannabis stocks to buy in 2023 are the companies involved in medical marijuana.
In the long term, analysts and experts still see growth potential in the global marijuana market. In 2023, projected growth is set to reach US$51.27bn, with an annual growth rate of 14.95% between 2023 and 2028. By 2023, it is forecast to reach a market volume of US$102.90bn.
There are a wide number of cannabis stocks on the ASX, but some lists on financial websites may not have caught up with those that have left the sector. Furthermore, some stocks have branched out to chase a new 'hot' idea: psychedelic medicine. Investors should be aware that cannabis stocks remain at high risk.
The few low-risk plays in 2023 seem to remain revenue-producing cannabis ASX stocks for medical use or stocks with medical marijuana treatments in late-stage clinical trials.
Here are five 'best of breed' cannabis stocks on the ASX.
Vitura Health Limited (ASX: VIT)
In February 2023, Cronos Australia changed its name to Vitura Health. This change highlights its independence from its former partnering company, Canada's Cronos Group.
Vitura does not consider the company as strictly a provider of medical marijuana products, but as a digital health operator linking the medical cannabis ecosystem of patients, doctors, pharmacists and suppliers.
The company has six distinct brands:
CanView is an online platform that enables doctors and pharmacists to prescribe and distribute treatments, and for patients to browse what is available.
CDA Clinics is a network of clinics that has teams of doctors, nurses and support staff available to offer Australians consultation on medical marijuana and other plant-based medications.
Cannadoc was created as a telehealth option for services offered at CDA clinics.
Cortexa is one of the few companies currently able to supply psychedelics for treatment of mental health conditions.
Burleigh Heads Cannabis (BHC) distributes medical cannabis products via the CanView platform.
Adaya produces a range of cannabis and plant-based medications.
The Vitura Full Year 2023 Financial Results launched an upward movement in their share price. The Full Year 2023 results released on 22nd August 2023 continued the momentum, with revenues up 75.2% and net profit up 128.3%. Of particular delight to many investors was the move by Vitura management to declare a fully franked one penny per share dividend payment, indicating management's confidence in the company's financial stability. Vitura was the first ASX cannabis stock to turn a profit and declare a dividend.
Vitura Financial Performance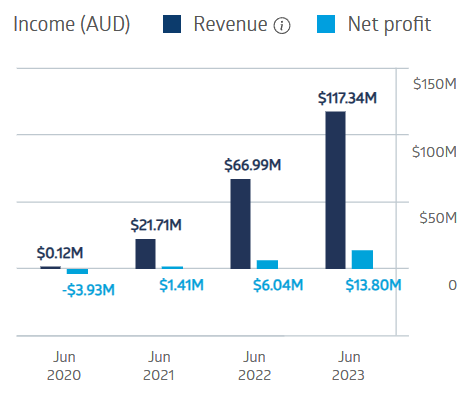 Source: ASX 13th October 2023
The company reported its first profit in Full Year 2021, and the progress continues. However, the share price appreciation of 2022 disappeared in the face of inflationary trends, interest rate hikes and recession fears in 2023.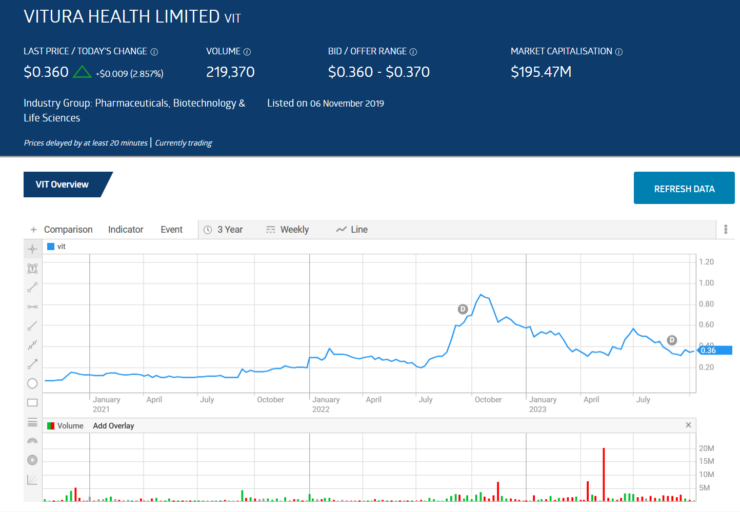 Source: ASX 13th October 2023
Neurotech International (ASX: NTI)
Like many of the remaining ASX cannabis stocks, Neurotech's scope extends beyond the traditional designated uses of 'medical marijuana'.
The company's main focus in 2023 is its novel compound NTI164, which is used to treat neurological disorders. THC (tetrahydrocannabinol) in cannabis plants is the source of the 'high' induced in recreational marijuana. Medical marijuana compounds typically use low levels of THC. What makes NTI164 unique is its inclusion of multiple low THC cannabis combinations.
Working with Monash Children's Hospital in Melbourne, Neurotech has completed early clinical trials (Phase I/II), with 93% of study participants showing symptom improvement and with no safety or tolerability issues. In the December quarter of 2023, the company and Monash will begin a larger Phase II/III trial.
On 5th October 2023, the company reported "highly significant clinical results" from the trial.
Neurotech is also developing the Mente platform for at-home involvement in diagnosing, treating and monitoring of autism.
Between Full Year 2021 and Full Year 2022, the company tripled its revenue and cut its net loss by more than 50%. Full Year 2023 Results doubled revenues but saw greater declines in net profit.
Neurotech Financial Performance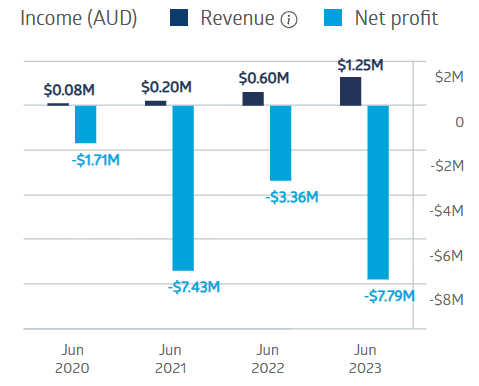 Source: ASX 13th October 2023
Year over year, the share price has slipped below its positive upward movement in 2022. Over three years, the share price has doubled from $0.26 per share to $0.54 per share. Note the evidence of the loss of interest in the cannabis sector as trading volumes began to erode in early 2021.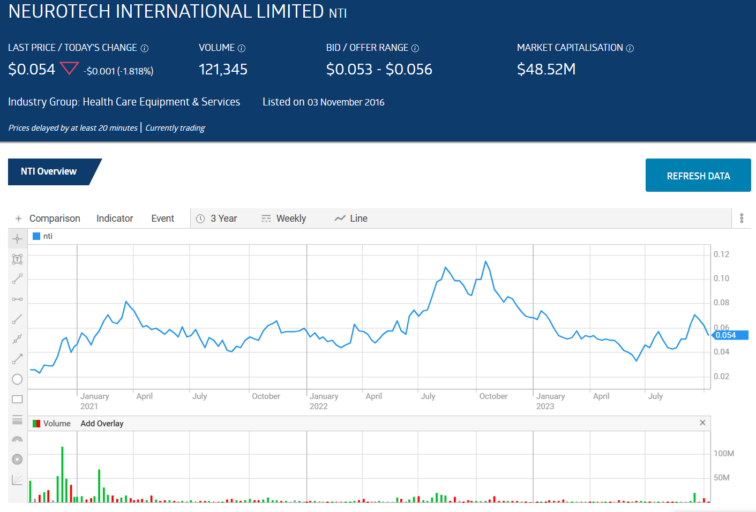 Source: ASX 23rd October 2023
Cann Group (ASX: CAN)
Cann Group has been operating since 2014 and was the first cannabis stock on the ASX to get licences for the cultivation and growing of cannabis, both for research purposes and for the use of medical marijuana.
Cann Group is an agricultural technology company with an interest in improved breeding through genetic research. The company has built a 'world-class' end-to-end cannabis breeding, cultivation and production facility at Mildura, with its Satipharm CBD sleep capsules in production and clinical trials.
Satipharm is a technology platform capable of multiple medical marijuana products for multiple markets, in addition to its sleep capsules.
While Cann Group has been increasing its revenues, profit is going in the opposite direction, with losses also increasing. Half Year 2023 Results continued this pattern, with revenues from customers up 83%, while total losses were up 128%. Full Year 2023 Results continued the pattern. Patient investors with high- risk tolerance should take note of the 171% increase in research and development costs, and the 110% increase in financing costs in Full Year 2022.
Cann Group Financial Performance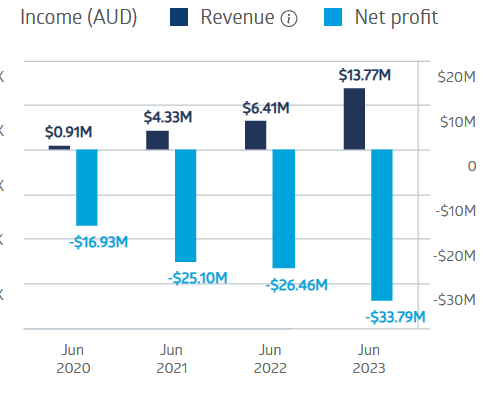 Source: ASX 13th October 2023
The share price over the last decade has generally followed the rise and fall of the cannabis sector.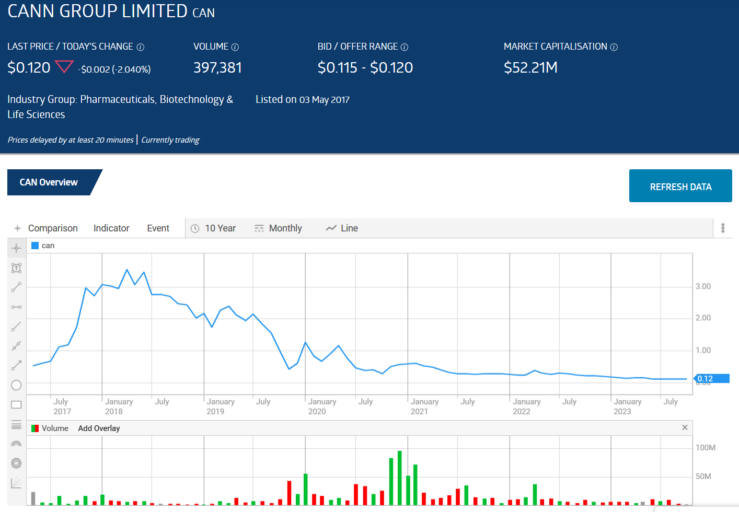 Source: ASX 13th October 2023
Zelira Therapeutics (ASX: ZLD)
Zelira Therapeutics calls itself a "global biopharmaceutical company", targeting multiple fast-growing medical marijuana markets. The company offers clinically validated treatments for insomnia, autism spectrum disorder and non-cancerous chronic pain relief. Over-the-counter (OTC) dermatology products are currently available only in the US, and oral care products are available in the US and the UK.
Zelira has additional treatments in pre-clinical stages. The company is planning to enter its insomnia treatments into the German, UK and US markets.
The company's financial performance follows the familiar pattern of revenue increases and profit losses. The Half Year 2023 Results released on 27th February demonstrated revenues declining 89%, due to weakness in the OTC market. On 14th March, the company announced a successful $1.77m AUD share placement with US investors.
Full Year 2023 Results saw the company cut its loss in half.
Zelira Therapeutics Financial Performance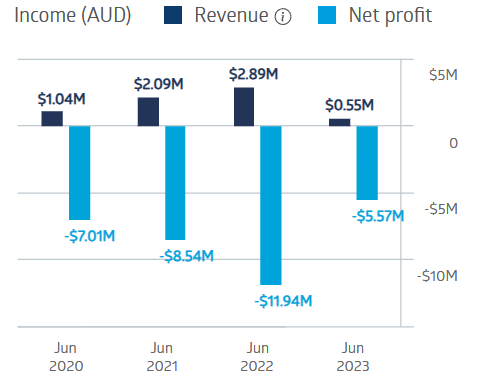 Source: ASX 13th October 2023
On 12th July 2022, the share price spiked upward due to the news that the Zelira insomnia treatment had been approved for use in Germany.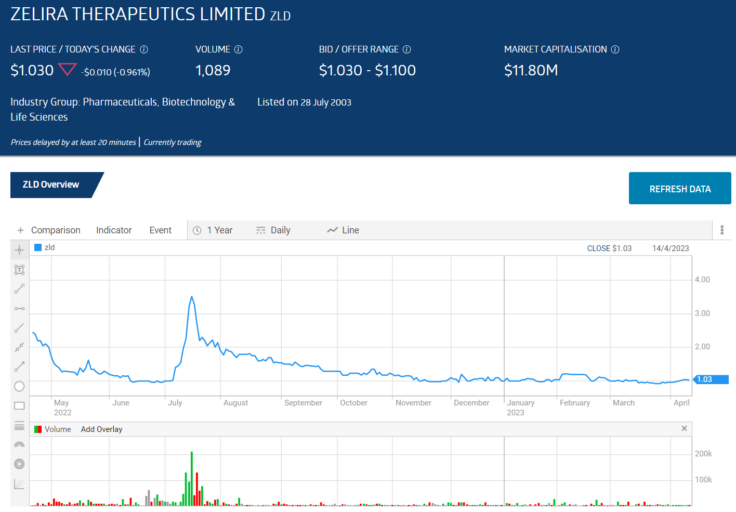 Source: ASX 14th April 2023
In late May 2023, the share price spiked again on the news that the company's drug to treat diabetic nerve pain outperformed Lyrica – a multi-billion-dollar Big Pharma treatment – in a head-to-head clinical trial.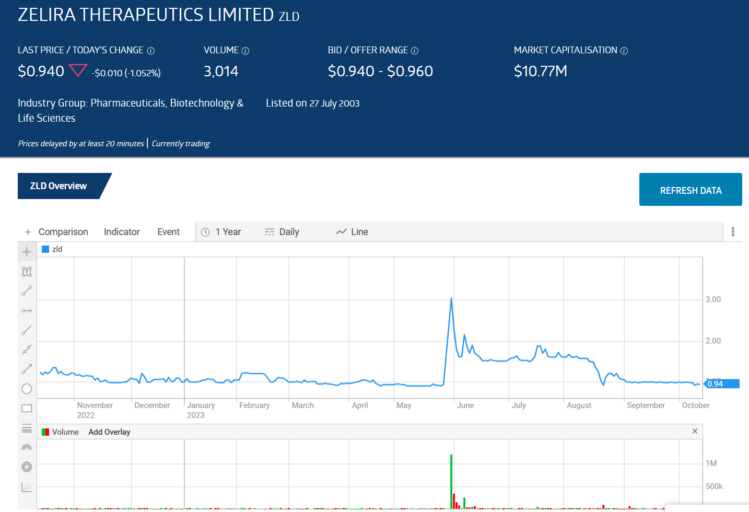 Source: ASX 13th October 2023
Althea Group Holdings (ASX: AGH)
Althea Group Holdings is a marijuana producer and distributor operating internationally. The company produces cannabis for medical and recreational use where it is legal.
Althea's Full Year Results for FY 2020 through FY 2023 saw substantial increases in revenue, while losses remained relatively constant.
Althea Group Holdings Financial Performance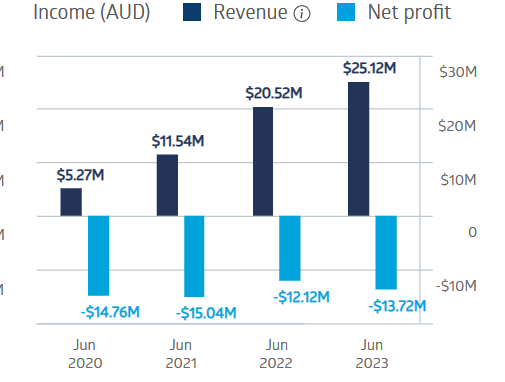 Source: ASX 13th October 2023
On 11th April, Althea released its quarterly operating activities and cash flow report for the March quarter of 2023. Along with record cash receipts, lowered operating expenses, increased positive cash flow, and impressive results from the company's medical and recreational operating units, Althea made a profit, referring to the event as its "maiden monthly profit". The dollar figure was not announced, but management went on to say that Althea expects to turn profitable in Q4 2023.
Long-suffering investors were rewarded for a fleeting moment as the share price quickly fell back.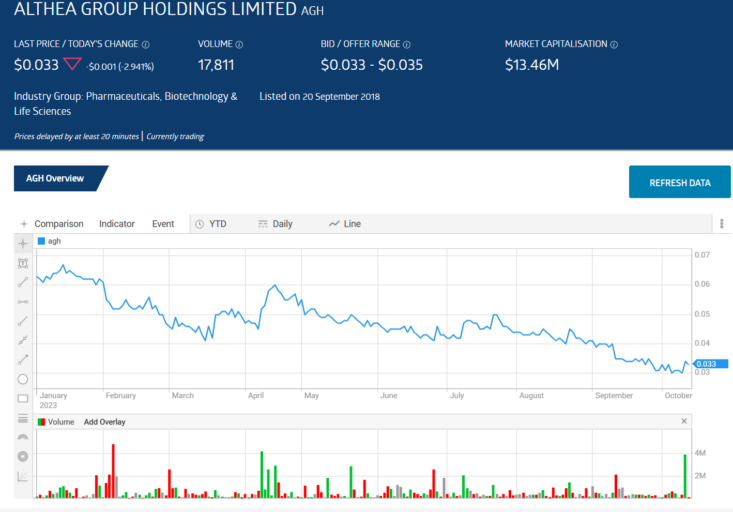 Source: ASX 13th October 2023
Towards the end of the 2020s, investors worldwide eagerly awaited the coming legalisation of recreational marijuana in Canada with the hopes that the regulatory change would spread. Some analysts and experts began to speculate on the potential size of the market, not only for the newcomers in recreational marijuana, but also for the existing and increasing use of cannabis for medicinal purposes.
The shocking truth became evident in a few short years: if cannabis stocks were going to be the 'next big thing', investors would have to wait a while for wider regulation changes.
There is still reason for optimism in the long term, and there are candidates for the best cannabis stocks to buy in 2023 right here on the ASX. The 'best of breed' in speculative, high-risk investments are generally those companies that are increasing their revenues and gradually lowering their expenses to keep the inevitable losses to a minimum.
FAQs
Where is Cannabis Legal?
More than 40 countries across the world have legalised cannabis fully or partially for medical and /or adult use. Canada is the largest country to fully legalize cannabis. In Australia cannabis was legalized for medical purposes in 2016.
How Do You Invest in Cannabis?
The primary way of investing in cannabis is to buy shares in companies involved in the growing, distribution and research into cannabis. Alternatively you can buy cannabis ETFs which group together several cannabis companies.
How Do You Buy Cannabis Stocks?
Shares in cannabis companies can be bought and sold through any regulated broker. You should research the different types of companies in the cannabis industry and how they operate and do your own research to find out which companies are worth investing in.