Meteoric Resource is an independent explorer expanding its mineral offering.
Through acquisition, Meteoric is looking to expand into rare earth extraction.
Rare earth elements are critical for use in complex electronics like smartphones and computers.
Rare earth minerals are found in the ground all over the globe, though only in a few places can they be meaningfully extracted and in line with the local regulations on processing.
Meteoric Resources NL ASX:MEI (MEI) is looking to leverage its existing global mineral extraction expertise to supply electronic component makers with critical rare earth minerals. With rare earth supplies available from just a few countries, international electronic component makers are intent on diversifying their supply chains. Enter MEI.
Top Australian Brokers
Meteoric Resources NL ASX:MEI (MEI)
Investing in MEI presents an attractive proposition for various reasons. As a diversified mineral exploration company, MEI's portfolio includes gold, copper, cobalt, diamond, and silver deposits in Brazil, Canada, Western Australia, and the Northern Territory.
This geographic and material diversification helps mitigate risks associated with commodity price volatility and jurisdictional challenges.
MEI's recent announcement of a global mineral resource estimate of 409 million tonnes of rare earth minerals at 2626 parts per million at its Caldeira Project indicates the company's significant potential for growth.
This high-grade resource estimate adds considerable value to its assets and supports the company's future profitability.
A planned further 100,000 metres of air core and diamond drilling to target high-grade areas within the current resource model signifies the company's ongoing commitment to improving its resource estimates and, thus, overall value.
MEI is well capitalised, boasting A$25m in the bank. This solid financial position allows the company to fund future exploration and development initiatives while minimising the need for potentially dilutive capital raisings.
In addition, MEI's strategy to acquire further extraction licenses amplifies the company's growth prospects. It's a testament to the company's proactive approach to consolidating its position within the minerals exploration industry. All these factors together position MEI as a potentially fruitful investment.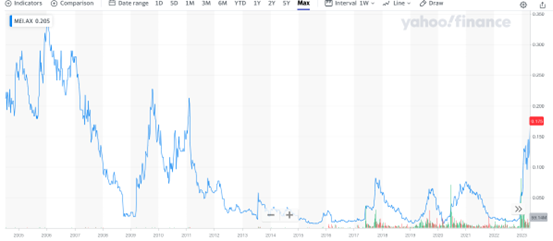 Source: Yahoo!Finance
Related articles