Critical minerals are resources essential to maintain and grow the global economy.
The critical mineral known as Rare Earth Elements (REEs) is overshadowed by the likes of lithium, cobalt, and graphite.
Australia, like most industrialised countries, maintains a list of critical minerals that are deemed vital to the country's economic health. Criteria for making the list include the mineral's scarcity, geopolitical tensions, and trade policy.
When investing newcomers think of "critical minerals", they are likely to focus on the well-known minerals, such as the ones that go into batteries in order to power electric vehicles. These minerals are lithium, cobalt, graphite, and manganese. REEs are not only rare in the earth, but they are scarcely in the minds of investors.
Top Australian Brokers
Rare Earth Elements are used in an array of ways, the most well-known of which is in high-tech electron devices – from smartphones to digital cameras, as well as in computer hard drives. REEs are also used in industrial applications including polishing compounds, clean energy, and defence applications. Perhaps the best application of REEs – especially in terms of long-term growth – is application in 90% of the permanent magnets going into electric vehicles.
While China dominates the global market for REEs, Australia has the fifth largest Rare Earth Element Reserves in the world.
The ASX has more than thirty listed REE miners, but only two large caps: Lynas Rare Earths (ASX: LYC) with a market cap of $6.7 bn AUD, and Iluka Resources (ASX: ILU) with a market cap of $4.7 bn AUD.
The flagship asset for Lynas is the Mt Weld facility, said to be one of the highest grade resources on the planet. Lynas also has a treatment plant in Malaysia which has come under government scrutiny in the past several months. The plant is back in business, taking rare earth ore from Mt Weld and processing it into rare earth oxides for sale around the world.
Year over year, the share price is down 16.63%. A decline began in February following bad news on two fronts: the Malaysian government putting restriction on the company's license to operate, and Tesla announcing that it would no longer be using REEs in its EVs.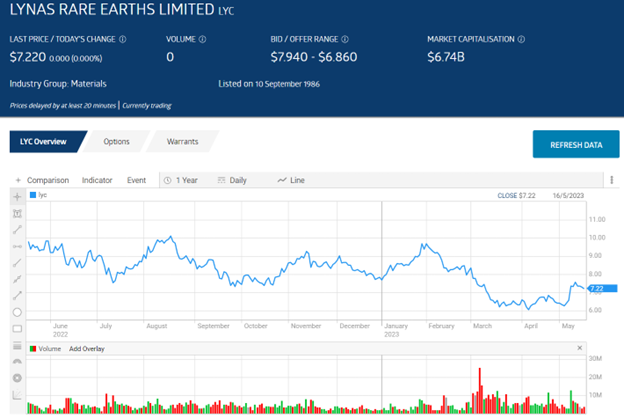 Source: ASX 
Related Articles