Altium produces software used by designers of printed circuit boards (PCBs). The company's Altium Designer is ranked as the world's top PCB software design tool, according to Altium.
Altium Designer is a product for PCB engineers. The company has added a cloud platform – Altium 365 – an electronic design platform allowing access and collaboration among every party involved in the creative process – designers, parts suppliers, and manufacturers.
The share price is up 58.2% over five years, with significant volatility from the technology sector sell-off.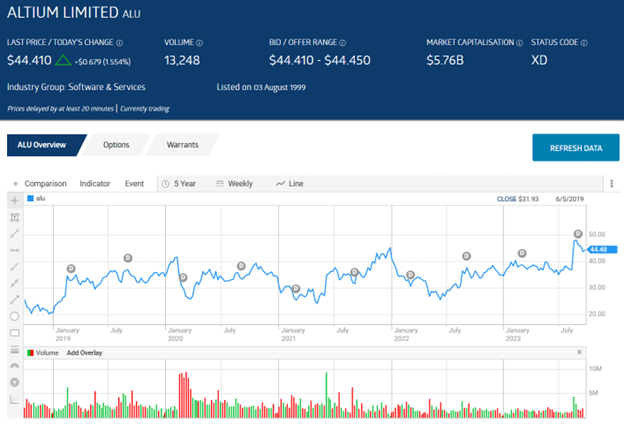 Source: ASX
On 21 August, the share price got a boost from the company's full-year 2023 Financial Results announcement. Revenues increased 19.2% while net profit before tax rose 29.3%, with a full-year dividend payment of $0.54 per share, a 14.9% increase.
Altium released guidance for FY 2024, with revenues expected to increase 20% to 23% – from $263 million dollars to between $315 and $325 million. By FY 2026, the company expects revenues to reach $500 million dollars.
Two megatrends drive the company's growth potential – the Internet of Things (IoT) and Artificial Intelligence.
The Internet of Things will require more and more electronic devices, all powered by printed circuit boards.
Artificial Intelligence is a megatrend dominating contemporary conversation. Printed circuit boards are said to be the "heart of AI hardware."
An analyst at Shaw and Partners has a SELL recommendation on shares of Altium, citing its success as an opportunity to take gains to invest in other companies.
The current analyst consensus recommendation on ALU shares from 15 analysts is HOLD, with three at BUY, three at OUTPERFORM, six at HOLD, two at UNDERPERFORM, and one at SELL.
Don't Buy Just Yet
You will want to see this before you make any decisions.
Before you decide which shares to add to your portfolio you might want to take a look at this special report we recently published.
Our experts picked out The 5 best ASX shares to buy in 2023.
We're giving away this valuable research for FREE.
Click below to secure your copy
Related Articles: