Ramsay Health Care Limited ASX: RHC (RHC), is a dependable healthcare business.
For the more risk-averse and to lower the riskiness of a portfolio, RHC offers investor security.
In uncertain times, health care is always a go-to for stock investors as the service is always required. RHC is a large and resilient international healthcare provider that provides security to any investor.
For those looking to diversify their portfolio with a more dependable return come rain or shine, healthcare is the go-to market segment. Ramsay Health Care Limited ASX: RHC (RHC) not only owns and operates the bedrock of health care in hospitals but has an international portfolio, diversifying its risk to a single market while retaining synergy across international borders.
The combination of operating in the healthcare market while retaining an international diversification of their portfolio makes an investment in RHC one of the more dependable bets on the stock market, if not the most exciting. Steady year-over-year profits and a modest 1.65% dividend yield won't make any headlines, but it is a secure place to invest your money.
Ramsay Health Care ASX: RHC (RHC)
RHC is a globally-recognized hospital operator based in Sydney, Australia. RHC's substantial footprint, spanning over 532 locations across the Asia Pacific, the United Kingdom, France, and the Nordic nations, represents a diversified portfolio that will safeguard the investor against any disruption in one or more markets.
Investors may have been shaken by a recent third-quarter update that showed increased cost pressures, resulting in a temporary drop in Ramsay's share price. The pandemic caused some undue strain to many markets, and the recent volatility is starting to dampen as we exit a once-in-a-century type event.
RHC is well-poised to bounce back. As we navigate the post-pandemic world, economies are rebounding, and with this, Ramsay's operating leverage will most likely return to pre-pandemic levels. The company's third-quarter results already showed signs of recovery, indicating a gradual return to pre-pandemic revenue levels.
With a legacy going back to 1964, RHC has withstood the test of time, demonstrating resilience in the face of adversity. Coupling this proven track record with an anticipated ease in cost pressures and a rebound in revenue, investing in Ramsay Health Care presents a compelling case. It's an opportunity to back a solid enterprise that stands to gain as global economies recover and healthcare demand resurges post-pandemic.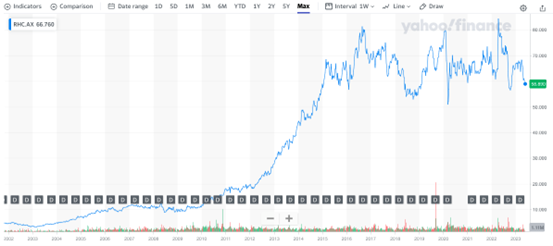 Source: Yahoo!Finance
Related Articles