The ASX Healthcare XHJ Index is made up of 14 GISC (Global Industrial Classification Standard) classified healthcare stocks on the ASX. Every Quarter the index is rebalanced according to S&P criteria with the key being the ability of institutional investors to invest in the stock. This favors companies with big market caps. Stocks come and go every Quarter, which does not alter the overall aim of the index – to provide investors with a broad overview of the sector that invariably impacts all ASX listed healthcare companies.
For the calendar year 2021 the S&P global website tells us the XHJ rose 9.3%. Year to date as of the end of May the index is down 10.93%. As is the case with all indices, some stocks within the GISC classification sector outperform the overall index and others underperform.
There are multiple big name analyst firms – JP Morgan, UBS, Citigroup, Morgan Stanley — that see defensive properties in the healthcare sector as the long term tailwinds propelling the sector remain unchanged. What has changed is investor enthusiasm for share market investing in general and healthcare and technology stocks in particular. When panic selling sets in, the first to go are more often than not the better performing assets in an investor portfolio.
To some investors, the collapse of once high flying stocks represent a buying opportunity. The most well-known and largest healthcare stock on the ASX – blood plasma/vaccine provider CSL Limited (CSL) — is down about 6% year to date and about 5% year over year.
CSL's operations were hurt by the healthcare system's blocking elective surgeries and other procedures in the face of the crush of COVID 19 patients. Blood Plasma donations dropped precipitously, but the company's vaccine business softened the blow to the share price.
There are other ASX healthcare stocks that may represent better bargains right now. Many were big winners in both the calendar year and the fiscal year of 2021. ResMed Inc.(RMD), a provider of hardware and software solutions for respiratory disorders, is one of them. The following price performance charts compares year over year of the two companies as of 1 June 2022, followed by a year to date performance chart.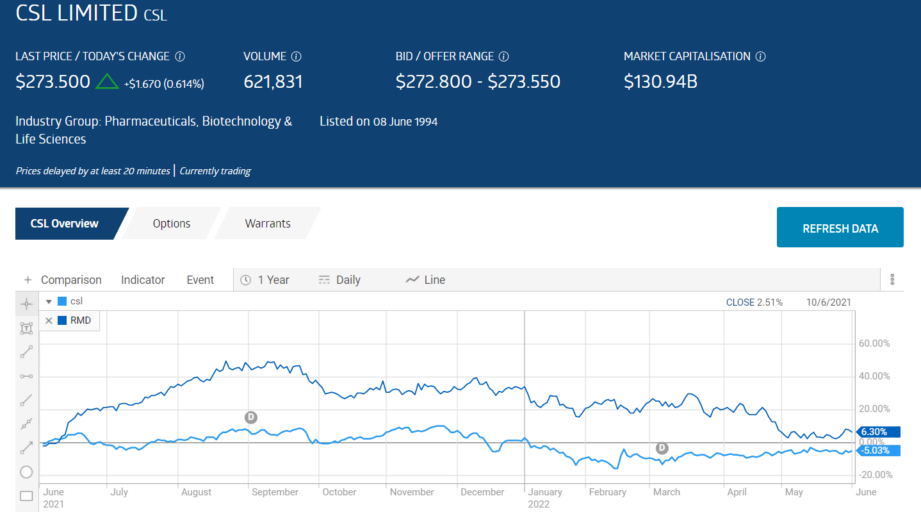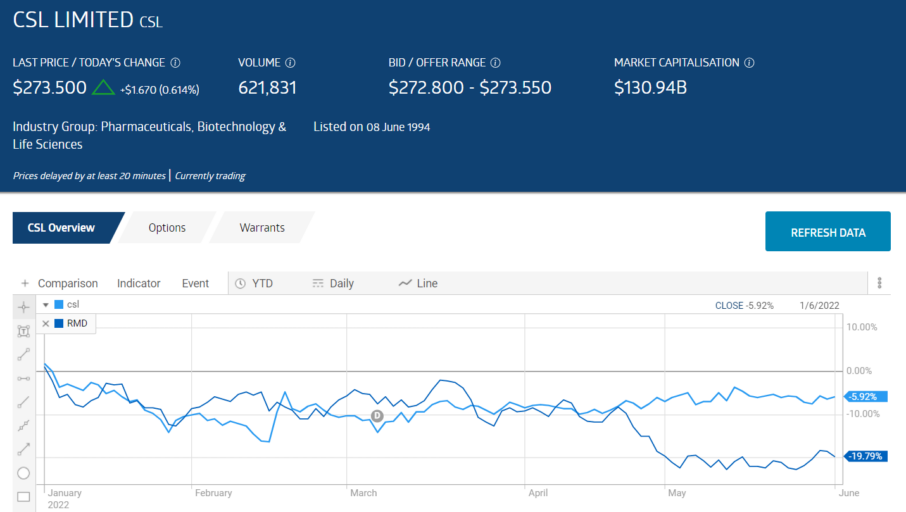 ResMed may be a better buy not only because of the double digit decline in the share price, but also because of the company's double digit two year growth forecasts.
There are other ASX healthcare stocks that were winners in 2021 that have fallen out of favor with investors in 2022. Among them are:
ProMedicus (PME)

Imaging software

Healius Limited (HLS)

Pathology, Imaging, Day Hospitals services

Telix Pharma (TLX)

Cancer and rare disease radiation treatments
The following table includes share price and historical earnings and dividend performance along with two year growth forecasts as of 1 June.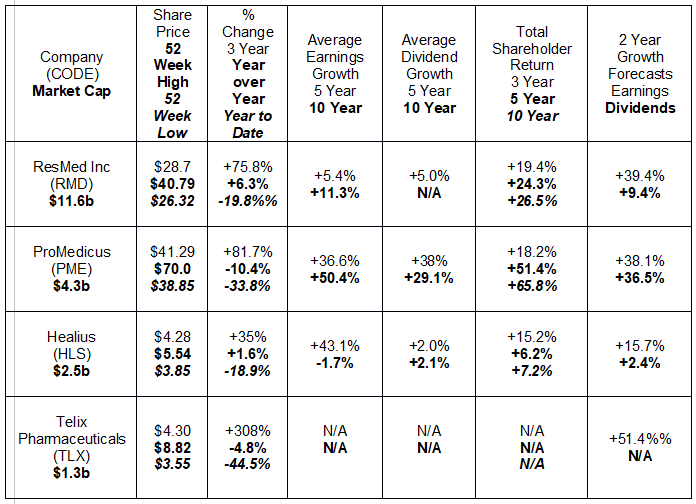 Telix Pharmaceuticals listed on the ASX on 1 November in 2017 with the stock price rising about 430% since its first day of trading. The company has the best three year share price performance and the highest two year earnings growth forecast of the stocks in the table. The company's share price drought may end in FY 2023 when analysts estimate EPS (earnings per share) of $0.103, up from a negative FY 2022 estimate of a loss of $0.094.
Telix Pharma is involved in nuclear medicine, working on both diagnostic and therapeutic treatments for a variety of cancers using Molecularly Targeted Radiation (MTR), a form of "radiotherapy" for treating cancerous tumours, both internally and externally.
Although radiation treatments have been used for decades, applications coming from the field of nuclear medicine, such as molecular targeted radiation treatments are relatively new. Some medical researchers see Molecular radiotherapy (MRT) as a " rapidly evolving discipline.
Telix is currently focusing on treatments for cancers of the kidney, brain, and prostate, with its first prostate cancer therapy – Illucix® – ready for entry into the market.
On 3 April, the company announced its diagnostic imaging agent for prostate cancer (Illucix®) is available for physicians in 117 pharmacies in the US operated by Cardinal Health and PharmaLogic. The US Centers for Medicare and Medicaid Services will accept claims for reimbursement.
In addition to the US FDA (Food and Drug Administration) approval of Illucix®, the imaging agent has been approved by the TGA (Therapeutic Goods Administration) here in Australia with investigational applications in progress in Europe and Canada.
Telix has both Phase II and Phase III investigational studies underway for renal cancer therapy, with numerous other candidates in varying stages of development, including brain cancer (glioblastoma) – a total of eighteen clinical trials targeting eight conditions underway.
Telix has a distribution network in place covering eighty countries, with multiple commercial partnerships in place. Partnering companies include US-based Lightpoint Medical; French-based Mauna Kea Technologies; and China Grand Pharmaceutical and Healthcare Holdings Limited.
ResMed is a US-based company that chose the ASX for its first public listing, with the company now listing on the New York Stock Exchange (NYSE.) The company's extensive product line of hardware and software diagnostic and treatment applications for a variety of respiratory disorders span the globe.
ResMed has been hit hard by supply disruptions, most notably in semiconductors needed for the company's ventilators, sleep apnea machines, and other respiratory treatment hardware. The problem was compounded by a product recall from rival Philips Respironics, increasing demand for ResMed products.
As a dual listed company with a US listing, ResMed is required to report financial results quarterly. On 28 April ResMed released its Q3 results, showing a 12% increase in revenue and a 5% rise in income from operations. Through the three completed quarters of FY 2022 the company's net income increased 109%, year over year.
Investor enthusiasm for this company may have soured due to the decline in the need for the company's ventilators to treat seriously ill COVID patients. Bullish analysts continuously point to the size of the market for sufferers of sleep disorders that remain undiagnosed.
Pro Medicus has been providing innovative software solutions to meet the needs of healthcare imaging and imaging practitioners for more than thirty years. The company's software is used for PACS (Picture Archiving and Communication Systems) and enhanced radiology imaging as well as an extensive array of professional tools for radiology imaging providers.
The Pro Medicus Visage RIS (Radiology Information Systems) provides a comprehensive software platform for medical practitioners, from appointments and scheduling to clinical reporting and accounting.
In 2009, Pro Medicus entered the US market when the company acquired Visage Imaging, enhancing that visualisation platform to today's Visage 7.0.
This core Pro Medicus offering gives clinicians and radiologists the capability for enhanced image viewing from 2 dimensional to 3 and 4 dimensional imaging, as well as Picture Archiving and Communications Systems.
The third core offering from Pro Medicus is a mobile platform available on iOS devices – Visage Ease. This application allows users to remotely access stored images from Visage 7 servers.
Pro Medicus offers its users installation and training. Company management claims that after a decline in the demand for imaging services in March and April of 2020 at the height of the Pandemic, operations resembling normalcy returned. Pro Medicus reported both revenue and profit increases between FY 2020 and FY 2021.
Half Year 2022 Financial Results provided solid evidence of the return to normalcy. Revenues were up 40.3% and profit after tax rose 52.7%. Investors looking at a ten year average rate of total shareholder return over 60% might wonder what growth potential remains.
In the Half Year results, the company noted seven significant implementations of existing contracts and new contract signings. The largest deal was a $40 million dollar, seven year contract with US-based Novant Health, an integrated healthcare network of hospitals, clinics, imaging centres, and practitioners spanning four US states.
Integrated Delivery Networks (IDN) like Novant whose services span the full range of medical practice offerings are a growing trend in the US and a prime target for Pro Medicus.
Like Pro Medicus diversified medical services provider Healius was in the top five performing healthcare stocks in Fiscal Year 2021.The company operates multiple medical facilities. Healius Pathology operates 100 medical laboratories, supplemented by more than 2,000 patient collection centres, staffed by 280 pathology specialists and 7,600 assorted specialists , from lab technicians to medical scientists, according to the company website. Healius owned Linus Imaging has more than 135 imaging centres across Australia, staffed by radiographers, sonographers, nuclear medicine technologists, as well as nurses and centre support staff. In addition, Healius claims a network of independent radiologists, bringing the total number of diagnostic imaging professionals to 2,000.
Under the Montserrat Day Surgery brand, the company operates eleven stand-alone Day Surgery facilities with four located in large medical centres.
In August of 2021 Healius acquired the Adora Fertility operations from Virtus Health (VRT). In December of 2021, the company acquired Agilex Biolabs.
Given the number of revenue streams impacted by the COVID 19 Pandemic's restricting most elective medical needs, it is not surprising the company's financial performance suffered. In FY 2020 Healius posted a decline in revenue and a loss of about seventy million dollars. FY 2021 showed a revenue increase and a return to profitability, but reported net profit was lower than profit for FY 2019.
Half Year 2022 Results were very strong, with year over year revenue increasing 44% and underlying profit up 226%. The two year earnings growth forecast for Healius of +15.7% needs to be put in context. It is not uncommon for estimates for the second year to decline from the first year estimate. Healius reported actual earnings per share in FY 2021 of $0.20 per share. The forecast for FY 2022 is an increase to $0.606 per share and dropping to $0.268 per share in FY 2023.